Column #229 Today wasn't ALL about Oscar; it was about Dave TOO!
March 3, 2006
Column 229
Today wasn't ALL about Oscar; it was about Dave TOO!
It was 'round 'bout the same time Crash was crashing Brokeback Mountain's party at the 78th Academy Awards that Grand Rapids' Dave DePriest was breaking the back of Orlando's Joe Slivan at the World Series of Darts (WSOD) qualifying event in Chicago today. In a 4-2 score the belies the closeness and intensity of the match, DePriest landed his final dart before a cheering crowd of the vanquished and a disappointed Slivan to book his spot from among 197 entrants as the fifth American to vie for the million dollar payday at the Mohegan Sun Casio in May.
Actually "disappointment" doesn't quite due justice to Slivan's day. The top-ranked darter in Florida was on fire earlier in the day, particularly during the semi finals, where he faced the legendary Tony Payne and whitewashed him. En route, Slivan seemed almost "unconscious" at the line, tossing in high tons and maximums and closing strong. But it wasn't to be…
"It's always up and down," commented Slivan after the contest. "This is a great event and I had a great time. I guess maybe Las Vegas is next…"
Payne to his credit didn't advance to the semi finals with out spectacular darts of his own. In the quarters against local favorite Joe Beecroft, Payne threw legs of thirteen and fifteen darts to move easily into the semis with a 4-1 victory.
Again John Kuczynski was conspicuous by his absence (although the rumor is that he will be making the Las Vegas trip). Again no Darin Young. Again no Ray Carver. But other talented darters did made the trip to compete, some such as Sean Downs traveling all the way from California. Downs (the number three seed) went down in the third round to local darter Randy Van Deursen. Dan Lauby (the top seed) drove up from Terre Haute, but fell short in his second attempt, since Atlanta, to make the grade. Chicago's Ed DeBehnke also fell early, in round two.
Organizer Jim Askham and his crew did a fabulous job of pulling the qualifier together. Chicago has a rich darting history and nothing less than a stellar event was expected. The registration of nearly two hundred – drawing combatants like Downs and Slivan from opposite sides of the country – was almost 35 per cent higher than the highest WSOD entry to date (just yesterday in Philadelphia). The March to the Mohegan is picking up some serious steam.
The other top four finisher was Minnesota's Dean Blake (who saw his hopes dashed 4-1 in the semis by DePriest). Finishing in the top eight were Mike Brewer, Kurt Hartmann, Wayde Baldwin and Joe Beecroft. Rounding out the top sixteen were Randy Van Deursen, Ryan Loch, Steve Jordon, Scott Kirchner, Frank Melson, Jr., Brady McCaw, Jerry Mueller and Andy Chu.
Deservedly, DePriest was pleased with his victory. "The World Series of Darts is the best thing that has ever been brought to darts. I never practice, but since this event was announced I've been practicing three to four hours a day for nearly three months. I had a tough road to go. I had to play Lane Helgason and Randy Van Deurson and Randy had me down two-zip before I came back. Mike Brewer and Dean Blake were also tough. So this was not an easy win. (But) I think I deserve it. I've put as much into it as anyone else. Two guys play the match; one has to win. It might as well be me! That's the way I feel. If they beat my game, so be it. But they're going to have to shoot to do it."
So it's three-time Michigan State Darts Champion (and also 1995 second place finisher in the ISKA Martial Arts World Championship) Dave DePriest who joins Isen Veljic, Roger Carter, Jim Widmayer and James Watkins in the million dollar March to the Mohegan.
Next up – next weekend – Washington, D.C. and Las Vegas. Vegas in particular, which was expected to be a sort of cozy west coast love-fest, is shaping up to be an old time Wild West shoot out. In addition to Johnny Kuczynski, supposedly Scott Wallaston (who got nipped in the Atlanta final by Roger Carter) is driving across country to make the event. Joe Slivan seems headed that way. Even Professional Dart Corporation's (PDC) Barry Hearn will be on site.
So keep your eyes on this space. Dartoid's World will continue to cover all the action as the March to the Mohegan continues to weave its way across America, dramatically changing the face of darts forever and potentially making one of our own a millionaire.
For further information about today's Chicago WSOD qualifier go to the Bull's Eye News (http://www.bullseyenews.com) and Professional Darts Corporation (http://www.planetdarts.tv/page/Welcome) websites.
From the Field,
Dartoid
The following two tabs change content below.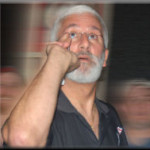 Author of the column that since 1995 has been featured by Bull's Eye News, the American Darts Organization's (ADO) Double Eagle and numerous other darts publications and websites around the globe.