Column #225 Isen Veljic
February 24, 2006
Column 225
Isen Veljic
My most proud accomplishment in darts (so far) is winning the first qualifier for the World Series of Darts. But I want to be remembered as the first million dollar winner!
— Isen Veljic
__________________________________________________________________________
Nickname: "E"
Date of Birth: September 17, 1976
Hometown: Northbrook, Illinois
Hobbies: Going to see movies and eating good food
Movie: Chic flicks (I'm a sap!)
Television Show: Entourage and Sopranos
Meal: Pastrami sandwich and German Weiss Beer
Favorite Night on the Town: Going to see live music
Sports Team: New York Yankees
Music: Pantera
Book: I don't read. I throw darts!
What Most People Don't Know About Me: I bowled a perfect 300 game
Weapon of Choice: 24-gram Harrows Assassins
__________________________________________________________________________
I'm single (I guess I should mention that first!). My immediate family is my mom and sister and my dog Maximus. I started working when I was sixteen years old. My first job was at Subway. I've had a lot of jobs, mostly in the medical field. I'm a Medical Service Technician Supervisor.
Eight years ago when I was twenty-one, I was at a wedding reception with my friend Tommy Eplin at Di's Den, a Chicago dart bar. Tommy's father-in-law Bill DuBose was getting married. Bill and his best man, Brian Gavin were playing darts and asked if I wanted to play. So I did and haven't put the darts down since…
I would like to make darts my profession. The first step has been taken by winning the first qualifier for the World Series of Darts. I am starting to travel more and work my way up in the rankings. I'll be going to tournaments every weekend from February 24th to May 19th when the World Series of Darts (WSOD) begins. I am very excited to be playing against the world's greatest players.
Why darts? I've played a lot of other sports but none that I've been passionate about like darts. It's just something that I've always found mentally challenging and I like the fact that you can play one on one, doubles or with a team.
I look up to John Part because he was one of the first professionals that I met. I learned a lot from playing with him and watching him. He has always been willing to give me advice. I also look up to Dennis Ovens. I met him in Montreal and played him in a great match. I like his attitude and the way he carries himself. I've always strived to maintain the same integrity that he brings to the game.
Several players in Chicago that I play with in my masters league have all had a part in my growth in one way or another: Mark Kokot (my practice partner), Bob Lange, Jimmy Nuezil, Ed DeBehnke and Steve Lovell. I double off and on with several people: Dan Lauby, Manuel Lairson, Ron Johnson, Mark Kokot, Ed DeBehnke and Kurt Hartmann. I don't have a specific practice routine but try to throw for two or more hours a day to keep my arm loose.
Outside of darts, my mother is my hero. She was a single mother who had me at the age of sixteen. I also have a younger sister and she has always been able to provide for us despite having a hard life. She is very inspirational, patient and has always encouraged me to follow my dreams. You have to believe in yourself!
I think that the sport of darts is gaining more credibility and more exposure in America. Holding events like the WSOD and having ESPN coverage will only help the sport become more mainstream.
If I win the million dollars I will pay off all my bills and play darts full time.
The following two tabs change content below.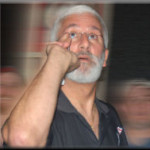 Author of the column that since 1995 has been featured by Bull's Eye News, the American Darts Organization's (ADO) Double Eagle and numerous other darts publications and websites around the globe.