Column #205 Queer Eye for the Darter Guy
December 6, 2005
Column 205
Queer Eye for the Darter Guy
First there was the Fab Four – John, Paul John, and Ringo. They sang songs, did drugs, and chased birds. They were British.
Now there is the Fab Five – Ted, Kyan, Thom, Carson, and Jai. They are experts in crap like fashion, home design, grooming, food and wine, and culture. They are gay. So they sound British.
Of course, the Fab Five are the stars of Bravo's run-away hit reality show Queer Eye for the Straight Guy. Each week, the gay guys find some slob of a straight dude and transform him into a chick magnet. It's astonishing.
Like once, they helped this nice fellow Joe get his girlfriend back. Joe's girl walked out because he played softball five nights a week and, when he should have put a down payment on an engagement ring, bought a "cool motorcycle" instead.
Personally, I don't understand what Joe did wrong. But then I drink and throw darts five nights a week, drive a beat-up Jeep, and scratch my ass.
I'm a fan of the show though. Ted's my man. He reminds me of Dustin Hoffman, or Toostie. I just don't know.
What I do know is that I've learned a thing or two from the Fab Five. I now shower most mornings and sometimes I even wear underwear, though not in the shower.
Oh, I can hear you out there, you tough dart guys with names like Bulldog and Truck – you're thinkin' I'm some sort of Nancy. Well, read the next sentence.
If you haven't seen Queer Eye – if you're homophobic (afraid of spiders) and scared to take a leak at rest stops – I am willing to bet you serious spending cash that, come this spring you'll be pickin' up your remote control (it's under the Domino's box) and clickin' to the show.
Why? Because of Glenn Remick and the American Darters Association (ADA).
Remick's American Dart League (ADL) is expanding to New York City (plans to expand into to the Seattle area have also been recently announced) and he and the producers of Queer Eye have closed a little deal.
Well, actually it's a really big deal. In television technical lingo, Queer Eye rates something called a 3.0 on the Richter scale, meaning approximately 3.5 million gays and slobs, and probably a whole lot of disillusioned women, tune in each week.
The slob count is about to increase. Here's how come…
At 7:30 p.m. on Tuesday, December 13, the ADA will be holding an orientation meeting to introduce its league format, rules, playoffs and more. The meeting will take place at the Firewater Inn (39-46 Skillman Avenue) in Sunnyside. NYC darter Anthony Eugenia will serve as the ADA's League Manager and conduct the meeting. Pop him a message at anthonyeugenia@hotmail.com or call him at 718-626-0086 if you have any questions.
But Eugenia isn't the only person who will be there to greet you when you shuffle your beer belly through the door. Casting personnel from Queer Eye will be attending too – TO RECRUIT A DARTER TO MAKEOVER FOR A SHOW TO AIR THIS SPRING.
Yes, they are recruiting a member of our ranks!
Only Glenn Remick could pull off something like this.
This is your opportunity to join the fastest growing darts league in the country, discover your feminine side, and have a shot at becoming a cultured humanoid, all in one night! AND it's a chance for YOU to represent the sport of darts in front of 3.5 million prime-time television viewers.
So if you, or someone you know, plays darts but needs some cleaning up, if your wife or girlfriend thinks you're a pig, or if you just can't seem to get a babe – be at the Firewater Inn on December 13. Alternatively, you can go to the ADA website at www.adadarters.com or e-mail Queer Eye at castingcall@thequeereye.com for additional information.
To qualify for consideration by Queer Eye you must "live in the New York City metropolitan area, be a straight male between the ages of 21-39, and have an outgoing and dynamic personality." Probably it would be good if you haven't been convicted recently for anything really bad.
A draw doubles tournament, sponsored by Michelob AmberBock beer, will follow the meeting. All attendees will receive an AmberBock prize with additional prizes awarded randomly throughout the evening.
That's it. Pass the word. PACK the Firewater Inn! The meeting is open to all darts players, regardless of sex, race, religion, national origin, or sexual orientation – with the exception of Joe "Geo" Giordano.
I've already recommended him to Queer Eye.
From the Field,
Dartoid
The following two tabs change content below.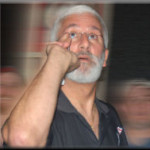 Author of the column that since 1995 has been featured by Bull's Eye News, the American Darts Organization's (ADO) Double Eagle and numerous other darts publications and websites around the globe.