Column #199 Still MORE on the World Series of Darts!
October 26, 2005
Column 199
Still MORE on the World Series of Darts!
The New York Times has come under intense criticism recently. Following the outing of CIA operative Valerie Plame debacle, the newspaper has been forced to editorialize, over and over again, its defense of reporter Judith Miller (a nice lady with bad hair who spent 85 days in the clink) for "protecting confidential sources," while to many observers she and the Times were merely pawns in the Bush administration's evil effort to lead America into the war in Iraq.
Time will tell, I suppose. But if it's not about darts who really cares…
What darters should care about is the boo-boo another Times reporter, Joe Rhodes, made in his story about the World Series of Darts, published last Sunday. The goof, which I am about to correct, will have a direct impact on sixteen hard-working Americans. It's unfortunate but true. But it was not Rhodes' fault.
As it turns out, somebody in the Bush administration, possibly "Scooter" Libby (the Grand Jury is still out on why a grown man would go by such a sissy-ass name), passed false information to Rhodes, on microfilm inside of a pumpkin, leading him to report that Alger Hiss was a communist.
No. No! WAIT! That was Whittaker Chambers.
What Scooter handed to Rhodes was a note that said was that 32 Americans, not 16, would earn the right to compete in the World Series of Darts this summer. It should be noted that the note also said Karl Rove was a weenie, which was entirely correct.
So there you have it. Half of you who were drooling at the prospect of lining up to face the world's best darters for a chance at a million dollar pay-day will be sitting home instead. That's the way the Yorkshire Pudding deflates.
The error Rhodes made was honest. He should not be blamed. He was duped by slime-bag politicians. It happens.
But there is MORE news about the World Series of Darts.
According to high-placed sources that I cannot name, because they are British and scary and won't buy me beer if I say too much, the site and time frame for the tournament is now set.
The event will take place in May 2006 at the Mohegan Sun Casino in Uncasville, Connecticut. All American participants will be required to wear eagle feathers and loin cloths. The British, of course, will wear red coats.
The top 16 Professional Darts Corporation (PDC) professionals, as ranked following the Ladbrokes.com World Championships will compete. The 16 American contestants will be determined via a series of qualifying shoots on dates and at sites to be announced soon.
ALL other details (such as format, how the showgirls who will chalk will be selected, and where to get a good deal on loin cloths) will be announced by the PDC following the completion of the World Grand Prix.
So until then…
Next up from Dartoid's World – a review of John Lowe's new book. The chapter on the night he spent with Madona is fascinating. Stay tuned.
From the Field,
Dartoid
The following two tabs change content below.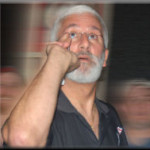 Author of the column that since 1995 has been featured by Bull's Eye News, the American Darts Organization's (ADO) Double Eagle and numerous other darts publications and websites around the globe.