Column #163 Watch Out for Ricky!
June 30, 2004
Column 163
Watch Out for Ricky!
The extent to which I continue to marvel at the opportunity the Professional Darts Corporation (PDC) has presented to American darters with its Las Vegas Desert Classic tournament is exceeded only by how completely baffled I am that so many US darters pass on the opportunity to participate.
Today I threw the worst darts of my life but had the best time of my career at the boards. It's just a damn shame that all but a couple of hundred other Americans chose, for the third year running, not to enjoy the experience too.
In today's third qualifier, while (or is it whilst?) Brits Steve Beaton, Adrian Gray, Lionel Sams and Alex Roy threw awesome darts en route to earning their place in the first stage event tomorrow, I was eaten like a waffle by Belgium's Rocco Maes. But I had a fabulous time. I won the toss and just like The Power himself, gave away the throw. Maes looked at me like I was out of my mind which, of course, those who follow this column already know to be the case.
So Maes steps to the line. He throws in a weak 45. As I followed him to the oche and as he passed me after pulling his darts, our eyes connected — and I realized that I had managed to crawl inside his mind. I could almost read his thoughts. I'd handed him the advantage. Was I good enough to make good on such an audacious move? Or was I just plain frickin' nuts?
It turns out that, at least momentarily, I was up to the task. I stuck a strong 140, scraping wire with my third dart to miss the maximum.
Unfortunately, this was the last time I chalked up more than 100 points for the rest of the match. In ten quick minutes the Belgian ended my misery, finishing me off easily in a whitewash. But he'll remember me. Of that I can guarantee you!
In the final qualifying round I experienced the most exciting, and humbling, few minutes of my darting life. As humbling as it may be to get your ass whooped by a chicken at tic-tac-toe, it's even worse to be stomped by Superman. That's exactly what happened to me after shaking hands with England's Matt Clark.
Clark lives in the Kent countryside. I know the area well having once had an office in Crowborough, East Sussex. For years I used to wile away my evening throwing darts at the Duke of Lords on the Pantiles in Royal Tunbridge Wells.
Anyway, Clark's from Kent. But that's only part of why his mates call him Superman. The two 13 dart and 14 and 15 dart games he threw to dispatch my ugly ass pretty much sums up the rest of the reason for his moniker. The amazing thing is that Clark didn't survive the qualifier and advance to tomorrow's showdown. The only thing I can figure is that, unlike me, some other darter in the hall had the good sense to inlay their shafts with Kryptonite.
I took time after my defeats to renew acquaintances and make new ones around the fringes of the hall. I spent time with Chicago's Ed "Bam Bam" Debenkhe and Chris White (who both shot excellent darts during the four qualifying rounds). Philadelphia's Russ and Kathy Jasinski made the trip, though neither "Jazz" seemed to have much good to say about their darts. I watched a battle between the only two skinhead Jewish darters I know (except my roommate, Brooklyn's Phil Fried): Darren Parzow (whose wife, Melissa, also competed) and Connecticut's Jeffery Steinberg. I met Tennessee's state champion, George Walls, and three darters from the Southwest Florida Darters Association who live just down the road from me in Ft. Meyers: Buzz Carocci, Troy Kepley and Bob Holmes. I chatted with Nick Rivera from the Philippines. And I was entertained by — damn, was I entertained by — Thailand-born and now SWAT team maniac, Robert Heckman, who at least one young lady, whose name I have promised not to mention, believes is the "perfect man from the bottom of the brain down."
As the final qualifier continued and before departing early for Stacy Bromberg's annual charity shoot for the Make-a-Wish Foundation, I met up with Dan "Cujo" Lauby to shoot our traditional Colby Memorial Match — a special shoot he and Bull's Eye News', Bruce Gerber, were kind enough to initiate a few years ago when I missed a tournament because my golden retriever, Colby, died. We teamed up with Columbus, Ohio's Scott Queens and Fried for a quick match and tipped a couple of beers in memory of my four-legged buddy. Then Lauby was kind enough to give me some darts instruction. Basically, he recommended that I close my eyes when throwing. I find my accuracy has improved.
Around 9:00 p.m. the darters began to fill up CD's Sports Lounge (3025 East Desert Inn) for Bromberg's shoot. With Paul Lim chalking and Pat Carrigan calling for Russ Bray, two time world champion, John Part, and local shot, Mark Andaya, took on — and took down –Johnny Kuczynski and Bromberg to a packed crowd, including England's Alan Warriner, among others. Bromberg notched up the only 180 of the night while Part displayed his world-class form. Kuczynski, in a muscle shirt, looked much better (at least for the ladies) than his darts — something I have no doubt he'll correct before his television debut tomorrow.
So here's how things stand. The field of some 350 men and women has been reduced to just 32 men and four ladies. Canada's' Gayle King and American Carolyn Mars made it through the third and fourth qualifiers to join England's Trina Gulliver and Bromberg. Paul Lim fought his way past England's Mick Manning (who threw simply fantastic for two days straight) and Scotland's Jamie Harvey. Rounding out the field for the men are Phil Taylor's practice partner, Adrian Lewis, Wes Newton and Ritchie Burnett.
The first of 16 first round matches start at 10:00 a.m. and by dinnertime the field will be pared to just 16 for second round play on Thursday. The ladies have until Saturday to rest up, put on make up or help their men get it up — or whatever else the fairer sex does when they have a bit of spare time.
Some of the draws were interesting…
Of all things, eleven-time world champion, Phil Taylor, will face the young Lewis in the very first match of the day — a pairing certain to pull the spectators in bright and early. The last pairing of the day, guaranteed to keep the crowd in their seats until the very end of play, pits two-time world champion and current world ranked number one, Part, against Alex Roy.
Lim will throw third against defending champion, Peter Manley.
Beginning at noon, former Philippine national champion, currently living in Lubbock, Texas, Ricky Villenueva, will face England's Steve Coot. This is THE match to watch closely but not because it will be a contest…
Darin Young is matched against Lionel Sams. Pittsburgh 's Bruce Cottrell will step up against Adrian Gray at 3:00 p.m. and in the twelfth pairing of the day, Johnny Kuczynski will face world ranked number 12, Denis Ovens.
It's gonna be a hell of a day of darts action — just one more reason why it's a shame that more American darters chose not to attend the event.
I have two predictions…
First, there's just no question that the never-at-a-loss-for-words, Sid Waddell, will be speechless when he witnesses the "phantom dart" stroke of Cottrell. Without a doubt, Waddell's never seen, and never will again see, anything quite like Brewski at the line.
Second — and mean no disrespect to any of the darters who have made it this far or to Part or Taylor or Manley or anyone else — I predict, and I'm laying money down, that the STAR of this year's Desert Classic is going to be Ricky Villenueva.
Mark my words. Just wait and see.
And remember where you heard it first — at Dartoid's World.
From the Field,
Dartoid
The following two tabs change content below.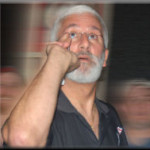 Author of the column that since 1995 has been featured by Bull's Eye News, the American Darts Organization's (ADO) Double Eagle and numerous other darts publications and websites around the globe.