Column #133 The King of Beer and the King of Darts
January 1, 2003
Column 133
The King of Beer and the King of Darts
Today's question is: how much is 35,447,466,667 and just what does this number have to do with the sport of darts?
Let's examine the question. There are actually two parts.
How much is 35 billion?
Thirty-five billion is the approximate number of 12-ounce servings the world's leading beer producer, Anheuser-Busch, churned out last year. That's a six-pack for every human being on the planet. That's almost 64,000 cans of beer for every person living in the City of Boston. I LOVE Anheuser-Busch!
Thirty-five billion beers weigh four times more than all of the some 600,000 elephants remaining in the wilds of Africa. Thirty-five billion beers weigh as much as 38 Empire State Buildings. They weigh almost as much as 140,000 Boeing 747 aircraft.
Thirty-five billion beers would fill the Rose Bowl from turf to rim 39 times. Thirty-five billion beers would cover the famous one square mile area of the old City of London to a height of half a football field.
Consider this: about 1,000 gallons of water run through a garden hose in an hour. Anheuser-Busch produced enough brew last year to keep your garden watered with beer continuously for 379 years, until the year 2381. The average American family uses 100 gallons of water a day. Anheuser-Busch produced enough beer last year to run the faucets, showers, baths and toilets of the cities of Cambridge or Santa Barbara for more than twelve months, until Christmas, 2003.
If one were to take 35 billion cans of beer and line them up end to end they would stretch to the moon and back seven times. They would circle the earth at the equator over 150 times. They would stretch from New York's JFK airport to London's Heathrow, and back, more than 500 times.
Yep, by any measure 35 billion is a whole lotta bottles of beer on the wall. If you were to try to count, at the rate of one number per second, from one to 35 billion, it would take you approximately 1,085 years to finish. No human being has ever accomplished this feat, except Olly Croft.
Which of course, brings us to the second part of today's question: what has any of this nonsense got to do with the sport of darts?
The answer would seem simple. Controlling over 50 percent of the American market and 10 percent of the global market, Anheuser-Busch is the world's leading beer distributor. Indeed, the King of Beer's output is more than three times that of all of the breweries in the United Kingdom combined. Dart players drink a lot of beer. Hence, it only stands to reason that Anheuser-Busch — the 159th largest company in America and the 397th largest company in the world — would be important to the sport of darts.
The better question is: why is the sport of darts significant to Anheuser-Busch? Why on earth would a company that already sells 35 billion cans of beer a year be interested in a business relationship with a darts organization? What could possibly be the value of any such connection to Anheuser-Busch? One of every two American darts shooters is already drinking Anheuser-Busch products.
In light of the difficult, essentially barren, road the sport of darts has long traveled in American trying to wrestle down sponsorship for our sport, it is of particular note that Glenn Remick and the American Darters Association (ADA) have recently announced a major three-year sponsorship deal with Anheuser-Busch.
So the real question should be: why Remick and the ADA? Why is it that Remick and his crew can pull off something like this when everybody else seems to be struggling just to get their home pub to pitch in for team shirts? And why on earth, among so many other possible partners, did Anheuser-Busch decide to sign the deal with Remick?
The answer is simple. Glenn Remick understands the way the business world works. There's a lesson in it for all of darts.
Actually there are others who understand. Barry Hearn, Tim Darby and everybody else at the Professional Darts Corporation (PDC) definitely understand. Canadians Ken Finch and Kevin Thorsteinson of the Golden Harvest North American Cup understand; their phenomenal Saskatoon tournament offered nearly $300,000 (in U.S. dollars) in prize money last May. Once upon a time even the British Darts Organization's (BDO) Olly Croft understood. It was he who negotiated the (now defunct) deal in 1978 with Imperial Tobacco that has resulted in well over $3 million for the Embassy World Professional Darts Championships.
What all of these people — Hearn, Darby, Finch, Thorsteinson and Remick — understand is that potential sponsors don't really give a rat's ass about how wonderful any of us think the sport of darts is. What potential sponsors care about is their own business. They want to sell product.
Remick didn't bumble through the doors of Anheuser-Busch in a beer-stained shirt with some vague pitch about how darters "drink a lot of beer" and ask them to advertise on some tournament tag boards. Remick went in with a sound business proposition. Remick showed Anheuser-Busch how a partnership with the ADA would produce direct and measurable benefits to Anheuser-Busch. Remick didn't just say "we can help you sell more beer." Remick showed Anheuser-Busch exactly how the ADA could help make this happen.
But first, Remick demonstrated that the ADA was an accountable, professionally run, fiscally responsible business. He explained that the ADA (just like the PDC and the Golden Harvest Darts Organization) had a vision and a simple, specific, reasonable and complete multi-year business plan with measurable objectives.
In other words, Remick and the others approach prospects and set the stage for the "ask" according to terms (business conditions) that business people understand.
Remick didn't just beg for money. He stuck to the principles of business. He explained that he had an idea that could help Anheuser-Busch accomplish an objective in its own business plan. This is exactly the kind of statement that business people look for — and listen to.
Remick explained that he understood Anheuser-Busch, through their Michelob family, had a desire to increase their on-premise (basically, in-the-tavern) market share of their Amber Bock brand. "I can help you do this," Remick said. "Let me explain how."
So he rolls into his pitch. He explained more about how the ADA works, that it's a franchise operation, operating in 26 states — on a growth course. Franchises are little businesses. The ADA owners have territories. They canvass bars, develop darts leagues and help put together teams. They work on commission. Hence, they have a personal financial interest in the growth of the ADA. So they work hard. The more successful they are in spreading darts throughout their territory the more money they make.
Remick explained that he also understood something about how Anheuser-Busch works — that, similar to the ADA, they also have salesmen pounding the pavement to sell beer to the on-premise market. These salesmen (some 8,000 of them) also work on commission.
So Remick moved into his close. What he proposed was fundamentally simple: a partnership between Anheuser-Busch and the ADA that was certain to increase the productivity of both organization's sales forces. In effect, each sales force will become an asset of the other organization. It was a win-win proposition for both parties at the negotiating table.
Anheuser-Busch recognized the opportunity. They didn't just wake up one day as the world's leading beer distributor. They didn't sell 35 billion bottles of beer last year passing by sound opportunities to snatch up each and every sliver of market share they could find. Remick simply showed them another one. And he demonstrated he was backed by an organization that could deliver the sliver.
So here's the concept. The ADA has something like 10,000 members — card-carrying darts players throwing in organized league play. Most of them are beer drinkers who have previously demonstrated a high degree of loyalty to ADA sponsors. Now, imagine if instead of purchasing a few bottles of some competitor's brew on league night, these 10,000 shooters order up a few Amber-Bocks. It surely won't happen quite this way but, if it does, Anheuser-Busch can thank the ADA's darters for adding 1.5 million bottles of beer to its wall and taking the corresponding profit away from the bottom line of its competitors.
Plain and simple. This is the kind of thinking potential sponsors understand. Basically this was Remick's concept.
Anheuser-Busch was looking for a way to bring patrons into the on-premise market. For Anheuser-Busch increased traffic translates to increased product sales. Remick simply showed them how darts could be "one of the vehicles in their convoy." It's not surprising that Anheuser-Busch signed on the dotted line. The likely result: Anheuser-Busch will sell a whole lot more Amber-Bock. That will make them happy.
But what's in the deal to make the ADA and the sport of darts happy? Again, it's quite elementary.
There's no one in the market who knows the tavern owners better than the "street" salesman. And remember — Anheuser-Busch has nearly 8,000 of them. It is this sales force — this massive corps of beer-peddlers who must sell to put food on the table — who best know the taverns which are suitable for darts action.
The "good for darts" part of the deal is that Anheuser-Busch's sales force will begin to assist the ADA franchisee's by identifying taverns ripe for participation in the ADA system — those which have the space and sort of cliental which would be most likely to support league play. The beer guys will introduce the ADA franchisees to the tavern owners. The franchisee will then enlist the tavern into the ADA fold and build another team. And then another and another.
Remember too, the Anheuser-Bush equation: increased traffic equals increased sales. To help the ADA franchisees set up teams — to HELP DARTS GROW — is simply smart business. In other words, for beer salesmen on commission, helping promote darts means selling more beer. And that means greenbacks in the wallet.
There's an old axiom that a good deal is one in which all parties benefit. Crafting a good deal requires the ability to grasp just exactly what the other party is interested in and convincing them you can produce it. With Anheuser-Busch Glenn Remick has done just that. He's found a way to motivate Anheuser-Bush, one of the heaviest of the world's business heavyweights, to put their might behind the ADA and the future of darts in America.
Anheuser-Busch will be "selling" darts. The ADA will be "selling" beer.
The King of Beer and the King of Darts.
A natural combination.
From the Field,
Dartoid
The following two tabs change content below.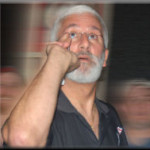 Author of the column that since 1995 has been featured by Bull's Eye News, the American Darts Organization's (ADO) Double Eagle and numerous other darts publications and websites around the globe.