Column #129 Mabuhay from Manila!
October 1, 2002
Column 129
Mabuhay from Manila!
Greetings from Manila, capital of the land of volcanoes, typhoons, earthquakes and even worse!
According to the Department of State, due to a rash of post-September 11 "bombings, kidnappings, murders and other violent incidents," travel by Americans to the Philippines is pretty much a dumb-ass thing to do.
Tourists have been shot and killed while hiking on the slopes of Mt. Pinatubo in Pampanga Province. The terrorist Abu Sayyaf Group (ASG) has attacked a resort on Samal Island near Davao City, Mindanao. They have captured tourists from Palawan Island and currently hold them hostage on Basilan Island in the Sula archipelago. Bombs planted by the Indigenous People's Federal Army have been found with triggering devices and others have been detonated, killing and injuring dozens of people, in the Makati commercial and tourist area of Metro Manila.
So, kinda like Scotland's Jamie "Bravedart" Harvey, brave darter that I am, I write to you today from smack in the MIDDLE of the Makati tourist and commercial district of Metro Manila. Actually, maybe I'm just a dumb-ass.
Just to be safe, I registered with the Consular Section of the U.S. Embassy on Roxas Boulevard three days ago. It was en route to the first darts bar on my list anyway. They asked me the "purpose of my visit." I said to "throw darts." They advised me to "remain vigilant," increase my "awareness" and gave me a brochure. These guys know a lot about the mental aspects of our sport.
My itinerary for this darts excursion was graciously arranged by the Board of the Darts Council of the Philippines (DCP). A cornerstone of Filipino culture, the hospitality I received from the DCP's president, Andrew Arrieta and his cohorts in darts — Ramon Sabalboro, Amante Santos, Steve Dorotheo and Errol Magtubu — was just tremendous. By this I mean they paid for all the beer.
We met up first at a little restaurant and darts bar called the San Mig (at the Ortigas Center Complex in Pasig City). Over dinner I was bombarded with information about the goings-on inside the Philippines' darts scene.
I learned that, in addition to an active, committed, darts-savvy Board, the DCP has an unusual Honorary Board Chairman, Aquilino "Nene" Q. Pimentel, Jr., a REAL LIVE member of the Philippines SENATE. This gave me a first indication as to how the DCP has managed to achieve so much for our sport in this country. Arrieta and his boys understand that among the keys to success, the first and most important is: leadership.
I was given a printout of the National Rated Player Listing. New York's Francis Llanes, California's Sammy Cruz and Virginia Beach's Robert Dysangco will be pleased to know that their former countrymen still appreciate their accomplishments. Each of these Filipino-American shooters is prominently recognized in the DCP's listings. Llanes was a member of the first-ever Philippine National Team to compete oversees — in 1980 in Newcastle, Australia. Some ten years later, Dysangco practiced his way out of his barrio to make the National Team and finished in the top eight at the 1990 Pacific Cup. In 1988, Cruz made it to the top eight in the Philippines National Championship.
I was provided the most recent issue of the DCP's darters' newsletter, Dartslink. I couldn't help but notice the long list of sponsors. Included were Terton Craft, Toby's Sports & Hobbies, Winmau Darts & Sports Resources, Unicorn Darts, Robson Sports Craft, Dartware (owned by Board member Dorotheo), SV More, E-Fasteam 2000.com, Alpha Insurance and the San Miguel Beer Corporation. The DCP also counts among its backers the Philippines Sports Commission, Philippines Olympic Committee, Philippines Charity Sweepstakes Office and a number of other members of Congress.
It's an amazing array of support that will make it possible for the DCP to host four major tournaments over the next twelve months, each with prize money in the 100,000 Peso range. And this doesn't count in-kind support. For example, last year's Men's and Ladies Singles winners at the Philippine Open EACH received 500,000 Peso scholarships to medical school. Imagine THAT!
The Philippine Open Men's Champion, Dixie Ybanez walked away with an 80,000 Peso cash prize and a trophy valued at 17,000 Pesos. Another 100,000 Pesos are collecting interest in a bank somewhere — waiting to be awarded to whomever notches up the elusive nine-darter.
Currently Arrieta and his crew are promoting tournaments in Baguio, Bulacan, Queson, Cebu, Tacloban, Cagayan de Oro, Tarlac, Batangas, Dagupan, and Olongapo. They are watching leagues sprout up in all sorts of unusual places, like within the Bureau of Customs, the Department of Trade and at Philippine Airlines.
AND, they are laying plans which may well see the Philippines selected as the host country for the 2007 World Cup. It would be a hell of a great choice!
Clearly these boys have landed on a simple formula. They've mixed active, involved leadership with a steady watering of the grass roots. They communicate across their rank-and-file. They remember those who paved the way. AND, they pound the pavement like professionals to secure the essential dollars.
It's a formula that's working.
Today, more than 3,500 players are involved in league play in Manila alone — more than in all but a couple of American cities. There are nearly 25,000 active shooters country-wide. This alone is a feat. The Philippines is an archipelago of some 7,000 islands, almost 900 of which are still uninhabited. Getting to the corner pub for a shoot is often no small task. But they do it. They do it in droves.
From this broad base of competitive spirit has emerged the cream which forms the Philippines National Team — a team which (finishing seventh among the ladies and eight among the men) even surprised itself at the 2001 World Cup in Malaysia. The team has just returned from a third place finish, after New Zealand and Australia, at the Asia-Pacific Cup in Bangkok. They are already booked for the 2003 World Cup in Epinal, France next fall.
But the final bit of information I was given was the most remarkable of all.
Contained in a small folder handed to me by Dorotheo was a newspaper clipping from a recent issue of the Manila tabloid, Tumbok. According to Dorotheo, later in the evening there was to be a special Luck of the Draw to introduce the National Team to the public and give them a proper "send off" before heading into the coming year's international competitions. The kicker though was buried in a sentence at the end of the article:
"Magsisilbing special guest sa gagawing presentation ang sikat na international darts writer na Dartoid na nasa ating bansa upang mag-observe sa mga local tournaments."
What this says (again, according to Dorotheo) when translated from native Tagalog is, basically, that yours truly is a "RENOUNED INTERNATIONAL DARTS WRITER who will be serving as a special guest at the evening's shoot." From this I can only surmise that Dorotheo is on drugs.
Thanks to Manila traffic, which is arguably the worst in the world, we arrived at the Amber Ihaw-Ihaw Restaurant (at the corner of Filmore and Emila Streets in Makati) just as the Luck of the Draw was getting under way. I was promptly introduced to the members of the National Team — Dixie Ybanez, Celso "Boy" Parafan, III, Joseph Domanis, Robert Reyes, Jan-Jan Hinojales and Baby Villanueva. I was handed the first of several San Miguels and sent off to the boards to meet my partner in the Draw, Edwin Dalusong.
Sadly, Dalusong and I were quickly dispatched. But I have to be honest. Even though my partner was, technically, legally blind and even though he had no arms or legs and had to sort of scoot his body and head to the line on a skate board, it was I who let our team down.
Okay. Okay. Part of that paragraph above is bullshit. I don't know where it came from.
Dalusong was great. He'd throw 140. I'd throw an eleven. He'd throw a ton. I'd drop my beer on the floor. The truth is that we got whooped two straight, entirely because I sucked. I saw Dalusong only once more during the evening. He was in the Men's Room smashing his head against the wall. So I stole his skate board.
I found my way through the crowd and sticky air to the right side of the bar to watch PCD Board member (and one of the Philippines' great-shooting old-timers) Sabalboro, who was also going down to defeat.
Another San Miguel mysteriously found its way into my hand as we wandered off to shoot nine-ball on the other side of the pub. We matched up pretty well. Tied at three-all and with the stick in my hand (is this proper pool lingo?) I was looking at just the eight and nine balls remaining on the felt. I carefully lined up the shot. Took a deep breath. Stroked my cue. And BAM, I rammed the-nine ball straight into the corner pocket! Afterwards, Sabalboro told me he thought I could be pretty good someday if I learned the rules.
I was given more beer and introduced by Dorotheo to a bloke named Chito Torres. Torres collects darts paraphernalia — old darts, shirts, tournament programs and the like. I found it curious that Torres had with him several albums crammed with part of his collection of flights. I wonder if he always travels with his albums?
Torres told me he has thousands of flights. I can't attest to this. All I can confirm is that he has the most complete collection of flights featuring naked women that I have ever seen. Perhaps this is why he carries his albums with him late at night?
As the evening wore down and as the San Miguel stock began to run dry, I was guided to a board to take on, one at a time, Dorotheo (who way back in 1980 was on the traveling team with New York's Llanes when the Philippines competed at the Pacific Cup in Australia), good 'ole nine-ball guru Sabalboro (for years one of the top shots in the country and 1999 Philippines Masters Champion) and Parfan (winner of the 2001 Philippine National Open Singles Championship, the 2002 Philippine Masters, and current #1-ranked men's darter in the archipelago). Whew. That's a long sentence.
How the HELL do I get my self into this shit?
First up was Dorotheo. I handled him. I was feeling good. Capable. Confident…
Next up was Parfan, the current Filipino Top Dog. He sports a pony-tail but they call him "Boy." Doesn't make sense.
The game: 501. Best of seven. Or maybe it was five? Maybe it was nine? San Miguel's a pretty nice brew…
I jumped off fast on Parfan. I took the score down quick and closed first, though not in remarkable fashion. Feelin' good.
I notched up the second game with a come-from-behind 110-close. Feelin' BETTER than good! I was gonna kick this "boy's" ass! I could feel eyes turning to watch.
The truth be known, I don't exactly know what happened next. Parfan (who it turns out, recently followed a perfect nine-darter with a ten-darter in National Team qualifying competition) turned his darts into overdrive and smoked me like I was a spindly Narra tree on the side of Mt. Pinatubo. I never saw another opportunity to close.
And then, as surely as he did in nine-ball, Sabalboro tore me up in cricket. And I KNOW the rules of cricket! He was kind in victory though. He bought me another beer, gave me a fancy darts case and introduced me to a couple of the bar's pretty Guest Relations Officers, named Lika and Sharon. Something about them reminded me of Chito's flight collection.
It wasn't until the next morning that I realized something wasn't right. Don't get me wrong: I woke up feelin' out of sorts but chalked it up to the effects of a dozen free San Miguels. I popped a couple of Alka-Seltzers before making my way to breakfast. But I still couldn't shake the feeling.
I was sittin' in this Malaysian restaurant in front of some spicy rice entrée, sippin' mango juice and flippin' through the little brochure that I'd been given at the U.S. Embassy when it struck me exactly what was wrong.
"Maintain a low profile at all times," the brochure warned. "Beware of unknown individuals who try to befriend you. Tourists frequenting lower quality nightclubs are particularly vulnerable. Criminals have administered drugs proffered in drinks to unwitting visitors to facilitate robbery and assault."
MY DARTS!!!
The realization that my most precious possessions were not IN my possession immediately shoved my hangover aside.
SOME BASTARD STOLE MY DARTS!!!
A waitress appeared at my table-side. "You have telephone call," she said. "Please go to registration."
"Huh? Me? Really?" I said.
I walked across the restaurant to the hotel lobby and approached the girl at the front desk. "My name's Seigel. I have a call?"
"Yes sir." She smiled as she handed me the receiver.
"Hello? This is Paul Seigel."
"Dartoid! It's Steve."
"Steve?"
"Steve Dorotheo. From last night. You left your darts in my car."
"Really? I didn't even realize they were missing."
From the Field,
Dartoid
The following two tabs change content below.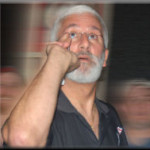 Author of the column that since 1995 has been featured by Bull's Eye News, the American Darts Organization's (ADO) Double Eagle and numerous other darts publications and websites around the globe.