Column #126 Corrections!!!
July 1, 2002
Column 126
Corrections!!!
Now that the Professional Darts Corporations (PDC) Las Vegas Desert Classic darts tournament has come to a close and its inaugural champions — Americans Ray Carver and Carolyn Mars — have been crowned, it's time to wrap up this little series of reports and return to real life.
But first I need to correct some misinformation that I have inadvertently promulgated over the course of the past week. The fact is I was drunk (on SIX DOLLAR beers that came in PLASTIC bottles) pretty much one hundred percent of the time. Not that this is an excuse. However, this has enabled me to better understand just exactly how someone could loose their underwear, right off of their body, and not technically be aware of it.
Unfortunately, the first bit of misinformation I must set straight is in the very first paragraph above.
Damn.
Although Carver tied with Paul Lim to place highest among the American men participating in the shoot (and will travel to England at the end of the year as the wild card entry in the PDC 2003 World Championship) he did not actually win the Men's 501. It was Phil Taylor, with an awesome 104 points per three dart average (meaning that every time he threw a ton he HURT his average), who wowed the crowd to defeat Ronnie Baxter and take home the $20,000 top prize. Of course, Uncle Sam took a thirty percent cut because he can't throw darts worth crap to earn a living himself.
On the ladies side, despite jumping off to a one set lead, Mars ultimately went down two sets to one to the former world ranked number one, England's Deta Hedman. Mars did her fans proud though and was extremely gracious in defeat, congratulating Hedman and then, in numerous interviews, complimenting her opponent as the "best shooting potato head I've ever come up against."
Speaking of potato heads, let me also — once and for all — assure the esteemed new leader of the American Darts Organization (ADO), Mr. Bickie, that when I wrote the phrase "potato head" and said it was a "direct quote" I did not mean to imply that it was one of his minions on the ADO Board who used such dastardly terminology to refer to our British brethren.
It turns out Mr. Bickie does more than just steer the ADO to greatness. He is also a professor in the Department of Pathology at the University of Texas Medical School in Houston. And an expert in his field. It is therefore, with all due respect that I recommend to Mr. Bickie that he undertake to have the appropriate surgery performed on that portion of the brain that differentiates between reality and bullshit. Apparently there's a pathogen of some sort wiggling around inside of his.
A few other corrections:
I was not, technically, arrested at the Tropicana for strangling the chicken that plays the tic-tac-toe game. I did however, lose a great deal of money to the little bastard and, wrongly, insulted him with a barrage of extremely inappropriate language, including the term "potato head." I was politely escorted from the premises by two guys in uniforms. So, to the person at the Humane Society of the United States who e-mailed me and also to my father who called my wife in a panic, I did not hurt the damn chicken and I did not spend time in jail.
Phil Taylor did not whisper in my ear that he was "wearing Tommy Cox's shorts."
It was hot but I did not see someone who looked like Jerry Umberger (or Marshall Popp either) spontaneously combust. The individual looked more like Elvis.
Joe McElligott did not pay me to write that he carried Phil Taylor at Stacy Bromberg's Make-a-Wish charity shoot the night before the tournament began. However, since I did write it, Joe owes me.
I did not spell Tim Cherven's name wrong! I spelled it exactly the way it was spelled on the men's room wall.
I did not dress up as a condom during my interview with Phil Taylor. This was definitely a lie. What was I thinking? Am I nuts?
The MGM lion's tail did not fall off due to the excitement of the tournament.
I do not have personal knowledge that the PDC is in some sort of negotiation with Jerry Springer, even though I think it would be the best thing that could ever happen for darts.
My suggestion that Liverpool's Lee Palfreyman may have been drinking was completely over the edge. He's but a wee young lad. Others who were definitely not drinking include: Stacy Edwards, Kym Rowett, Laurett Meddis, Brenda Roush, Anne Kramer, John Part, Shane Meeks, Debbie Gordon, Carolyn Mars, Melissa Clopton, Pam Patton, Mick Manning and Kevin Liebkemann. One other person who was DEFINITELY not drinking was Tina Digregorio.
There were no elephants or flying monkeys on the stage, though I really did see Eric Bristow.
I did not have a date with PDC public affairs director, Gayle Farmer, despite the provocative nature of her business title and Phil Taylor's offer to set me up.
Tommy Cox did not install magnets behind the triple one's on all boards being used by Americans. And if the truth be known, I'm really not even sure that he lost his shorts. But I'm pretty sure.
I meant nothing derogatory when I expressed concern that the Brits seemed to really enjoy "having fags."
Now that we have all that settled, I have just one last breath of a message left in me about this whole Desert Classic thing.
As everybody knows, some controversy surrounded this British invasion. For various reasons some people just did not attend. Fair enough.
Those that did not attend missed an incredibly well run tournament and a simply awesome display of darts talent. Not a single American I spoke with over the course of the week indicated anything less than their enthusiastic intent to return next year, if there is an event next year, and do it all again.
So I encourage those who did attend to fan out across American and share their experience with those who didn't .
To the extent there are any doubters left it is important lay the doubting to rest.
That's because this was GREAT for darts.
And that's because Barry Hearn and Tim Darby and Phil Jones and Dick Allix and Gayle Farmer and Russ Bray and Bruce Spendley and Fred Williams and, yep, even Tommy Cox ARE COMMITTED to an encore next year.
It would be a shame if anybody missed it.
From the Field,
Dartoid
The following two tabs change content below.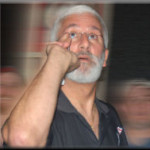 Author of the column that since 1995 has been featured by Bull's Eye News, the American Darts Organization's (ADO) Double Eagle and numerous other darts publications and websites around the globe.