Column #92 Bucky Bakalac (1951-2000)
August 1, 2000
Column 92
Bucky Bakalac (1951-2000)
"MY DREAM IS TO BE REMEMBERED AS A DART PLAYER"
— Bucky Bakalac
Perhaps it's just me. But I don't think so.
I haven't a clue what I was doing the day John F. Kennedy was shot as his motorcade edged through Dealy Plaza in Dallas. My guess, since I was nine years old, is that I wasn't in a bar.
I don't remember where I was the night the Beatles first sang "I Want to Hold Your Hand" on the Ed Sullivan Show. My guess, since I was ten years old, is that I wasn't in a bar.
I don't have any idea what I was doing the day Neil Armstrong descended from Apollo II to take his momentous "leap for mankind" onto the surface of the moon. My guess, since I was fourteen, is that I wasn't in a bar.
What I DO remember, clear as the frickin' double top sliver that I can't ever seem to hit, is the moment I first set eyes upon the inimitable, late Bucky Bakalec.
The Virginia Beach Classic. March 29, 1998. And what I am MOST certain of, since I was forty-five, is that we first shook hands IN THE BAR of the Lake Wright Hotel.
That's the way it was with Bucky. Love him or not, one absolute upon which ALL who ever crossed stuporous paths with this lover among lovers, promoter among promoters, of our great sport will agree is that Bucky Bakalac made a indelible first impression. Not necessarily positive. But lasting.
Yep. I remember it well. I was workin' on a Budweiser, talkin' darts with some friends and kind of rubbin' my wife, Marylou's, shoulders when the stranger approached. It wasn't his patented look — the irreverence of his crazy shorts and obscene t-shirts or Jesus-like flip-flops — that caught my eye first. Quite truthfully, it was his foot-tall beer mug shaped like Rocky the Flying Squirrel that distracted me from my wife and friends.
The stranger wove his way to the side of our table. He staggered. He looked at me inquisitively. Suddenly he thrust his strong hand into mine. "Hey man, you're Dartoid! My name is Buck and I don't give a fuck." Right.
An extra twinkle appeared in his mischievous eyes. Out of his shirt pocket appeared a small strip of paper, from which he carefully peeled a quarter-sized, red heart. Then, in an obviously well-practiced movement, he gently pressed the heart on my wife's breast. "I have a heart on for you," he cooed. He offered her a chug from Rocky the Flying Squirrel and then sat in her lap. Bucky was the King of Copping a Feel.
Yep, a first meeting with Bucky Bakalec was definitely an occasion to remember. But the first impression (okay, maybe even the second, third and fourth impressions) Bucky left on many people was far from a complete reflection of the man that he really was.
First and foremost, Bucky Bakalac was a dart player. And, above everything else, he confided to friends, THAT'S how he hoped his epitaph would read. "My dream is to be remembered as a dart player," he recently told his buddy and ten-year doubles partner, Francis Llanes. "My dream is to be remembered as a dart player".
It was nearly twenty years ago in Garfield, New Jersey where Bucky first handled a set of arrows. It was Constantine Struck, owner of the popular Sportsman's Bar and Restaurant, who taught Bucky, and his brother Roman, the game. It was the beginning of a wild ride and remarkable career that touched the lives of thousands.
As another long-time friend, Jack Magullian, recalls it: "His legacy includes the largest Youth Shoot program in the ADO, the three dart leagues that he founded and operated and his three annual tournaments — Bucky's Maui Waui, Bucky's Snowbird and Da Big One."
"He was President of the North Jersey Darts Federation. He ran countless tournament qualifiers and became one of the nation's most enthusiastic supporters of tournament darts, sending thousands of players over the years to places such as Virginia Beach, the NAODT, the Long Island Classic, Windy City and Macamoodus." Best of all the tournaments, Bucky loved the Macamoodus shoot — where players would pitch tents in a large field for the weekend. Bucky would plant flowers. This year he had planned to surround his tent with a white picket fence.
"The two dart bars — Sip's Pub and Courtside in Clifton, New Jersey — where he was a mixologist," continued Magullian, "could each boast a roster of fifty players or more that could take on any pub in the country. As a player his recent resume includes a win in the Draw Doubles at the NAODT with Brian Dougherty, a first and second place finish at the Long Island Classic with Dave Marienthal and a second place Open Singles finish, to Dan Lauby, at the Ray Chesney shoot." Over the years, Bucky took countless pros to the mat. Ask Paul Lim. Ask Eric Bristow. "My dream is to be remembered as a dart player".
Ole Bakalac was born to Ukrainian parents in New Jersey in 1951. In grade school the kids couldn't pronounce his funny name so they assigned him the moniker "Bucky". It stuck for life.
He attended Pope Pius II High School in New Jersey and excelled at athletics. He competed at track and field and for a long time held the school high jump record at a height of 5'9″. He played competitive soccer and basketball. He had a flair for math and art.
Bucky attended college for two years at the Ukrainian School of Graphic Arts. For a couple of years he owned a business called Babayaga Art which specialized in graphic design. He played professional volleyball.
He was married once. But it didn't last. It's not that Bucky wasn't a good husband — he was as good a husband as any darts player makes. And he was a great father. He left behind two kids, Nicholas (15) and Dennis (12). Although they lived a distance from his home, Bucky spent time with them regularly.
Children were particularly special to Bucky. He was always helping kids. He helped raise funds for the Ukrainian orphanage near where he lived. He once organized a darts tournament solely for the benefit of Ukrainian children. He contributed regularly to Ukrainian youth charities.
He was always true to his heritage. Bucky spoke fluent Ukrainian and, lover of women that he was, he especially enjoyed speaking Ukrainian to the dancers at the go-go bars. Unfortunately, he also liked to peel off his own clothes so he eventually found himself persona non grata at many such establishments on the east coast.
Yep, Bucky DID love the women. Often he carried a camera with him. He'd turn on his special form of "charm". He'd do his utmost to talk some sweet young thing in to pulling up her shirt so he could snap a shot for his private album. I never personally saw this scrapbook of photographic conquests but I have been assured — by still another of his friends, Howie Dirks (who, I'm petty sure, plans to keep the album updated) — that it really does exist and that it contains more "butts than breasts."
Bucky also had a serious side. "He was an extremely intelligent man," remembers Magullian. "He collected works of art and snow globes. He subscribed to some ten different magazines on subjects ranging from gardening to antiques. He read a book a week, particularly espionage novels. He visited museums. He could talk economics." Bucky followed world events — HE could remember where HE was the day the Beatles, Kennedy and Armstrong did their things. He had a collection of more than a thousand videos and an even greater number of compact discs. Like many of us who grew up in the '60's, Bucky was partial to Pink Floyd and The Who.
And, yep, Bucky drank. In fact, Bucky couldn't find the inside of the triple ring without a drink or two in him. And he was sharpest at the line — the absolute toughest he could be — when he was plastered. "You gotta drink doubles to hit doubles" was his mantra. Drink and darts — it was a crazy, probably tragic, convergence.
His magical skill at the line with a set of mismatched, three dollar darts and his two-decade's worth of dedication to the sport earned him induction into the National Darts Hall of Fame. It earned him a reference in a New York Times feature about darts as one of the "gurus" of our sport. "My dream is to be remembered as a dart player".
Yep, Bucky drank. A lot. And he seldom slept. According to Magullian "one of his latest goals was to sleep for a week to catch up." Many times Bucky's friends warned him. "You're living on the edge," they admonish. "You can't keep this up."
But Bucky "had a plan," explained Magullian. "He wanted to do everything, feel everything and see everything. He was a wonderful and compassionate, albeit misunderstood, regular guy who could never say no — who would never let anyone down. Bucky didn't have ten commandments. Only three: always be honest, always be loyal to your friends and always be focused on darts. He was teaching a blind girl to play darts just days before he died. He focused until the end." "My dream is to be remembered as a dart player".
Just as with the first time I set eyes on the man, what I also remember is the last time I was in the presence of Bucky Bakalac. Again it was the Virginia Beach Classic. Again, the Lake Wright resort. March 26, 2000.
Bucky was blotto, but apparently not blotto enough to be on his game. I'd just walked off after chalking a cricket match between Bucky and John Part. Part had demolished him. I heard a small commotion and turned around to observe Bucky, who could barely stand, being confronted in considerable anger by, what turned out to be, the father of an adolescent girl.
The issue, as the father saw it, was that Bucky had given the eight year old his room key — and told her to use it if she wanted some candy. Bucky, as best he could in his condition, did not dispute the facts. The story was absolutely true. But the nuances were all wrong.
Earlier, as he often did at tournaments, Bucky had been giving away candy to the kids who so often seemed to be drawn to his personality. He was kind, fun-loving, care-free — his detractors might call him a clown. But the fact is he loved kids and kids loved him.
The bag of candy ran out before this particular little girl was able to grab a piece. The disappointment on her young face was just not something Bucky could dismiss. So he gave her his key to go find the rest of the bag that was back in his room. Stupid, yes. Innocent, indeed. Vintage Bucky Bakalac, absolutely. And fortunately, the little girl's father understood.
Bucky Bakalac died in his sleep of a massive heart attack on July 9th. He left a family. He left his mother. He left literally hundreds of friends who like Llanes, Magullian and Dirks, thought of him as a brother.
And Bucky left a saddened darting community which, in the words of another of his closest friends, Jess Nicoll, "will never be quite the same without him but is better for his having been a part of it" and is testament to the fact that he did, indeed, achieve his dream "to be remembered as a dart player".
From the Field,
Dartoid
The following two tabs change content below.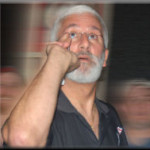 Author of the column that since 1995 has been featured by Bull's Eye News, the American Darts Organization's (ADO) Double Eagle and numerous other darts publications and websites around the globe.