Column #85 Good-bye "Mr. Bean"
March 1, 2000
Column 85
Good-bye "Mr. Bean"
It's been some six years now that I have been writing this column. My subject has always been darts. Today must be different.
For those of you who follow this page and who might occasionally find reason to smile in my words, please forgive me this one indulgence. Today, I'm afraid, my thoughts are miles from our sport.
My wife, Marylou, and I lost our best friend last weekend. Even though he was very old, and we knew his death was imminent, our loss is no less painful. We miss him so terribly much.
We are trying to take comfort in memories. And in the knowledge that we did him a favor by removing his pain. It seems a fitting send-off to remember the good times with you. After all, the columns you have read, many of them anyway, were written while our golden retriever, Colby, slept comfortably by my side.
When he entered our lives in the spring of 1985 he was just a puff of fur and feet. I had him flown in from St. Louis as a Mother's Day present for my wife. When he bounded out of his little crate, and when Marylou scooped him into her arms for the first time, it was love at first sight. He'd already captured my heart on the ride home from the airport as we crunched ice cubes together from McDonald's.
Colby did all the naughty puppy things. He chomped stuffed animals and brought us the remaining body parts as gifts. He uprooted house plants and dragged the bedraggled stalks and roots across the carpet to us, expecting to be praised for his efforts. We endured the discovery of toe-less socks, gnawed-up shoes, gooed-up nylons, and the occasional pair of jeans with the seat chewed out. So many times he earned a scolding. So many times he crinkled his little face and wagged his tail in apology. So many times we fell in love all over again.
As Colby grew into adolescence it was the other end of his body that most often got him into trouble. He just loved life so incredibly much. His enthusiasm to do anything and everything, everywhere and at once was contagious, and dangerous. As his eyes sparkled brightly with curiosity and anticipation, and just plain joy for whatever was next, his tail inevitably sent something into motion. A glass figurine. A bottle of wine.
Somewhere along the way, early in his happy life, Colby became know to us as Mr. Bean. Perhaps it was his awkwardness. Perhaps it was the way little disasters seemed to follow him. Or perhaps it was just his innocence and bigger than life heart. Whatever it was, he reminded us of the comedian Rowan Atkinson. The nickname stuck.
He became a champion Frisbee catcher and tennis ball chaser. He could snatch a piece of popcorn from the air with uncanny skill. He loved children and cats. He loved pizza on Saturday nights, pancakes on Sunday mornings and cheeseburgers whenever he could get 'em. He loved hugs. He loved just plain waking up in the morning. What he detested were peas. He would meticulously pick them out of his food bowl when ever we were foolish enough to try mixing something special, that included them, into his dinner. We never did figure out how he managed to do this. He fancied himself a guard dog, although we're quite sure no respectable burglar would have taken him seriously with his teddybear dangling from his mouth.
Bean was most content lying by Marylou's feet as she ironed. And as he aged and his arthritis worsened, this was about all he could do. He would fall deep asleep as Marylou recited to him the same children's stories she used to read to our daughter, Jami, when she was a little girl. My belief is that it was the sound of her voice that soothed Bean but Marylou thinks it was the tales themselves. His favorite, she insists, was Goldilocks and the Three Bears, especially the part about the porridge.
But, far and away, Bean's favorite activity was going to the National Seashore when we lived on Cape Cod. He would run free for hours chasing his big brother, Marbles. In and out of the waves they'd cavort, barking at seagulls and sandpipers, until all four of us would trudge back to the car at the end of the day, exhausted and covered with sand.
That's why we had Bean cremated. So some warm and sunny day we can take him back to the beach and set him free, with his brother, to play and frolic for eternity in the place they both loved the most.
This has been such a sad week for Marylou and me. But when the pain gets too intense and the tears begin to flow, we find that it helps to close our eyes and listen hard. We can hear the crash of the waves on the shore. The squawk of the gulls. The patter of padded feet. And the joyful barking of two best friends.
Godspeed, Mr. Bean.
From the Field,
Dartoid
The following two tabs change content below.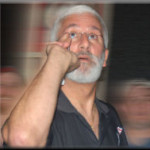 Author of the column that since 1995 has been featured by Bull's Eye News, the American Darts Organization's (ADO) Double Eagle and numerous other darts publications and websites around the globe.