Column #54 The King is Dead
July 1, 1998
Column 54
The King is Dead
When the letter arrived I knew it was bad news. My old darts buddy, Tommy Molina, just wasn't one for penning newsy accounts of what was up in his life. His job had been dragging. His father had been in the hospital. Unemployment? Death? Like I said, this envelope was certain to contain a major downer.
I unfolded the crisp page inside to find a short, carefully typed letter. The news was even worse than I could have imagined. Tommy "The King" Molina, my traveling companion for years; heartthrob to women in more ports than I can count; master storyteller, drinker and Cohiba connoisseur was going down for the count. The letter was actually from Tommy's brother-in-law, Hermie, himself well known in certain circles as a "trained professional" when it comes to organizing that pre-death ritual more commonly known as a bachelor party.
Yep, Tommy was getting married — to a sweet young thing named Kim. I was to be one of the chosen few to help send him off properly into his new life.
The plan was simple. Old friends from across the country were to fly to some bar in Boston. We were then to board a van and wend our way via every strip joint en route to some place in New Hampshire called Franconia Notch. The next day we were to climb a mountain.
I called Hermie immediately. In very certain terms I made it clear that Dartoid doesn't climb mountains. "I drink. I throw darts. I know what to do with the dollar bills at the go-go bars. What's with the mountains?" Hermie assured me that I had nothing to worry about. He told me there was an outlet mall, with a darts bar, at the base of some 6,000 foot pile of rocks called Tuckerman Ravine. "The men will climb the mountain," he said. "You can throw darts with the girlie-boys."
The hours, the day actually, between when I arrived in Boston and when the group finally found New Hampshire are lost. The few images I retain — of a guy named Fish sprinting across a parking lot and back-flipping into the bay of a big black truck; of Tommy standing on the hood of the van ceremoniously watering the windshield; of a ladies-man-in-his-own-mind maniac named Pongo fast-talking some bouncer with no neck out of treating us all to a room at the Gray Bar Hotel — are tucked away, earning interest for my retirement. Surely someday, Tommy — who insists he will be sitting in Congress by the time he is thirty-five — will pay me megabucks more than the eight dollars it cost to have the film developed.
Franconia Notch is in the middle of nowhere. There's a hotel. A small grocery. A gas station. And a little sports and bait shop that sells frisbees, the sophisticated tools of the whiffle-ball trade, and plastic worms with hooks designed to rip the lips off of unsuspecting fish. We didn't actually require any of this stuff but we stopped in often to watch the skirt-chasing Pongo be shut down repeatedly by the attractive salesgirl at the counter. I am certain she was all of seventeen.
At the top of Franconia Notch, at the tip of a mountain called Washington, is Tuckerman Ravine. It's a sort of bowl-shaped skier's mecca where winds over 200 miles per hour have been recorded, where temperatures are frigid and where some 150 people have perished experiencing such delights. There is no outlet mall, and no darts bar, at either the top or the bottom of this wonder of nature.
It goes without saying that I didn't make the ridiculous trek. Well, actually, I did. Sort of. In the rain and the mud and the slime I trudged upwards about half the way. Then, sanity recovered, I threw off my backpack, changed my clothes and headed off in my skirt and heels to find some other girlie-boys to give me a game.
I finally found a board some fifteen miles south through the back-country, in the village of North Conway. The name and address of the place escapes me. I think it's on Route 16. It's quaint. They have beer. Cigars. And, in a closet just off the hallway to the men's room is a nice Nodor board. In a box.
The aches and pains of manhood and, perhaps, the realization that "The King" really had fallen — that we were growing older and that with age times change, and that Tommy really was on the cusp of a brand new life — made for a subdued return to civilization.
Pongo, still horny and still vigilantly in search of anything resembling a member of the female persuasion, muttered endlessly about the teenager at the bait shop.
Fish lectured quietly on the technique, and the perils, of professional truck-flopping.
Hermie navigated and drove, peering red-eyed through windows kept sparkling "clean" by periodic sprinklings from Tommy.
And Dartoid — well, I kept my skirt pulled down, my legs crossed, and my "dart" well covered — and maintained as much distance as possible from Pongo.
From the Field,
Dartoid
The following two tabs change content below.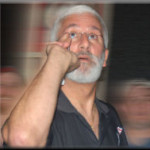 Author of the column that since 1995 has been featured by Bull's Eye News, the American Darts Organization's (ADO) Double Eagle and numerous other darts publications and websites around the globe.