Column #44 Washington, D.C.
January 1, 1998
Column 44
Washington, D.C.
Perhaps it is just me. The last time I traveled to Washington, D.C. looking for a game of darts I was captured and held hostage by a cabbie named Abdul and taken for a unrequested tour of the city.
This time I suppose I was fortunate (at least for a start) to be driven, by a guy named Shahzid, directly to where I asked to be driven, the highly recommended Mr. Eagan's Pub (1343 Connecticut Avenue, N.W.). I say "fortunate" for two reasons.
First, Mr. Eagan's is a hell of a little darts bar. Second, and key in this instance, I couldn't possibly have survived another moment of confinement in the back seat of Shahzid's vehicle. I don't know what the smell is that universally pollutes the air inside each and every taxi operating in our nation's capitol. I can only assume that it's caused by some sort of secret Arabic dust the drivers sprinkle on their furry upholstery to fool poor souls like myself into believing we should be downright delighted to fork over fourteen bucks for a drive around Dupont Circle.
For my money, Mr. Eagan's is about as good as a darts bar gets. The proprietor, Jimmy Eagan, might fairly be regarded as the Dean of Darts in our nation's capital. He's been involved in the sport for as long as I've been alive. He's married to the former Jacque Harden who was the U.S. National Women's Champion in 1972. Two bristle boards hang outside the building advertising in unmistakable fashion the commitment to the sport to be found inside.
Eagan's has been in business since the 1950's and it looks that way. I wouldn't exactly call it a dive but it's certainly a neighborhood bar that's seen better days. The atmosphere is low key. Congenial. It's a two level affair, with darts action (two boards) on each level. I myself prefer the basement area. It's where the regulars congregate. It's definitely where you can find a cold beer at a good price and a great bowl of chili. Just ask for Ginny.
In many ways Eagan's is the epicenter for Washington's only exclusively capitol-based dart league, Tournament Darts International (TDI). While there is another, and larger for that matter, league in the area (the Washington Area Darts Association — WADA), TDI distinguishes itself by restricting it's activity to teams and players located inside the beltway. WADA, on the other hand, operates largely in the suburbs.
TDI has also distinguished itself by recently facilitating the first ever Internet audio match against a team at the South Pole. Certainly TDI has one of the most innovative Internet web pages going — which means my friend, and former TDI Director, Ed Edwards (the guy who created it) is either brilliant or just a man with far too much time on his hands. Check out http://personal.boo.net/~tdi/when you have an opportunity. When you get there consider ordering the TDI league tee shirt. It's one of the best around. TDI's weekly newsletter, TDI News, was once described by Larry Butleras "the finest I've seen for a dart league in the country."
Along with many other fine shooters, TDI counts among its membership U.S. National Team member Nancy Huntoon, currently ranked just off the top of the ADO's Championship Points Standings. They also claim to have a hot-shooting stripper named "T" — or maybe it was a hot stripper who shoots. Whichever, for reasons I can't explain no one introduced her to me. Maybe she just wasn't there.
Just as TDI isn't the only league in town, Mr. Eagan's, of course, isn't the only place to get a serious game. After warming up here tonight I headed off to another great darts bar called Caffney's (5521 Colorado Ave.). I hoped I'd get a chance to meet "T" but ended up tossing a few darts instead with a couple of locals named Smoke and Animal. Smoke hoped to smoke Animal but Animal ended up smoking Smoke. I myself got smoked by both Smoke and Animal. And then the woodchuck chucked.
Caffney's is worth a stop. It's kind of a dark little place but it's got a well stocked bar and ten boards distributed between two rooms. There's even a pool table for those who haven't developed the skills to compete at the oche. In business since the 1950's, the joint is as steeped in darts history as Eagan's.
It was well after midnight before I stepped back onto the street to wave down the first Abdul or Shazid that happened by. Eventually a bearded fellow named Jamal pulled up to the curb. And, true to form, thirty bucks and a one hour tour of the town later I was curled up with my darts for the night.
From the Field,
Dartoid
The following two tabs change content below.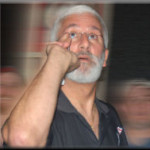 Author of the column that since 1995 has been featured by Bull's Eye News, the American Darts Organization's (ADO) Double Eagle and numerous other darts publications and websites around the globe.