Column #39 Amsterdam, Netherlands
June 1, 1997
Column 39
Amsterdam, Netherlands
On my maiden visit to Amsterdam a couple of years ago I more or less floated through town.
It was by bike and by beer that some friends and I experienced this wild Dutch city, approximately one-third of the way into probably the stupidest macho nightmare any of us had ever bragged ourselves into — a 2,000 mile bike ride from Dublin to Moscow. Amsterdam was slotted as a 48-hour rest stop (and for my part, a chance to check out the darts scene) before our next several-day push towards Berlin.
To this day I can recall only glimpses of my visit. I retain an image of a street vendor trying to coax me into a club to see a gorilla perform unnatural acts on stage. I remember watching a falafal descend in slow motion from a table and onto my foot. And my friend Tommy Molina has photographic evidence of the damage inflicted upon my beard as I sipped flaming rum drinks at one of the many roadside cafes.
I never made it close to the oche two years ago. That's why I had to come back today.
As usual, I spent my afternoon doing the tourist thing. I walked along a couple of the more famous canals (Herengracht and Keizersgracht) to see some of the beautiful gabled houses. I stopped by the famous Anne Frank house at 263 Prinsengracht. I purchased a gigantic Amaryllis bulb (which I later reluctantly handed over to a Customs agent) for my wife at the floating flower market near the Munt Tower. I even checked out the Van Gogh Museum and then the Rijksmuseum up the road to see Rembrandt's The Night Watch. As night fell I took time to stroll through Leidseplein to wander among the musicians, dancers and mimes that congregate in the square.
And then I pulled out my Hammerheads and walked into Cheers Bar (Konininginnewg 219). Located in one of the prettiest parts of Amsterdam near the old hippie hangout, Vondel Park, Cheers is one of the classiest little darts bars I've encountered in my travels. Dark. Quiet. Candles on the tables. The place shines. I spent a delightful couple of hours at Cheers playing Tactics (a local sort of long form of Cricket) with the owner, a woman named Hermein. It was she that kind enough to direct me to my next and final stop of the evening. There was no need to look further.
The Cafe De Vluchtheuvel (V. Woustraat 174) is touted as the most serious darts pub in Amsterdam. Even Hermein, who had nothing to gain by pointing me beyond her establishment, insisted that this was where the best of the areas' shooters spent their time. And she was right. I walked through the front door and straight into the nucleus of the Darts Organisate Regio Amsterdam (DORA).
The Cafe De Vluchtheuvel and its darters (and I easily met up with thirty of them) are everything they're cracked up to be. There are just two boards (brass oches, good lighting, electronic scoreboards) but somehow the place manages to sponsor more than ten local teams. The bar is crammed with trophies won by its teams. The walls are covered with posters announcing local tournaments. If you're ever in Amsterdam and are looking for some top-flight competition there's just no question this is the place to stop.
It was nearly 3:00 AM by the time I left the Cafe De Vluchtheuvel, about an hour before closing — but with just enough time to spare for a couple of rum drinks and a falafal. The gorilla was already asleep.
From the Field,
Dartoid
The following two tabs change content below.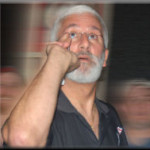 Author of the column that since 1995 has been featured by Bull's Eye News, the American Darts Organization's (ADO) Double Eagle and numerous other darts publications and websites around the globe.