Column #37 Johannesburg, South Africa
June 1, 1997
Column 37
Johannesburg, South Africa
I've thrown darts in some strange places. Some really strange places. The rainforests of Congo. The back allys of Bombay. But no venue — not anywhere in the world — rates as more bizarre than where I have just finished playing. Tonight I stood at the line inside the gates of Johannesburg's high security Diepkloof Prison.
The last time I passed through South Africa's capital city I struggled hard, but failed miserably, to find a decent place to throw. I whiled away a couple of hours in front of an electronic board at a pub called McGintys. I don't recommend the place. Their board or their beer.
This time I managed to connect up in advance with George Sharpe, the General Secretary of the Southern Transvaal Darts Association (STDA). George, a virtual Jockey Wilson look-a-like, owns G.S. Promotions — one of Johannesburg's largest suppliers of darts and accessories. George is "Mr. Darts" in this neck of the bush. As strange as his advice sounded I followed it to a tee.
George said that darts was big within the correctional community. To get a good game what I needed to do was drive to the outskirts of Soweto (easily one of the top half-dozen most unsafe areas on earth) and up to the main entrance of Diepkloof Prison (which I knew to be "home" to some 20,000 killers and rapists and worse). Then he gave me a sort of password.
So last night in the dark and the mist and in the middle of nowhere, and against the better judgement of everyone I know (but with a couple of friends in tow), I pulled up to the gate of this place. Before me loomed a sprawling cement fortress, surrounded by consecutive two-story high walls of barbed-wire. Soft light from inside illuminated the bars on the cellblock windows. One could sense movement. The hopelessness of the forgotten souls inside.
"We're here for the darts", I said (remembering the "password") as the guard approached our car. Satisfied, and apparently unconcerned that two 5'9″ white guys and a blond might be there to bust somebody lose, the guard promptly flicked the switch to open the gate. Just inside we stopped again and asked for directions. We asked if we were safe. The guard laughed.
Eventually I found myself inside the prison recreational center, which as unlikely asit might seem, is one hell of a place to throw darts. Eight boards. Great lighting. Raised oches. There's even a little bar right in the middle of the place. No Budweiser though.
The STDA boasts a membership of some 700 shooters. About sixty of them representing a half-dozen or more teams (with locally appropriate names such as Just Tigers and Red Ants) were in the midst of league play. George introduced me around and proudly shared some of the league's statistics (they've got one guy here named Ryder who has racked up 134 maximums, a ten-dart game and a 170 out in just the last couple of years of league play). George then arranged for me to take on two of the best shooters in the place.
For the next hour or so, two prison guards, both twice my size, and I duked it out at 501. I quickly won the first couple of games (which attracted the attention of several dozen onlookers) and I'm pretty sure I could have won a few more — if they hadn't tear gassed me and pounded me with billy clubs.
Okay, not really. But the result was about the same. These guys could shoot. Damn, they could shoot. By the end of the night there was no question in anyone's mind, certainly not mine, that I'd been taken prisoner at Diepkloof Prison. Inmmate Number 20,001.
From the Field,
Dartoid
The following two tabs change content below.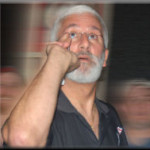 Author of the column that since 1995 has been featured by Bull's Eye News, the American Darts Organization's (ADO) Double Eagle and numerous other darts publications and websites around the globe.