Column #28 Negril, Jamaica
December 1, 1996
Column 28
Negril, Jamaica
Last night I threw darts on a chessboard.
Amidst three-foot high knights and rooks on a checkered slab of cement I played cricket with a shapely native girl named Tanika. Behind me the sun seemed to levitate before disappearing beyond the orange Caribbean horizon. Just yards away, waves soflty lapped the white sands of the beach. Tanika brushed her dreadlocks out of her eyes yet another time before stepping up to our makeshift oche, two giant bishops on either side of a line marked off with a palm frond just under eight feet from the bull.
I'm in Negril, a little resort town on the west coast of Jamaica, about ninety miles south of Cuba. My wife and I are here for our daughter Jami's wedding to her long-time boyfriend Michael. After dating for eleven years (almost longer than I've been throwing darts) I suppose it's an occasion long overdue. I feel ancient as I write this. It seems like only yesterday that Jami was thirteen and I was drawing lines on bottles in our liquor cabinet.
Hot days, cool nights, temperate breezes and friendly people. Red Stripe beer (which is awful). Blue Mountain coffee (which is great). Cuban cigars (which are $20). Jerk chicken (which is arguably the best food ever made). Topless beaches (there's actually a beach here named "Booby"). Rum (yum), reggae (as in Bob Marley) and Rastafarians (which forbid their followers to cut their hair and which employ the "ritualistic" use of the "holy herb" ganja for "enlightenment"). Ah, Jamaica…
If this Connecticut-sized island is the most relaxing spot on the planet (and it claims it is) then Negril (which calls itself the "Capitol of Casual") has got to be the most laid back stretch of real estate known to mankind. Nothing, absolutely nothing, happens fast around here. The Island mantra — "no problem, mon" — is a way of life. You get up when the sun rises and you go to sleep when you simply can't swallow another drink with a little umbrella in it. I've slept very little. I like umbrellas.
I arrived in Negril, via Montego Bay, three days ago (almost five hundred years after Christopher Columbus first set foot on the island). I still have no clue where my bags are but it doesn't matter. At least not to me. I carried my most valuable possession — my Hammerheads — in my pocket. No problem, mon!
That's if you don't ask my wife. She's worked herself into a frazzle worrying that I may have to attend the wedding tomorrow wearing nothing but a Budweiser darts t-shirt and a bathing suit.
Me, I just don't see a reason to worry. The same attire (and probably the suave way I place my darts in my shirt pocket) was what attracted Tanika to me in the first place. Possibly not. It could have been she was just curious why I was crawling around on the ground with a palm frond.
Tanika approached quietly and said something like: "What dat you is doin', mon?"
Surprised but curious (after all, this caramel skinned girl with floppy dreadlocks just appeared out of the palms in the middle of the steamy Caribbean night), I stopped crawling and responded with: "Hi there. I'm just trying to measure off the distance from the bull to the oche so I can play some cricket. You wouldn't happen to have a Craftsman tape measure?"
Tanika smiled and said: "Smokin' dat ganja, eh? Why you play with crickets, mon?"
So, gentleman that I am, I explained about darts and the difference between cricket and crickets.
And just a little late (okay, way too late), after I'd adequately made a fool of myself (or, more precisely, after Tanika let me make a fool of myself), I realized she understood everything I was saying and had from the moment she'd first appeared. And, soon, I realized she also knew what she was doing at the line!
Jamaica has a lot to offer, a tremendous amount to offer, but good darts bars aren't high on the list. Except for the board next to the beach where I met Tanika (at Sandals, Negril) I was unable to find another venue. If you travel here you may as well leave your darts at home.
They are the last thing you'll need anyway — if you make it to Booby Beach.
Yeah, mon!
From the Field,
Dartoid
The following two tabs change content below.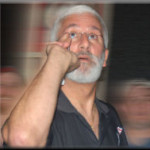 Author of the column that since 1995 has been featured by Bull's Eye News, the American Darts Organization's (ADO) Double Eagle and numerous other darts publications and websites around the globe.