Column #18 Tokyo, Japan
August 1, 1996
Column 18
Tokyo, Japan
Located in central Tokyo is a great little place to throw darts. Getting there takes committment and patience, particularly if your command of the Japanese language, like mine, is limited to "hello, bathroom and beer". Absolutely mandatory though for a day in Japan is a thick, thick wad of cash.
I was shocked to find that a taxi ride from Narita Airport to downtown Tokyo costs $650. I damn near walked before buying a $50 train ticket for the forty mile trip.
After checking into my hotel I took the risk and hopped a cab for what should have been a ten minute ride to the Roppongi area of town. Thanks to my inability to communicate it took nearly forty-five minutes to complete this ordeal. That and another $50.
As my wallet thinned my appetite grew. I stopped for lunch but setted for a $6.50 glass of mineral water. I couldn't have described what I wanted to eat even if I could have afforded it. Plus most of the items pictured on the menu appeared to be made of disgusting things like eyeballs and heads of small animals.
I reached my destination late in the afternoon. Pint's Sportscafe (106 Second Reine Building, 531 Roppongi Minato-ku). Opened in March of 1996, Pints has quickly established itself as one of the pubs of choice catering to the "gaijin" (foriegn) crowd. People the likes of Magic Johnson and the San Diego Chargers have all stopped in recently.
The game room is where the action is. A pool table (which, believe it or not, actually costs $10 per each half hour of play). A big screen television. And a dart board — one of those Budweiser issues with the red and white pies. A good board, set up fine. And fortunately, unlike the poor souls on the pool table, you can throw for free. I say fortunately because each beer will run you $10. Imagine that!
Despite the cost Pints is a super place. The food is western.. chili dogs, onion rings. The beer is western.. Bud, Millers and Guinness (in fact, they don't even serve the popular local beers — Kirin, Asahi and Sapporo). And the music is western — Wilson Pickett was playing when I walked in.
But I walked out pretty quick. At ten bucks a beer my shrinking wallet literally evaporated before my eyes!
From the Field,
Dartoid
The following two tabs change content below.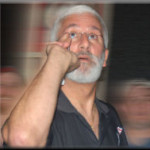 Author of the column that since 1995 has been featured by Bull's Eye News, the American Darts Organization's (ADO) Double Eagle and numerous other darts publications and websites around the globe.