Column #CM70 Grand Slam – Day II
Thursday, November 21, 2019
Column CM70
Grand Slam – Day II
Lisa Ashton and Mikuru Suzuki are not the first women to take part in the Grand Slam. Before them, Anastasia Dobromyslova, Francis Hoenselaar, Stacy Bromberg and Tricia Wright stood on the stage in Wolverhampton. Not at the same stage of course as the Civic Hall is still being – but at the same tournament.
Anastasia Dobromyslova took part in 2008 and 2009 and almost defeated Wayne Mardle in 2008. Not one of his fondest memories. One year later in 2009, she won against Vincent van der Voort in the group phase.
Hoenselaar was also in Wolverhampton in 2009 but she lost all her matches – but loved the experience nevertheless.
Stacy Bromberg and Tricia Wright took part in 2010 and lost all their matches as well. But, just as this year, the crowd supported the women. I can't say whether the women this year are playing better then their predecessors but to date Anastasias Dobromyslova's 87.20 average against Vincent van der Voort in 2009 has not been exceeded.
On the second day of the event all participants again stood on stage. There was again an afternoon and an evening session and both times the losers played the other losers and after that the winners faced the other winners. Of course that changed the group tables a lot and some players were out before the third match while others qualified for the knockout phase.
Groups E-H played in the afternoon and first on stage were the PDC players Brendan Dolan, Danny Noppert and Jamie Hughes who all three rehabilitated at the expense of their BDO colleagues Richard Veenstra, Wayne Warren and Lisa Ashton. Veenstra, Warren and Ashton are all eliminated from the event after their 1-5 defeats. Dolan, Noppert and Hughes retained a chance to qualify. All three matches were rather one-sided. Ashton seemed to be even more tense in her second match as she had been in her first and she played worse as well. Perhaps tomorrow we'll have the chance to see the real Lisa Ashton.
The last losers match saw Martin Schindler against Glen Durrant and Schindler played without luck. He was ahead 4-2 and looked to be the eventual winner. But he missed two match darts and Durrant used his chance to get to 3-4. Schindler looked shocked and due to the short format had no time to recover. Durrant won 5-4 and Schindler was out of the tournament.
In the next four matches we saw the winners of the Groups E-H on stage. Gabriel Clemens played a strong match against Daryl Gurney and won the close match in which Gurney had his chances. By this win Clemens is qualified for the group phase. In his last group match he will play against Richard Veenstra. After what we have seen from Veenstra so far one really can't imagine Clemens losing to the Dutchman.
Peter Wright played a good match this time and Ryan Harrington had no chance against him. Wright is almost but not completely qualified.
The match of tournament so far followed next – Michael Smith gave an outstanding performance and demolished Nathan Aspinall who had a 105 average. It was a fascinating match from Smith who played (with 113.62) the so far third highest average in the history of the tournament. Smith was through to the last 16 and suddenly one of the favourites to win the tournament.
In the last match of the afternoon Rob Cross faced Dave Chisnall and Chisnall won 5-3. But after the previous great match this one was not really captivating. Chisnall moved through to the knockout phase.
This time the break between the two sessions was shorter and soon with Steve Lennon and Wesley Harms the first losers of the Groups A-D came on stage. Neither of the players played well. In the end Lennon prevailed 5-4. Next were Darren Webster and Dave Parletti. Webster was just better and played solid darts. After Parletti, Jim Williams was the next BDO player came on stage. Against Ross Smith he played much better then in his first match and he won 5-1 – the only win of a BDO player so far. Ross Smith will just have to accept that this year's Grand Slam was not his tournament – he never was in the match at all and is out after the tournament after his two defeats.
The last of the losers was Dimitri van den Bergh who played against Mikuru Suzuki and he played far better then in his first match after he had overcome his nerves. Before the match he said he felt a little bit unsure playing against a woman. Suzuki had almost the same average as in her first match but like Ashton looked not as determined and confident in her second match.
The winner's matches began with two really very close contests and two comeback wins. Gerwyn Price vs. Robert Thornton was on first and Thornton almost won – and would have had he not missed his two match darts. So the 5-4 winner in the end was Gerwyn Price although he had been behind almost the complete match.
The second match between James Wade and Ian White was a similar affair. When he was 4-2 in the lead White missed two match darts and the match was over for him. Wade won the next three legs and left the stage as the winner.
Despite their wins Wade and Price were not yet quite qualified for the knockout phase – the third group match on Tuesday will be decisive. Also not qualified yet is Gary Anderson in Group D who won 5-3 over William O'Connor – and was almost Gary Anderson at his best. Anderson has two wins as well and heads the group table but the last group match will decide whether he'll progress.
Only Michael van Gerwen in Group A is already through after his win against Adrian Lewis. Van Gerwen played well and better then in his first match though Lewis played quite good as well. Van Gerwen heads the group table while Ross Smith is out.
This ended earlier on Saturday and there were fewer fans who walked with me to the shuttle bus. But something hadn't changed – it still rained!
The following two tabs change content below.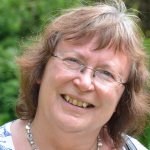 The founder of Global Darts, darts journalist Charis Mutschler hails from Marbach, near Stuttgart, Germany. A regular at most major PDC tournaments, a lover of literature, dance and music and cats, Charis' popular writings about darts and its players often transcend the usual. She brings something unique to the chroniclers of the sport we all love.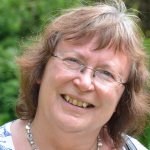 Latest posts by Charis Mutschler (see all)