Column #CM69 I am back! (Grand Slam #1)
Thursday, November 21, 2019
Column CM69
I am back!  (Grand Slam #1)
Really, I am back at Wolverhampton.
This year I was not sure it would happen. All this Brexit drama had complicated my decision to attend. A no-deal Brexit on October 31 (which Boris Johnson intended) may have created a chaotic England during the Grand Slam. With what airline should I book a flight? Was anybody really prepared for Brexit?
In the end I booked a flight from Stuttgart to London with a German airline hoping that even after a no deal Brexit it would be possible to somehow actually get from Stuttgart to London. From there I would take the bus to Wolverhampton.
As probably everybody knows by now Brexit once again was postponed. Instead, the flight attendants of my German airline went on strike!
But I managed to get to Wolverhampton somehow and the weather was even better than in Germany as it was not wet and cold – only cold. On Saturday morning the rain had reached Wolverhampton – my way to the shuttle to the Aldersleigh Leisure Village was rather wet. But as I would stay all day in the venue it didn't really matter.
In the first match of the tournament with Martin Schindler a German player stood at the oche. Schindler took part last year in the event and won one of his matches. This year, so far, had been rather up and down for Schindler and he had with Nathan Aspinall a very strong opponent. And so, it took some time for him to settle in the match. In the last and deciding leg of the match both players had a chance to win the leg and both had some problems finding their double. In the end Aspinall found the double 2 and won the match 5-0.
In the second match of the afternoon, World Series of Darts finalist Danny Noppert played against Ryan Harrington – the son of Rod Harrington. I had anticipated that Noppert would be full of confidence after his success but instead it was Harrington who convinced. until the end it was a rather close match which Harrington won deservedly 5-4.
Gabriel Clemens, another German, and Brendan Dolan came on stage next. Until this match Dolan had always lost to Clemens and exactly that happened in this match again. Dolan only won a single leg after Clemens had missed his doubles. He looked a little bit shaken but in the end won 5-1.
Black Country against St. Helens was the next pairing and with Jamie Hughes, an almost local player, taking the stage. His opponent was Dave Chisnall – a very determined player – and Hughes' home advantage didn't help. Up until 3-3 it was an evenly matched contest. But then one could almost see how Chisnall pulled himself together and he won 5-2.
By now all four groups had played their first match and with Richard Veenstra the first BDO player came on stage. His opponent was Daryl Gurney. From the start Veenstra looked intimidated and unsure and that's how he played as well. It was not a hard- fought battle – Gurney won 5:0.
Wayne Warren was the next BDO player on stage and until the 2-2 point it was far from easy for an uninspired looking Peter Wright. But then Wright decided not to "chuck in his job" but to use a higher gear, with success – he won in the end 5-2. Despite his good average it was not really a convincing performance.
With Lisa Ashton the first of two female BDO representatives took the stage. She played against Rob Cross, who looked like he was not quite sure what to do with a female opponent, especially when this was supported by the crowd. And so Cross was far from his best but still too good for Lisa Ashton – although she took two legs and threw the first 180 of the match in the second leg.
The final match of the afternoon was Michael Smith vs. Glen Durrant. In this match Durrant was a BDO representative for a last time. But he seemed to be tense and to be sure he didn't play as good as he had hoped while Michael Smith played a great match and almost hit a nine-darter. After eight perfect darts he made a mess of the leg and couldn't find a double. He was shaken and Durrant managed to win the leg. It took Smith some time to recover but in the end he crossed the finishing line convincingly.
A long, long break followed. No idea why the PDC put such a long break between the sessions. But as my computer had decided to do its updates at the end of the afternoon session I had at least time enough to actualise my homepage.
Then the show finally went on again and the group matches of the groups A-D followed. And they followed so close it looked the long break time would be recouped.
William O'Connor played a good match after he had first been behind against Darren Webster. Gerwyn Price had some problems with Mikuru Suzuki who played the same level. It seems it is not so easy to play against a woman. Ian White had no problems at all with Steve Lennon. Gary Anderson had thrown sloppy darts but played all in all well – far too well for BDO player Dave Parletti. Parletti though looked from the start like he believed he had no chance at all and only wanted to enjoy being on stage.
The BDO players this year all didn't play well in this first group matches. That showed as well in the next match in which the BDO #1 Wesley Harms came on stage to play against James Wade. It was not Harms' first time in the Grand Slam. The first time he was in Wolverhampton in 2012. In previous years he always wore protective sleeves for the walk-on, and I remember well his first Grand Slam interview when he said he would win the tournament. He still has to improve to achieve that. It might be he'll show more in his next matches. Should he play on like he did in his first group match he will not win the event this year and probably will not be the winner of the next BDO World Championship either. Wade had no problem defeating him.
Next on were Michael van Gerwen and BDO player Jim Williams. Van Gerwen was not completely fit and was not as confident as usual. And he was far from clinical on his doubles. But Williams was nevertheless not good enough for him and van Gerwen's win was never in doubt.
In the penultimate match Adrian Lewis met Ross Smith and although neither played particularly well it was a hard-fought match. Lewis somehow won it and even deservedly won it because he hit his doubles better. But he was far from his best.
To end the evening, we saw a match with a surprising end: Robert Thornton defeated Dimitri van den Bergh 5-4. Van den Bergh had the higher average, but Thornton hit his doubles better and had a fantastic 160 finish to tie the match 3-3! That really shattered van den Bergh.
It was still raining as I made my way back to the shuttle bus into the city centre. The bus was full, the atmosphere great and, after the Michael van Gerwen song was rejected with boos, people settled on "The wheels of the bus go 'round and 'round."
"'Round and round'" continued to reverberate in my head as I walked back to the hotel. Multi-coloured rain-soaked leaves covered the footpath.
I decided to finish my updates before going to bed and hoped those "wheels" would finally stop, allowing me a good night's sleep before another full day of competition.
The following two tabs change content below.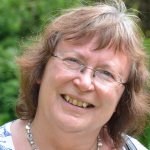 The founder of Global Darts, darts journalist Charis Mutschler hails from Marbach, near Stuttgart, Germany. A regular at most major PDC tournaments, a lover of literature, dance and music and cats, Charis' popular writings about darts and its players often transcend the usual. She brings something unique to the chroniclers of the sport we all love.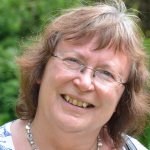 Latest posts by Charis Mutschler (see all)