Column #426 It Doesn't Get Nuttier Than This!
Friday, February 3, 2012
Column 426
It Doesn't Get Nuttier Than This!
It will come as no surprise that in almost two decades of writing about the sport of darts I've been threatened with lawsuits several times. Words intended to capture the joy and camaraderie of the sport and promote it have on occasion prompted an aggressive reaction.
I've been threatened by a former ADO president, a past board member of the Minute Man Dart League, and a dart throwing pedophile.
So far I've stayed out of court. I am now close friends with my libel lawyer. I'm even friends today with Dave "Boy" Green who once threatened to take a machete to my willy. Well, not exactly. But I deserved what he dished out.
For the past couple of years I have received information, sometimes anonymously, about strange goings-on in California. A couple of times I started to write about it, but stopped. Something told me to stay out of the fray. I don't know what. I don't know why.
Now I do…
The words below are not mine. They were written by Chris Vogel and published yesterday, February 2, in the L.A. Weekly.
I share them with Dartoid's World readers today because, frankly, they relate to one of the strangest, most outrageous, hilarious, and unfortunately, disillusioning, situations I have come across since becoming involved in the sport.
Good job Mr. Vogel. (If you need a lawyer, and you probably will, give me a call!)
_________________________________________________________________________
Dastardly Deeds in Darts
One angry man brings Southern California Darts Association to its knees
By Chris Vogel
Thursday
February 2, 2012
It's not easy to piss off a bunch of beer-guzzling darts players. On the whole, the barroom sport, popular in Los Angeles locales like Hollywood, Santa Monica and Woodland Hills, tends to attract mild-mannered, blue-collar guys, artists and musicians — people with sure hands and a hearty sense of humor who don't really give a damn.
But Dino M. Zaffina, a squat, well-groomed darts enthusiast with a blind left eye, who possesses a law degree and an Italian sense of respect, has a talent for pissing people off. So it was in the summer of 2010 that the two sides found themselves in a standoff.
Zaffina, a fairly new member of the Southern California Darts Association, or SCDA, was unhappy that his middle initial, M, had not been included on the league's website, which showcased the players' high scores of the week. On July 18, 2010, he sent an email to the league's president, Harvey Fischer, and several members of the league, expressing his displeasure.
"I do not ever allow anyone to misspell or mispronounce my name since it is obvious by its spelling, Dino M. Zaffina," Zaffina wrote, according to emails given to L.A. Weekly by several of the darts players. "… That being said, since my name always consists of a first name, middle initial and surname, for the purpose of the SCDA ONLY, I have allowed the use of D.M. Zaffina. Therefore, if my name is ever published on the SCDA website … I will expect it to be spelled correctly."
To say that Zaffina is particular about the spelling and presentation of his name would be an understatement. He spouts on about it with the same fiery passion that one would normally associate with a discussion of civil rights or religious freedom. He has been known to refuse mail that doesn't bear his middle initial, and says he is battling the powerful Hollywood industry website IMDb.com to include his middle initial on its site, which states that he appeared on two episodes of the 1980s sitcom Alice.
But regrettably, the laid-back Los Angeles darts players, including Fischer — an older gentleman with the reputation of being a wiseass — didn't understand just how serious Zaffina was. Several members of the Southern California Darts Association pooh-poohed Zaffina and, following several nasty emails and squabbles over Zaffina's name in which it was clear how obnoxious the darts players found him, Fischer mailed him a $30 refund for his membership fee and gave him the boot.
Says former SCDA board member David Irete, "He was becoming a nuisance and pain in the ass and breaking the rules. He was threatening us, so we had to kick him out. He was being a cocksucker, and you can quote me on that, please."
Fischer and the SCDA board hoped they'd never hear from Zaffina or his middle initial ever again. But he was hardly finished in the battle that started over his "M."
Conducting a simple public-records search, he discovered the league's Achilles' heel: Established in the mid-1960s and generally accepted as the oldest British-style darts league in the United States, the Southern California Darts Association had let its incorporated status lapse in 1977.
It had never been renewed. To the players, there didn't seem to be any need.
Zaffina made his move. He legally incorporated as "Southern California Darts Association," without any apparent members, anointed himself both president and CEO, and then sued nearly 60 darts players and eight stunned Los Angeles–area bars where darts are played regularly.
The accusation? That the players and the eight pubs had been engaging in "trade libel" and "unlawful business practices" by using the historic name "Southern California Darts Association," which Zaffina now legally controlled.
Through the courts, Zaffina all but brought the historic league to its knees. He even got many of the amazed bar owners to ban all references to the Southern California Darts Association whenever any of the players have a game at longtime spots such as the Robin Hood Pub in Sherman Oaks and Ye Olde King's Head pub in Santa Monica.
Says one well-known bar owner who did not wish to be identified for fear of retribution, "I'm weary of being involved with this guy because he's just been firing off lawsuits. Some of us wanted to fight, but these things can be very expensive … [so] we came to an agreement we all could live with."
Zaffina, however, doesn't understand why everyone's so angry. He warned the darts players he'd come after them, but they didn't listen.
"Who the hell is he to tell me what to do?" Fischer tells the Weekly. "Why is he so special? I was just posting his name the way I do for everyone else. But he went bonkers" when Fischer left out his full name.
Zaffina finds it all perfectly normal. He says the "M" stands for "Martin," that he was named after the suave Rat Pack crooner Dean "Dino" Martin, and launches into a story about how his father, who also used a middle initial and died when Zaffina was 8, drilled into him the importance of being called by his full name and demanding that everyone oblige.
"My father always told me, 'That's the way people should address you,' " Zaffina says. "… And sure enough it stuck, I'll tell you that much."
The darts players are incredulous that Zaffina was able to obtain the league's historic name and are sickened at the thought that the whole thing started over leaving Zaffina's middle initial off a list of competition scores.
"We've had the SCDA name for more than 40 years," Fischer says. "Where does this upstart get the balls to take our name? I mean, who is this guy?"
Zaffina, 52, is a native of Southern California. He's a studio sound man, an actor and a licensed private investigator. Zaffina was blinded in his left eye in 2008 when he inadvertently fell off a stage and into a lighting pit while working on the set of Entertainment Tonight. He stands out at pubs because he carries a large attaché case filled with darts when he comes to play.
Outside of that, Zaffina is mostly a mystery.
"He never talked about himself and instead asked us questions," says Milan Sabata, a former SCDA board member. "And he was very generic about his job."
Zaffina's teammate, 30-year-old musician Nick Turpin, enjoyed playing with Zaffina, calling him "an older brother type" who didn't drink and would bring the guys pizza and pasta during the games. Not at all "what he turned out to be."
As Sabata tells it, when Zaffina first started playing pickup games in 2009 with him and a few others at the Robin Hood Pub in Sherman Oaks, Zaffina "was clean-cut, well-spoken but cocky and seemed very insecure about himself. Every time he threw a bad throw, he got embarrassed with a childish grin, wanting people to tell him it was OK. His parents were Italian and he has this way of talking about respect. He takes it very seriously. … He spells the word 'respect' with his middle initial 'M.' "
When speaking, Zaffina occasionally peppers his sentences with legal jargon, which could be explained by the fact that he has a law degree, though he is not a member of the State Bar of California. It also could have something to do with the fact that Zaffina has been part of many lawsuits.
Since 1991, according to an online search of Los Angeles Superior Court records, Zaffina has been involved in at least 22 lawsuits, 18 of them as the plaintiff. They have ranged from small-claims cases to defamation and wrongful-termination claims.
In one case, for example, he sued Target, claiming he'd injured his toe on an escalator. In another case, Zaffina sued 20th Century Fox Films over failure to pay wages in a timely manner and for allegedly having fired him unfairly from the TV show Reba. In 2009, Zaffina's landlord, Zahra Taherkhanchi, sought a restraining order against him, claiming the rent was late and that he had started posting notes on her door four or five times a day and threatening that someone might set her home on fire.
"He gave me a great emotional distress," Taherkhanchi wrote in her legal complaint. "He wants to put too much pressure on me so I can have a nervous breakdown. … I'm scared of [sic] my life."
The court found no credible threats of violence, however, and her request for a restraining order was immediately dismissed. Zaffina tells the Weekly he was unaware that she had filed for a restraining order.
Zaffina received some media attention in 1999, when he got into it with the International Alliance of Theatrical Stage Employees, Local 695, a union for sound technicians.
According to Variety, Zaffina, who had been an unsuccessful candidate for the office of business representative of Local 695, alleged that his opponent wrongfully used union money to make and distribute campaign literature.
Two months later, Zaffina sued the local, the winning candidate, and another candidate who ran against him. It became a convoluted web of lawsuits and countersuits, rife with nasty accusations and allegations, stretching across many years. The sound technician union's attorney, Helena Wise — who at one point was sued for defamation by Zaffina — has trouble boiling down the complex case.
"The master complaint got disposed of," she says, "that he would not be able to set forth proper causes of action. And then he filed additional lawsuits, so it's like this never-ending saga."
Wise is reluctant to discuss Zaffina further — for fear of being sued again, except to add, "If you ever failed to include his middle initial [in a mailing], he would return the envelope unopened."
Wise is not the only one hesitant to talk to the Weekly about Zaffina. Several people, including former darts players and an ex-girlfriend, said they were afraid to comment or didn't want to risk the chance of letting Zaffina re-enter their lives — and sue them. Most also warned the Weekly that Zaffina might sue the newspaper for writing about him.
Zaffina, however, disputes the idea that he's a litigious person, pointing to the fact that none of his lawsuits — most of which he eventually won or settled — was ever dismissed as frivolous.
"I go after people under the guidelines of the law because that's the way to do it … ," Zaffina says. "When I have a legitimate claim against somebody, I go for it because that's the right thing to do and it's my prerogative. I live in a free country that says we have the right to seek redress of our grievances in a court of law, and thank God for that.
"I'm sure you've known plenty of passive people who just go, 'Oh well,' " he continues. "You can tell … I'm not passive … I'm going to do whatever the law says that I'm allowed to do."
In fact, Zaffina has even told the Weekly that he would sue "if anything came out wrong …" in the story.
Zaffina's ability to inspire ire and fear, however, extends beyond the courtroom, and, as it turns out, the SCDA was not his first darts league.
In 2001, Zaffina was for a short time a board member of the Pacific Darts Association, which is based in Cypress, about 10 miles west of Anaheim.
"The last image I have of Dino is of him threatening to sue us," says Doug Tice, who's been in the Pacific league for 20 years and serves as its recording secretary. "He's a hard guy to forget."
Several members of the Pacific Darts Association declined to comment for fear of retribution. However, according to Zaffina and the league's then-president, Richard Lawrence, everything was running along smoothly until one day a player threatened to harm one of Zaffina's teammates during a match. Zaffina says he expressed concern to the board over some liability issues related to the threats, but that the league did not take strong enough action, so he decided to leave.
When asked whether he threatened to sue the Pacific Darts Association, Zaffina says that members Lawrence and Tice are lying, or perhaps misunderstood him at the time.
"I said, 'Guys, we could be sued,' " says Zaffina. "I certainly had no grounds to go after them at that point in time."
Lawrence, however, paints a more colorful picture.
Zaffina "issued threats of suing the board himself and talked of taking away people's houses following a judgment that he surely would win," Lawrence wrote in an email to the Weekly. "Some people got scared. … Fortunately for the Pacific Darts Association, Dino chose to take what for him was the high road. He left the board and actually stopped playing in the PDA."
When Zaffina was in full swing as a member of the SCDA in 2010, his fellow darts players knew nothing about his legal track record or his history with the other league.
But they were about to get a crash course.
About a month after Zaffina emailed Fischer and the league complaining about the presentation of his name on the website's high-scores list, Zaffina was upset again. This time, on Aug. 18, 2010, he emailed the league to say that his middle initial was not being included on the website's moving banner displaying players' scores. His gripe sparked a flurry of email responses from league members — everything from "Dino, blow it out your ASS :)" to the more tempered, "It's extremely unlikely anyone will be mislead [sic] as to who is on the results banner."
Frustrated by Fischer's refusal to accommodate him, Zaffina reached out for help to Milan Sabata, a thick-necked, soft-spoken Czechoslovakian plumber who sat on the league's board. As Sabata tells it, Zaffina called him at least five times after 8 p.m. on Aug. 19, 2010, demanding his name be spelled correctly or removed from the SCDA website by midnight.
"Then he starts threatening me," Sabata says. "He goes, 'How would you feel if your customers go online and see that your picture is on the child molester's website?'
So I say, 'Dino, how can you do that?' And he said he had a way to do it, and he scared me." (Zaffina admits that he made a comment about the sex offender registry but vehemently denies that it was a threat.)
That night, as the clock raced toward midnight, Sabata says he frantically urged Fischer to take down Zaffina's name. But Fischer was watching a movie on TV and couldn't be bothered. Maybe after the flick was over, he told Sabata.
Growing more anxious, Sabata kept checking the website to see if Zaffina's name was still there. No changes. Then
Sabata received an email from Zaffina:
"It's 12:01 a.m.," it said, "past the deadline."
It would be roughly another 20 minutes or so, Sabata says, before Zaffina's name was removed. At 8:15 a.m. the next day, Zaffina emailed the league, saying, "If you continue with this foolish behavior, as you have in the past with your refusal to spell my name correctly, I sure hope the SCDA and certain individuals have enough money to sustain a defense to what will be forthcoming."
On Aug. 29, 2011, David Irete was excited as he jammed through San Fernando Valley traffic on his way to the SCDA annual meeting at the Robin Hood Pub. A camera operator on Jeopardy! and Wheel of Fortune, Irete also was a die-hard darts promoter and a member of the league's board, who was up for the position of SCDA president that very night.
As Irete neared the bar, he felt his cellphone begin to vibrate inside his pocket. He had a new email. It was not good news.
Zaffina, from whom many of the darts players and league officers had not heard in more than seven months, had blasted an email out to the SCDA members under the banner, "Press Release … Southern California Darts Association Inc. Returns From the Dead After 34 Years."
In it, Zaffina announced that the SCDA, which had incorporated in 1966, was suspended by the state Franchise Tax Board in 1977 and now, after all these years, was finally being brought back to life by him, Dino M. Zaffina, as its new president and CEO.
"[T]he 'illegal' SCDA will no longer be operating anywhere in the United States of America," Zaffina's email read. "And, the men who claim to be board members of SCDA are devoid of any power. … "
When Irete finished reading the message, he looked up from his phone and thought, "Holy shit, Dino has risen again."
That night at the Robin Hood, Irete, Harvey Fischer, Milan Sabata and Curtis Pierpoint, a residential construction worker, all talked briefly about Zaffina's latest news. They, along with other players, decided there was nothing they could do about it right away, so they carried on with the planned administrative matters and league elections. Irete was named president; Pierpoint won the vice president slot.
"Because of the way [Zaffina] had acted in the past," Fischer says, "I kinda took it lightly."
But to Zaffina, it had long been a serious matter.
About a year earlier, after Fischer had refunded Zaffina's league fees (Zaffina says he cleverly never cashed the check and was not kicked out of the league but rather allowed his league membership to expire at the end of the year), Zaffina asked California's secretary of state for a copy of the SCDA incorporated bylaws. He quickly discovered the SCDA's corporate status had been suspended in 1977 and that it had never been legally revived.
It's impossible to know exactly what thoughts spun through Zaffina's mind the moment he uncovered this bit of news, but on Aug. 24, 2010, he sent a four-page letter, heavily accented with bold type and underlinings, to the unincorporated league, its members and its sponsors. To Zaffina, the letter was to serve as a heads-up. It spelled out that the SCDA had been claiming to operate with the powers and rights of a corporation without actually having legal corporate status, and therefore was operating illegally and in violation of the California Revenue and Tax Code.
Again, the unincorporated SCDA members largely ignored the message.
"In our minds," Pierpoint says, "it was just another in a long line of threats. We had been unincorporated for more than 30 years and were going along just fine as a club, and so when his letter came along, we didn't think much about it."
On Jan. 3, 2011, Zaffina made his next move. He legally incorporated Southern California Darts Association and then filed four subsidiaries — SCDA, So Cal Darts Association, So Cal Darts and SCDA Products. Zaffina would wait eight months, say many of the darts players, before telling them. However, one of the oldest and most prestigious names in the world of darts now belonged to him.
According to author and darts historian Dan William Peek, the SCDA was started by British and Irish expatriates living in the L.A. area in the late 1950s. The group incorporated in 1966 and, according to Pierpoint, swelled to nearly 5,000 members during the 1980s. The association sold merchandise, hosted two international tournaments and raked in nearly $100,000 a year.
Recent times have not been so kind. Thanks to tougher DUI laws and a ban on smoking inside bars, Pierpoint says, the unincorporated league has dwindled to roughly 100 members and brought in between $2,000 and $3,000 a year, all of which went toward paying for equipment storage and trophies at the end of each season.
None of the darts players can recall why the SCDA decided in 1977 not to renew its corporate status. Pierpoint remembers that the issue came up a couple of times during the 1990s but was always voted down.
"We didn't see any real need in it," he says. "Yes, we probably should have filed taxes, but because we're mostly blue-collar knuckleheads who just want to drink beer and throw darts and have fun, we operate more like an informal club. It was ignorant bliss until Dino came along."
After informing the players that he'd incorporated SCDA, Zaffina issued several press releases and a cease-and-desist letter urging them to stop playing matches using the SCDA name.
Finally, on Sept. 26, Zaffina filed a lawsuit against more than 60 named defendants, including Irete, Fischer and Pierpoint. Milan Sabata, who through sheer fear had helped get Zaffina's name removed from the SCDA website the year before, was conspicuously absent from the lawsuit.
Essentially, Zaffina claimed that the unincorporated league members were injuring his actual SCDA company by continuing to operate. He said he was trying to run his league as a for-profit enterprise but could not so long as the unincorporated members were using and trampling on the SCDA's good name.
The following day, Sept. 27, Zaffina fired off another press release, this one informing the defendants that they were on the hook for a $395 court filing fee and telling them how to avoid litigation and further damages.
Over the next several weeks, Zaffina bombarded the darts players with nine press releases (none of which was sent to the media). They included court deadlines, examples of burdensome discovery requests and dollar amounts for how much each defendant would be responsible for paying in order to battle him in court.
"Prepare for a lengthy and costly litigation that may possibly last in excess of two-years and cost each defendant approximately $50,000.00," stated one. "There is no other possible way out," read another.
To many, including darts player Bill Lynch, the press releases sounded like a shakedown. A successful musician, Lynch says he was furious that Zaffina was effectively destroying his beloved darts club. He had plenty of money to hire attorneys and go toe-to-toe with Zaffina in court, so Lynch decided to plunge neck-deep into the fray.
"How could anyone not see his lawsuit as malicious?" Lynch asks. "He's a menace to society and needed to be stopped."
Lynch and his lawyer, Michael Zuk, went so far as to file a cross-complaint against Zaffina, essentially accusing him of blackmail. A judge, however, struck it down, ruling that there was "no conclusive evidence of extortion."
At one point, Lynch says, he was willing to settle with Zaffina, but he asked for a deadline extension in order to have time to contact all of the numerous other defendants. He says Zaffina refused him the extension, so any potential deal fell apart.
"It's like dealing with a little kid who wants to play with his football and gets mad when the other kids are playing with their football," Zuk says. "It's like he wants to be the lone emperor of darts in Southern California."
Why did Zaffina do it? That seems to be the million-dollar question among the darts players.
If you ask Zaffina, he'll say he's a businessman, that he's always had some big ideas on how to run a for-profit darts league, and that snatching up the SCDA name was akin to nabbing a brand name such as Snickers or Campbell's Soup when their owners fell asleep at the wheel.
"Clearly," he stated in a court declaration, the SCDA name "is not The Coca-Cola Company, but what smart businessperson would not acquire a corporation under the name The Coca-Cola Company if that company was so foolish as to let their legal status be suspended by the state's executive branch that regulated corporations?"
Zaffina dismisses the notion that he was motivated by sour grapes, proudly explaining how he told the darts players in August 2010 that their group was not incorporated yet gallantly refrained from acquiring the name until January.
"If they're angry at me because I'm a good businessman," he says, "and because I dot all my I's and cross all my T's and I follow the law, then that's their problem. They had the opportunity for a good four months to get to a lawyer or do it themselves and renew the corporation. They should be angry at themselves, not me."
But most of the players aren't buying it, even the ones who played with Zaffina and say they liked the guy.
"Dino's managed to completely disassemble the old SCDA and ruined it for a lot of guys," says Zaffina's former teammate, Nick Turpin. "To me, it was him getting back at Harvey and these [other] guys. It's ridiculous. What a dick."
Despite his insistence that the SCDA will be a full-fledged business, Zaffina is not tipping his hand. His only disclosure appears in court papers, in which he says he plans to operate a series of steel and soft-tip darts leagues, tournaments and other darts-related ventures.
"It's going to be much bigger than anything anybody could imagine," he tells the Weekly. "That's all I'm going to say. The goal is much bigger than anything these people could have even fathomed."
There is some speculation among the darts players that Zaffina's endeavor, if it's real, will be conducted mostly online. After all, they say, what local is going to want to play in his league?
"I find it ironic," says Fischer, "because he says he wants to make money and promote a darts league, but all the people he's suing would be his clients. He's a bloody idiot."
As far as the players go, they share a collective sense of brotherhood and doom. Most of the pubs they play in have decided to avoid litigation and agreed to Zaffina's terms, which include making sure that no one throws darts there under the SCDA name. Some of the pubs, including Ye Olde King's Head in Santa Monica, have posted signs saying as much.
The darts players are not sure what will come of the lawsuit against them, but they know Zaffina has legally obtained the SCDA name and, on that front at least, they've been licked.
"Dino won," Irete says. "He stopped us from playing. He put fear in too many people's minds and hearts."
Says Pierpoint, "It's really sad. Dino has hurt everyone who played in the league, all because he was trying to screw a few people he was pissed at."
Irete and Pierpoint both say plans are in the works to create a new league for the darts players, complete with new schedules, a proper tax ID and, of course, a new name that will be legally incorporated.
At one point, the players wanted to start fresh under the title Los Angeles Darts Association. Sabata says he mentioned the idea over the summer at the group's annual meeting and then posted the suggestion on Facebook on Sept. 7.
Two days later, according to Internet records, Zaffina bought the domain name losangelesdartsassociation.com.
Less than a month later, he also bought the .net and .org versions of the name.
Zaffina denies he ever knew about the players' intent to form under the Los Angeles moniker and says there is no proof that he saw Sabata's Facebook post or that anyone sent him a link to it.
"Even if I was clairvoyant and I knew," he says, "I still have the right to purchase them."
Which, while technically true, are exactly the kinds of words that can piss off a bunch of beer-guzzling darts players.
Chris Vogel can be contacted at cvogel@laweekly.com.
The following two tabs change content below.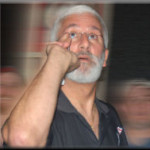 Author of the column that since 1995 has been featured by Bull's Eye News, the American Darts Organization's (ADO) Double Eagle and numerous other darts publications and websites around the globe.