Column #385 Bucharest, Romania
Monday, March 1, 2010
Column 385
Bucharest, Romania
Here I sit worrying and nursing an Ursus beer in the English Bar, the most famous pub in the Balkans, located in the heart of Bucharest, Romania in the glitzy Athenee Plaza Hotel.
Immortalized in the Balkan Trilogy and other novels, the nearly century-old bar has played host to clandestine meetings, espionage, and served as a safe haven during the two World Wars and the dark days of the Nicolae Ceausescu communist era. Vladimir Putin and George Bush have stopped by in recent times. So have Boris Becker, Woody Harrelson, and Claudia Schiffer. Elvis was here last Thursday.
Tonight the British Bar is my refuge as I wait out one of the worst blizzards to hit the region in a decade. The monster snow storm formed in Serbia and Hungary to the east, blew south of the Carpathian mountain range and "Dracula's Castle" in Transylvania, and began to slowly sweep across the country towards the Black Sea and Bulgaria to the west before stalling for two days over Bucharest. Hence my position for the past half a day on a barstool surrounded by history and rich mahogany…
My current predicament aside – waiting to learn if my flight in the morning will depart on schedule, if at all (and if a little street puppy, named Romy, who I have adopted, will be able to make the long ride from the Danube port city of Galati in eastern Romania in time to meet my flight), the blizzard did not deter Cristian Ivan and me, and some thirty other darts fanatics from heading into the snow and wind last night and sliding through traffic to make our way to Alexandru Axinescu's Club La Sageti (Bd. Liviu Rebreanu nr. 30A) for a night of cricket and 501. La Sageti is the second (and only current) darts club to open in all of Romania. The first – called the Darts Romania Club – was opened by Ivan himself in 2006 but closed a year later.
Ivan is the marketing director for the Romanian Darts Federation (founded by George Peicea and presently headed by Dragos Dumitrescu). When years from now, perhaps after Romania fields a world darts champion, the history of the sport here is chronicled it will be noted that it was Ivan – after discovering a dartboard in the crew lounge while employed by Carnival Cruise Lines and falling in love with the game – who introduced darts to his country. He put up $20,000 of his own money to open the nation's first club dedicated solely to darts, was the first to offer darts accessories (from Nodor and Unicorn), and the person most responsible for stoking the early passion of others for the game.
After just four short years, today there are seventeen teams in Bucharest and organized play in numerous cities and towns across the country, including Timisoara, Oradea, Odorhei, Brasov, and Pitesti. The Federation is likely to soon become the newest member of the World Darts Federation (WDF) and is preparing for the first Romanian Open to be held in Bucharest on October 8-10.
Several of Romania's top players – Toma Georgescu, Cristian Cimpoca, Sebastian Sopon, Dragos Dumitrescu, Mircea Voiculet, and of course Vlad Popa (who scored a top four finish at the 2008 Greek Open) are looking forward to taking on international competition and showing the world that darts has arrived in Romania.
TV stations have expressed interest in broadcasting international competitions and are already covering news of local darts events.
So darts, primarily steel-tip, but also electronic, is definitely on the move in Romania.
Open sixteen hours every day of the week, La Sageti is a wonderful darts club. There are no pool or foosball tables, fruit machines, or big screen television distractions. There are six dartboards in two rooms, a small fully stocked bar, and food – great food. The joint is dedicated exclusively to darts!
I downed several beers, sampled some traditional (and outstanding) Romanian fare – spicy hamburger-like things shaped like fat sausages (called mititei or mica) – and tried my hand against Ivan and Axinescu at cricket on a Champion's Choice board. I took on an accomplished player, whose name I forget but who goes by the nickname Pisica (cat). I lacked power and scored poorly but seemed able to find the doubles for a 4-0 win. On the board next to us was a tall girl in a sexy grey sweater. Besides her sweater, I noticed that she was very, very good and it's probably fortunate I didn't have a chance to give her a game.
The snowstorm cut my night short so I was unable to make my second planned stop at the Mojo Music Club (14 Gabroveni Street) to throw a few games with Colin Richardson (secretary of the Bucharest Thursday Darts League) or to get to a number of other pubs that sponsor teams: (Dreamers (27 Plevnei St), O'Hara Irish Pub (13 Franceza St.), the Dubliner Irish Pub (18 Titulescu Blvd.), Terasa Florilor – Tati Bar (42 Ion Maiorescu St.), the White Horse (4A George Calinescu St.), and Whispers (4 Brezoianu St.) being among the most popular.
So here I sit – contemplating my first visit to Romania, watching the weather, monitoring incoming and departing flights, and texting back and forth with friends who are driving my new puppy through the storm. Outside a couple of feet of fresh snow is on the ground and there is no let up in sight…
For many foreign visitors Romania is a shock – certainly is has been for me. The hidden beauty of medieval cities, unique architecture, the Balkan environment, and the traditions and various traveling possibilities contrast with most of the people's poverty.
Homeless animals roam everywhere. Many drivers see no point in breaking for a dog or cat. I saw dozens of homeless dogs dead on the roads.
That's what compelled me to adopt Romy…
Romy is a three pound, one month old, not fully weaned, mix-breed, no bigger than half a dartboard, who was left to die on the streets of Galati (Galati was made famous in Bram Stoker's novel Dracula – as the port at which Count Dracula disembarked on his escape back to Transylvania). Romy was lucky though to be found a few days ago and dropped off at a local sanctuary.
I knew the moment I saw her that I had to give her a home.
In the end, Romy (in a little cage) and I (covered in poop) both made it out of Romania, to Munich, then Chigago, and finally to the relative warmth of Tampa.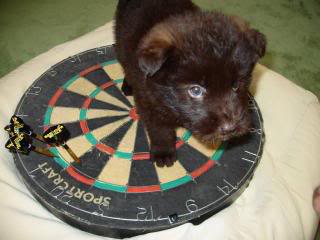 As I type these final words, she is now a full-fledged member of the Dartoid family, friends for life with my golden retreiver, Bentley, and learning her way around a dartboard as all good dogs should.
So if you have a chance – and I hope I do – be sure to take in the first Romanian Darts Open in October. Details can be found at the Romanian Darts Federation website at Darts Federation of Romania. If the dates are not convenient but you do find yourself in Bucharest I encourage you to check out the La Sageti website at La Sageti or call call Alexandru Axinescu at 0788 66 77 88. If the club is closed Axinescu will open the doors just for you. You will not be disappointed, of this I guarantee – even if the girl in the grey sweater isn't there.
Finally, if you have any questions about darts elsewhere in Bucharest or Romania feel free to contact Cristian Ivan at Cristian Ivan. He's as passionate about our sport as anyone I have ever met and will make certain you are well looked after. He also drives quite well in the snow.
From the Field,
Dartoid
The following two tabs change content below.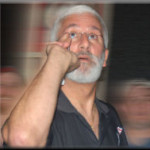 Author of the column that since 1995 has been featured by Bull's Eye News, the American Darts Organization's (ADO) Double Eagle and numerous other darts publications and websites around the globe.