Column #386 Could it be True?
Thursday, March 25, 2010
Column 386
Could it be True?
For the first time in 15 years, having penned nearly 400 columns about our sport, I have written a column that I am not publishing, although perhaps I should.
Instead, I have had it officially time-stamped and placed in a safe at my lawyer's office.
His specialty is libel law.
Whether the column ever sees the light of day depends entirely upon the unfolding of certain events in our sport.
If and when that day comes and provided current suspicions are properly corroborated, the story – in all its sensational detail – will be disclosed in full at Dartoid's World.
For now, let me just note, and may the record show, that all was pretty damn clear on the morning of this date: March 25, 2010.
Stay tuned. Be afraid!
From the Field,
Dartoid
The following two tabs change content below.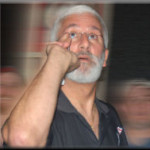 Author of the column that since 1995 has been featured by Bull's Eye News, the American Darts Organization's (ADO) Double Eagle and numerous other darts publications and websites around the globe.