Column #384 The 2009 Shanghai International Darts Open
Monday, February 1, 2010
Column 384
The 2009 Shanghai International Darts Open
The plan would be ambitions under any circumstance. Most would call it impossible, even absurd…
Not so in The People's Republic of China.
The Chinese have an old proverb: Si ma dang huo ma yi. (Try to save the dead horse as if it is still alive.) "Do the impossible" is what it means.
And that's exactly what they are doing.
The Xuhui District People's Government in Shanghai (the second most populous city in the world, with more people than there are recreational darts players in all of the United States) has its sights fixed on making darts one of its headliner sports. Plans are already well under way to see professional darts elevated to priority status alongside Formula 1 Grand Prix racing, the Association of Tennis Professional (ATP) Masters, and the World Snooker Masters as one of the top four international sporting events held in the city, and eventually the country.
Ambitious? Duh. Just imagine floating such an idea in a long-established bastion of darts activity like Boston or Philadelphia. Darts on par with the Celtics or the Eagles! You'd be committed to a padded room and that's where you'd belong.
Realistic in China? Absolutely.
Those who have doubts would be people who did not attend the Shanghai International Darts Open this past October 2009. Those who did attend would agree that the future for darts in China and the prospect for China's players to have a major impact on the darting world are very bright indeed.
For the past fifteen years, I've traveled and written about darts and darts tournaments in some seventy countries. I've attended and posted this column from the Professional Darts Corporation's (PDC) world championship. But never, not ever, have I witnessed quite the production I found myself a part of in Shanghai this past October 15-17.
It was San Francisco's Rob Heckman who told me about the tournament. We were standing outside the tournament hall at the National Darts Association's (NDA) Las Vegas Team Darts Tournament last April, minding our own business, when a dozen of the girls from the Riviera's Crazy Girls Topless Revue sauntered by. Having no alternative (and only to be polite), Heckman and I engaged them in conversation. One witticism led to another and the next thing I knew I'd dug a hole all the way to China, just like I tried to dig once as a six-year-old kid.
And wouldn't you know it, there to greet me at Pudong Airport was a little guy with a Fu Manchu moustache holding all the plates of spinach and beets that I refused to eat as a child – and which my mother sent to starving kids.
The tournament was held at a superb venue – the 4-star Shanghai Xuhui District`s Sports Hotel (#15 Nandan Rd.). Players from more than ten countries – even Mongolia – were joined by an ample contingent from the West including John Part, Gary Mawson, Rob Heckman, Chris White, David Fatum, Stacy Bromberg, Cleveland's Marlise Kiel and her father Bernie from Ireland, England's Rachel Dixon, and even former two-times Scottish Open Champion, Rab Fotherington. Scott Kirchner and John Kuczynski were scheduled to attend but, experienced world travelers that they are, seemed unaware that visas are required to enter China. Rumor has it that in Kuczynski's case, he was also physically unable to leave his house because the doors were blocked by the thousands of stuffed animals he collected for his Toys for Tots holiday fundraiser.
The hotel sported classy four-color banners and the street lights were plastered for blocks with promotional event posters.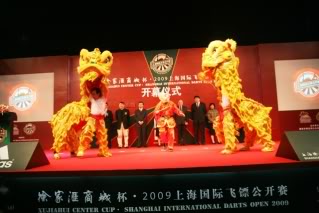 Security was tight – the tournament hall and even the practice room were periodically swept for security purposes and police were ever-present at the entrance to the tournament hall to check the credentials of the players and keep non-players out. Perhaps someone knew of the dangers that lurked…
The first incident occurred when fireman David Fatum walked into a light fixture outside of the entrance to the hotel and had to be taken to the hospital emergency room. The second incident found Rachel Dixon in the same emergency room after she began acting even weirder than most women and more or less blacked out. She was diagnosed with diabetes after she returned home. The last incident occurred when Chris White's nose began to bleed for no apparent reason while he was sipping a beer in the hotel lobby. It was later learned that after letting a 6-1 lead slip into a stunning 8-7 loss against Hong Kong's Lam Ting Chi Royden in the final eight, White simply punched himself in the face.
The tournament was worth every cent of the $100 entry fee – and this is only partly because the beer was FREE!
It was an extraordinarily well-run "to the exact second" affair that began with two days of round robin (501 – best of five legs) competition against seven randomly drawn opponents followed by a knockout among the top sixty-four and a staged final (emceed by Heckman) during an elegant banquet on the final evening – complete with giant dancing dragons, dancing girls in skimpy attire, a string quartet, a huge sculpture made of butter, cannons, glittering confetti, a dozen television cameras, and award presentations by political dignitaries and even Wu Minxia, China's two-time Olympic gold medal winner in synchronized diving (2004 and 2008).
Except for me, the westerners did well. Although I was well inside the cut after the first day – I even took Rab Fotherington to the wire, losing 3-2 in the tiebreaker – I went down in flames during the second qualifying round.
My downfall was David Fatum's fault (well okay, that's a lie). While we were in the elevator heading to start the second day of preliminaries Fatum asked me how I felt. I said I was a little nervous – that I was right on the edge of the cut but faced a tough round-robin bracket. "I know you don't need me to tell you this," he offered, "but take it easy the first match – don't put any extra pressure on yourself. Play steady and safe by easing your darts into the twenty. Worry about the triple later. Get the first win under your belt."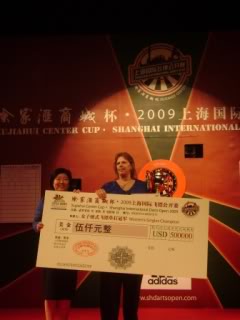 Of course, I ignored all this, focused on the triple twenty, promptly filled up the triple one and five – and lost 4-1. The leg I did win was thanks only to a special rule – that being if a match went to the six-minute mark it was to be decided by a throw to the bull. I had the time limit called on me twice during the tournament and won both legs – which suggests that, under Chinese rules, the crappier I throw the higher my rate of success.
Later during the second qualifying round I faced my good friend, Mon Sabalboro, from the Philippines. Somehow I took two legs. Had I not, Sabalboro would have entered the knockout as the top seed. Even later, once my bid to make the top sixty-four cut (and earn a guaranteed $500) was toast, with nothing to gain and nothing to lose I finally relaxed and hit back-to-back fifteen-darters (a rarity for me, even in my dreams) against some guy from Japan to pull back from a 3-0 deficit. "Too late," was his wry broken English observation – so I karate-chopped him on his toe.
As expected, favorites John Part (with a flurry of bull finishing) and Stacy Bromberg (who only lost ONE LEG during the entire competition) took home the $15,000 and $5,000 winner's checks.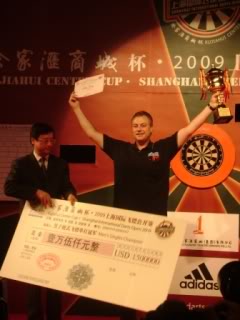 Fatum, Heckman, Mawson, and White all made it to the final sixteen or beyond. Marlise Kiel finished in the top eight among the ladies.
But the big story was the performance of the seven players (six men and one lady) from the Philippines. I have been predicting that a Filipino was destined soon to make their mark on the word stage and their performance in Shanghai must compel people to take notice. The talent emerging from the 7,000-island archipelago is incredible.
After the two qualifying rounds an astonishing FIVE of six Filipino men – Boie Parfan (sponsored by Robson), Laurence "Gunner" Ilagan (sponsored by Monster Darts Japan and Dartware), Ronald "Highlander" Briones (Dartware), Mon Sabalboro (Dartware), and Robert Calupit (Dartware) – were seeded in the top EIGHT for the final sixty-four knockout. The remaining entrant, Christian "Ian" Perez (Robson), was seeded fourteenth.
By the end of the tournament, ALL SIX of members of the Filipino team finished in the final sixteen, four finished in the top eight, and of the final four places, three went to the Filipinos. Parfan and Ilagan fell short in the semi finals and Perez lost to Part in the final. Diminutive Analiza Awitan (Dartware) scored a top four finish for the ladies.
This was really just more of the same, at least in recent months, for the Filipinos. Ilagan was a semi-finalist in the 36th Winmau World Masters – and won the five million peso Pacman International Tournament in General Santos City. Briones captured the 2009 French, Korean, and Singapore Open titles. Perez most recently appeared at the PDC's Ladbrokes.com world championship – impressing everyone while averaging 94.5 to get by Per Laursen in preliminary round play only to fall to Robert Thornton 3-1 in the first round. Awitan is the reigning Malaysian Open women's single's champion.
If the Filipinos were regulars on the American circuit they would rock the American Darts Organization's (ADO) rankings. If they had the sponsorship to regularly play the PDC circuit the darts world be shocked.
Other great performances were recorded by China's Liu Cheng'an who took John Part to the wall in their top sixteen match, China's Ou Yangbin and Lu Weikang (who also stood up well against the three-times world champion), Malaysia's top player (and the 2006 Asia-Pacific Cup single's champion) Amin Abdul Ghani, Japan's Mayumi Ouchi (who fell to Stacy Bromberg in the ladies' final), New Zealand's Warren Perry, and Hong Kong's Alex Hon (who kept the pressure on David Fatum with a twelve- and fourteen-darter) and Scott Mackenzie. Certainly Lam Ting Chi Royden's gutsy comeback to defeat Chris White deserves a second mention.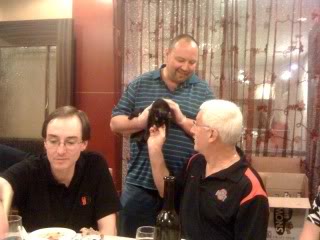 Now somewhere out there, perhaps reading this very sentence, are four people – all great new friends – who have probably been wondering if I was ever going to get around to publishing this column. Each played an integral role in the grand success of the Shanghai International Darts Open. But as with any tournament, in Shanghai there were also memorable goings-on in the evenings away from the tournament hall. John Fey, Tyler Shu, Bookie Zhu, and Phil Hanna are the guys responsible for making everything about this journey special. I can't possibly thank them adequately for their generosity and hospitality.
Were it not for this quartet of maniacs I may have never experienced the joy of eating frogs, chicken feet (and throwing them at each other during dinner), turtle, pig joints, or ladling chicken head soup out of a pot in a manner just precise enough to avoid scooping up one of the actual heads.
I may not have had the chance to watch John Part chow down the hottest peppers grown in Asia or see Gary Mawson disappear from diner and then reappear with a stray cat and offer it up for desert. I may have never been introduced to what have to be the best dumplings (xiao long bao) I have tasted in all my travels.
Were it not for Fey, Shu, Zhu, and Hanna I may have never found myself racing down a street to get away from a tout trying to sell me replica Rolexes and I definitely wouldn't have ended up buying six of them. I did though – for about a dollar each but later turned a tidy profit by reselling some of them to Marlise Kiel and Rachel Dixon.
Neither, probably, would I have come home with a laser pen light that can blast a green beam three miles and bring down an airplane, a stack full of pirated DVDs, and a cute stuffed animal-like thing (called Haibao) that looks like Gumby but is the color of a Smurf. Being the official mascot for World Expo 2010, Haibao is very important to the Chinese so I feel bad that my golden retriever ate him.
And were it not for Fey, Shu, Zhu, and Hanna I may have never experienced, night after night until morning after morning, the Green Dragon (135 Fahuazhen Lu, Xuhui – near Panyu Lu)!
If you can imagine a large traditional British pub – dark wood, long rail bar, a couple of pool tables, and some dartboards – mixed with a couple of dozen well-endowed Chinese girls in little blue skirts you'll appreciate why the western contingent to the tournament spent more time at the Green Dragon than they did in the tournament hall. This is where pretty much everybody lost a fair bit of their eventual darts winnings shooting pool with the girls. This is where Stacy Bromberg and I took on a couple of the locals in a great couple of hours of doubles. This is where David Fatum fell in love. And this is where Rachel Dixon whipped off her shirt. This is a great joint!
The Shanghai International Darts Open's future and the dreams of so many to see darts near the apex of sporting activity in Shanghai and China is secured by it's organizers – Fey, Shu, Zhu, and Hanna – the extraordinary effort, support, and advise of Rob Heckman and Chris White, and long list of hosts and sponsors including but not limited to the China Leisure Sports Administrative Center, China Darts Association, Shanghai Sports Federation, Xuhui District People's Government, Shanghai Leisure Sports Administration Center, Xuhui District Sports Bureau, Xuhui District Commercial Commission, Xuhui District Tourism Bureau, Xuhui District Cultural Bureau, Xuhui District Darts Association, and of course the Sports Hotel.
The future of darts in China is further underpinned by the always forward-thinking Chinese who have established – actually built and staffed – a darts training center at a local school (the Xuhui District Middle School) and who are currently planning a second center at one of the local high schools.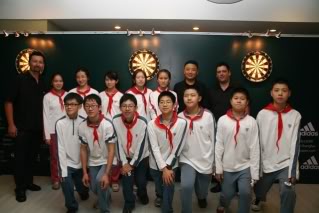 Darts practice sessions are actually included in the kid's curriculum! Suffice it to say that the very existence of this project is just one more example of the influence Heckman and White are having on the development of the sport in China.
Although as of this writing the official date for the 2010 Shanghai International Darts Open has not been set the likelihood is that it will be held in August in conjunction with the World Expo (which anticipates 70 million visitors) and coordinated with the PDC's tournament schedule to encourage more of the world's top talent to attend.
For further reading about the 2009 tournament (and more encouragement to add the 2010 event to your schedule) be sure to check out the musings of several of the others who participated: Heckman, White, Fatum, Bromberg, and Part. I don't need to read this stuff – I already have (that's where I ripped off everything you've just read).
And I definitely don't need convincing to return to Shanghai. See you there!
From the Field,
Dartoid
The following two tabs change content below.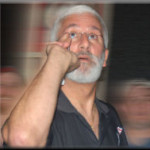 Author of the column that since 1995 has been featured by Bull's Eye News, the American Darts Organization's (ADO) Double Eagle and numerous other darts publications and websites around the globe.