Column #365 Las Vegas Players Championship – 2009
Wednesday, July 1, 2009
Column 365
Las Vegas Players Championship – 2009
Desert Classic VIII took a break today to make room for the Players Championship. For the throng of four American spectators who came from as far away as Las Vegas today's event presented an early opportunity to rub shoulders with the best darts players on the Planet Earth, including some from a little town called England.
Indeed, as I was talking with Sacramento's Scotty Burnett before play began one of the American darts enthusiasts, appropriately dressed in a bathing suit and who introduced himself as a "retired darts professional," told us Leighton Rees would "remember" him and to say "hello".
Scotty suggested we pass the message along via Michael Jackson.
Every name in the business was here today – Phil Taylor, Ray Barneveld, Dennis Priestley and even Eric Bristow who, although he did not throw will be spotting beginning tomorrow for Sky Television.
Sid Waddell stopped by and whispered something "extremely important" in a foreign language.
Russ Bray, who seems determined to challenge Bobby George for the World Jewelry Wearing Championship, struggled to keep his gold chains from falling off.
All in all, sans the smoke, glitter and cameras that will accent stage play beginning with first round matches tomorrow, the players, personalities, and atmosphere were all front and center.
There was excitement even before play commenced. Of all people, Doreen Berry made an appearance and punched out Jay Tomlinson for looking at her legs. It serves him right because each time I step away from my laptop Tomlinson edits the controversial bits out of my reports.
The word is Berry is in negotiations to face Manny Pacquiao in November.
The excitement continued after an extraordinary draw which saw Johnny Kuczynski matched against fourteen-times world champion, Phil Taylor. On the same board were Americans Chris White and Darin Young.
Kuczynski broke Taylor straight away with a 158-finish but that was his last look as Taylor cruised to a 6-1 victory with a twelve-darter en route. White took out Neil Dickson by the same margin to set up a match with Young but came up short leaving Young to carry the flag against Taylor – and then The Power powered by Young 6-2.
Meanwhile, several North Americans battled into the third round before hitting the British buzz saw. Paul Lim went down to Alan Tabern. Scotty Burnett lost to Gary Anderson. Timmy Nicoll fell to Peter Manley. Davis Snider was defeated by Ronnie Baxter. Mark Nielson lost to Kevin Painter. Dieter Schutsch couldn't get past Wes Newton. And Robert Heckman ended up on the short end of his contest with Denis Ovens.
By the fourth round only three North Americans were still in the hunt for the £6,000 winner's check – Bill Davis and Jim Newman from Pennsylvania and three-times world champion John Part from Canada.
Davis gave world-ranked number two, James Wade, all he had and had it not been for a couple of missed doubles early on may have given Wade more than he could handle. With Davis ahead 4-3 both players wrestled with doubles but after five darts at double one Wade found the mark on the sixth, pulled his darts, smiled, and never looked back, winning 6-4.
Jim Newman (who took both Paul Lim and Peter Manley to the wire in Sunday's and Monday's Desert Classic qualifiers) sent Raymond van Barneveld packing in the third round only to fall next to Robert Thornton.
John Part moved past the Steve Beaton, Denis Ovens, and Colin Osborne before losing 6-3 in the quarter finals to perhaps the most likeable player on the tour and the eventual winner of this year's Players Championship…
Ronnie Baxter!
En route Baxter was pushed only once – by Japan's Morihiro Hashimoto, who took The Rocket to the tiebreaker. Baxter overcame Davis Snider, Wayne Mardle, Kevin Painter, John Part, Peter Wright, and in the final – by a wide score line of 6-2 – the damn near unbeatable Phil Taylor.
During the approximately six hours of competition both Larry Butler and Wes Newton notched up nine-dart games, but to no avail as momentary perfection was not enough to see either past their opponent, Jan van der Rassel and Colin Osborne respectively.
At the player's dinner the draw was held for the first round of Desert Classic stage play.
The first eight matches (best of 11 legs) commence tomorrow at 11:00 a.m. and will see John Part and Scotty Burnett toe-up in the final contest of the day. The first round will conclude on Thursday with Chris White facing Andy Hamilton, Bill Davis taking on Raymond van Barneveld, and Darin Young going at it against Kevin Painter.
Other pairings tomorrow include Dennis Priestley vs. Colin Monk, Alan Tabern vs. Wes Newton, Colin Lloyd vs. Peter Wright, Ronnie Baxter vs. Jelle Klassen, Terry Jenkins vs. Jamie Caven, and Wayne Mardle vs. Gary Anderson.
The remaining Thursday matches will see Mervyn King vs. Louis Blundell, Mark Walsh vs. Peter Manley, Colin Osborne vs. Co Stompe, James Wade vs. Phillip Hazell, and Adrian Lewis vs. Vincent van der Voort.
Second round play (best of 15 legs) will take place on Friday followed by the quarter finals (best of 19 legs) on Saturday. The semi-finals (best of 21 legs) and final (best of 25 legs) will wrap up Desert Classic VIII on Sunday. The winner will pocket £30,000.
Finally, I'd be remiss if I didn't note that Kevin Berlyn LIVES!
On the way to the tournament hall this morning I punched an elevator button, the doors opened wide, and there he was – curled up like a baby in the corner, deep asleep, still wearing his wallaby outfit.
So hope remains for our international grudge match. Stay tuned.
From the Field,
Dartoid
The following two tabs change content below.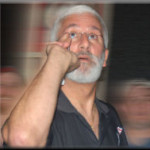 Author of the column that since 1995 has been featured by Bull's Eye News, the American Darts Organization's (ADO) Double Eagle and numerous other darts publications and websites around the globe.