Column #323 Young advances. Part struggles.
Wednesday, July 2, 2008
Column 323
Young advances. Part struggles.
Coming off his victory in May at the inaugural North American Darts Championship "Big Daddy" Darin Young, for years one of the most popular players on the US circuit, showed today why he is also one of the most feared. His battle this afternoon and ultimate 6-4 defeat of England's Martin Burchell woke up the home crowd and assured the Pennsylvanian of a minimum $6,000 payday for his effort.
After a bit of a slump midway into the match Young brought his fans to their feat with a spectacular 158 checkout on the testy double nineteen to move ahead 5-3 but then brought moans with a missed bull shot for the match, letting his opponent stay alive by tagging the double sixteen. In the tenth leg though Big Daddy left no prisoners, closing the deal with tops – and moved into the final sixteen for the second year running.
Young missed advancing to the quarter finals last year when he fell by a whisker to Dennis Smith 8-7. Few will doubt that in two days time Young plans to flirt with any whiskers other than those two or three that still wander about on the top of his head. "That was very hard work," he said afterwards, acknowledging the trouble he had finding his range in the middle legs. "Luckily I came out on top in the end… and hopefully I can get myself together and get past the second round on Friday."
The day began with another crowd favorite – and favorite of darts fans everywhere – two times world champion Dennis "the Menace" Priestly ousting the most recent (and very wise) British Darts Organization (BDO) defector, Dutchman Co Stompe, 6-2. Even Stompe's fans had to appreciate Priestley's return after major surgery – and certainly Stompe was a class act in defeat, hugging the Menace and wishing him well going forward.
Terry "the Bull" Jenkins survived a battle with Mick McGowan, working his way to a 6-4 win after the match was tied at four.
Steady power and a couple of demoralizing (for Wayne "Hawaii 501" Mardle) high finishes of 156 and 126 saw young Adrian Gray – he of the spiked hair and Elvis collar who stunned Phil Taylor in the first round of last year's World Grand Prix – manage a 6-4 win that appeared easier than the score line suggests. Mardle never really hit the stride that took him to the finals here in 2004 and 2005 and to multiple world championship finals in recent years.
Next up was the match the local crowd was anticipating would see the first of the North Americans – multiple Canadian national champion, 2006 Las Vegas Desert Classic champion and three times and current world champion, John Part – move through to the second round. It was not to be. Part struggled, pure and simple, and the frustration that shown on his face as his darts just plain couldn't seem to find their mark, was shared by every one of his fans in the hall. In the end, despite a workmanlike fight back from a 3-1 to 4-3 deficit, Mervyn King emerged the victor on the day.
Up to the oche for the fifth of the eight-match day were Phil "the Power" Taylor and Kevin "the Artist" Painter. This match was anxiously awaited by everybody the moment the pairing was announced. Taylor of course always puts on an amazing display and for some reason, perhaps it's his patented snarl, Painter has a way of getting under Taylor's skin. Today's fight was a clean one though and both players put on a clinic, averaging 108.84 and 103.68 respectively – each a full FIFTEEN points per handful more than anyone else who competed this afternoon. Indeed, the next closest average was 89.29, produced by Mervyn King. Someone had to come up second best in this battle and today it was Painter.
Sam Rooney (who fought off San Francisco's Christ White yesterday to earn his place on stage today against Colin Lloyd) continued his run with an unlikely 6-5 win over the former world number one. By all rights this is a match that should have gone to Lloyd who led early and often and had his chance but failed to seal the match in the tenth leg.
In the only other match of the day Barrie Bates let a 3-0 led over Holland's Roland Scholten get away from him. Scholten fought back to tie it at three. Bates took it to 4-3. Scholten evened it again, moved ahead for the first time in the ninth leg – and then turned on the steam to walk to a 6-4, but tense, win.
Tomorrow's action begins at 11:00 a.m. with the last eight of the sixteen first round matches with HALF of them featuring North Americans – Canada's Shawn Brenneman and Gerry Convery and America's Bill Davis and Larry Butler.
As the British say, it's gonna be a graham cracker!
From the Field,
Dartoid
The following two tabs change content below.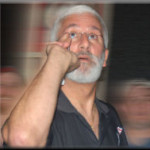 Author of the column that since 1995 has been featured by Bull's Eye News, the American Darts Organization's (ADO) Double Eagle and numerous other darts publications and websites around the globe.