Column #298 Darin Young Defeats his Boogey Man
July 6, 2007
Column 298
Darin Young Defeats his Boogey Man
What a day of darts!
Even the uninformed who spout nonsense about cricket being the only route to televised darts success in America must admit that today's matches held all that it takes to keep an audience in their seats. And Dave 'Boy" Green – it's best you stay hiding wherever you are in Oxford because even the fake scores you report on the Internet couldn't have held up in the heat of today's Vegas battles.
There are so many story lines…
There was the effortless power and precision of Dutchman Raymond van Barneveld who dismantled Kevin Painter 6-1 to the delight of so many Americans who he disrespected during the Player's Championships.
There was the excruciatingly slow forty-five minute pairing of Dennis Smith and Dennis Priestley that went the distance and which in its way was as tensely exciting as a no-hit baseball game.
There was the see-saw Johnny Kuczynski vs. Alan Tabern match that also went to the final leg and saw the "K-Man" drop his final dart short of the double twenty allowing Tabern to close sixty and advance.
But for yours truly the match of the day – though less exciting than those mentioned above, at least if you judge by the 6-3 score line – was the third pairing of the day. That would be the one where "Big Daddy" Darin Young faced his Boogey Man three times and made the monster his bitch.
In doing so, Young dispatched Tony Eccles and moved into the next round of the tournament, standing now with John Part and Gary Mawson as the only North Americans left in the competition.
Those who were in Washington, D.C. on March 11, 2006 know to what I refer.
That was the day that the double ten failed Young time after time after time and allowed Soddy Daisy's Joe Chaney to sneak into his place on stage at the World Series of Darts.
But today it was different – Young owned the little red sliver on the right side of the board, sticking it three times under pressure, after wiring tops, to vanquish his demons and send Eccles packing 6-3. One had to be proud. Certainly Young was ecstatic.
And there are people who say 501 isn't exciting enough for American television!!!
In the other pairings, Canadian Gerry Convery ran into the buzz saw that is Mervyn King and was sent to the cheap seats in sixteen minutes flat. Peter Manly pretty much coasted into the next round with a 6-4 defeat of Vincent van der Voort. For Adrian Lewis and Roland Schotlen it was just another day at the office as each advanced easily over the Smiths – Steve and Andy – 6-3 and 6-4 respectively.
We now move into the best-of-fifteen leg second round matches to decide which eight players will advance to Saturday's quarter finals and a guaranteed minimum $10,000 injection into their bank accounts.
For the North Americans there were no easy draws (not that is such a thing at this stage).
In possibly the tastiest draw of the day, last year's champion and two-time world champion, John Part, drew Mark Dudbridge, who knocked thirteen-time world champion, Phil Taylor, out of the competition on Wednesday. Gary Mawson is going to have a battle on his hands with Alan Tabern but the odds must be damn near even. And "Big Daddy" – he's drawn Dennis Smith. This is also certain to be a cracker, as the British say, but Young, generally a quick shooter, is going to have to find a way to deal with Smiffy's awkward style and plodding pace.
As it happens, the North Americans will step to the line in the final three matches of the day. Ahead of them are five pairings that are also certain to keep any viewer from heading to the kitchen to grab another beer and a bag of crisps.
First up is Roland Scholten vs. Steve Beaton. There's something for all the ladies in this one but that's all I'm gonna say!
Next is Wes Newton vs. Terry Jenkins. Jenkins has been damn near unstoppable of late but Vegas has become Newton's playground. This could be great.
Then there's Peter Manley and Colin Osbourne, Raymond van Barneveld and the always exciting Wayne Mardle, and Adrian Lewis (who knows something about the slot machines that I sure as hell don't) and the on-fire Mervyn King. I've got to put my money on Osbourne, van Barneveld, and King but anything could happen.
What's for sure is that the audience is being served up a Vegas-style prime rib dinner supreme. There's something for everybody in the line up – a couple of Dutchmen, a Canadian, a half Canadian-half American, eleven darters from the Mother Country, and America's man of the hour – Darin Young.
What another great day of darts it's gonna be!
From the Field,
Dartoid
The following two tabs change content below.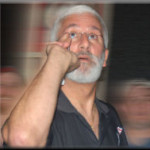 Author of the column that since 1995 has been featured by Bull's Eye News, the American Darts Organization's (ADO) Double Eagle and numerous other darts publications and websites around the globe.