Column #251 Thank you, Stan James!
May 17, 2006
Column 251
Thank you, Stan James!
It seems like only yesterday that word popped out in the New York Times that the Professional Darts Corporation's (PDC) Barry Hearn, Michael Davies (the bloke who brought us Who Wants to be a Millionaire and Wife Swap) and ESPN had struck a deal. It was last October actually, just about six moons ago…
The news seemed too good to be true.
But it was true. The richest extravaganza in the history of the sport of darts, the World Series of Darts (WSOD), was ON and the whole thing was going to unfold on American soil (which we stole from the Indians) and be broadcast beginning July 18 in eight prime-time segments on American television. The top prize for an American, if an American could achieve the unthinkable – beat the odds (currently set at 25-1 by British sports bookmaker Stan James) and outlast the top sixteen professionals in the world – was set at a whopping one million dollars.
Now across the great plains of American Dartdom the drumbeat is increasing, growing stronger and louder. The March to the Mohegan is just two days away from making its final stop at Connecticut's Mohegan Sun Resort and Casino.
The sprawling 240-acre Mohegan, formerly owned by South Africa's Sol Kerzner of Sun International fame, is the second largest casino in the world. In 2002, Kerzner gave control of the operation to the Mohegan Tribe in return for a 5% dividend on gross revenue generated through 2014. Last year the Mohegan grossed almost $1.6 billion (just from revenue from its slot machines), meaning Kerzner pocketed a cool $80 million.
I'll bet you thought Dutchman Peter Minuit was smart for buying Manhattan Island for a handful of beads!
In forty-eight hours Friday Night Madness will commence. The peace pipe will be passed and fire water will be shared before as many as 256 American hopefuls fight it out at the boards for the final four spots to represent America in the Big Event to begin Saturday morning. Some of the contestants will whoop and holler; others will slink silently away in defeat. Dartoid's World will be there for it all, drinking the fire water for certain, and will announce the next four qualifiers and all the results as they unfold by sending smoke signals into the blue Connecticut sky.
It will be a grand assemblage of American darters. Some of them will be elders who have come out of retirement. Others will be among those perennially ranked among the top in the nation. Still others will be those who don't travel the circuit but are the best in their hometowns. All of them will be there for a shot at the wampum.
Many will have experienced heartbreak as missed doubles ended their hopes during the regional qualifying rounds. They will travel to Connecticut for a unique last chance to take one last shot at their dream. If one of them throws steady and true they will shock the world, change the face of the sport of darts in American forever, and return home with a massive million dollar check, enough to top off their car for a week.
There are so many great names. Any one those which follow (in absolute perfect alphabetical order, which took almost an hour to arrange) could have made and still might make their way onto the Mohegan stage: John Adams, Bob Adamson, Wayde Baldwin, Joe Beecroft, Bill Bell, David Bingel, Dean Blake, Ruben Blea, Mike Brewer, Monty Broadway, Larry Butler, Danny Casey, Jim Cayer, Roy Chad, Bruce Cottrell, Mark Cronin, Conrad Daniels, Bill Davis, Gary "Catfish" Davis, Sr., Ed DeBehnke, Gordon Dixon, Sean Downs, Richard Espinoza, Joe Furphy, Bob Given, Todd Harrington, Kurt Hartmann, Chris Helms, Steve Hertzfeld, Kevin Horan, Peter Howell, Scott Ingrum, Russ Jasinski, Rick Jenks, Donny Joe, Dave Kelly, Scott Kirchner, Dave Lambert, Dan Lauby, Buddy Lessig, Kevin Liebkemann, Chris Linkous, Jim Lutz, Matt Malone, Dave Marienthal, Brian Massey, Maximo Mena, Bob Miske, Danny Moore, Pete Morrison, Mike Naulty, Jim Newman, Bill Nicoll, Jr., Timothy O'Gorman, Tony Payne, Troy Pople, Kevin Regan, Nick Rivera, Antonio Roman, Chris Russano, Jeff Russell, Charles "Tom" Sawyer, Davis Snider, Jeffery Steinberg, Stacy Stevens, Tom Stewart, Dayton Strawbridge, David Thibault, George Timpone, Mathew Thompson, Jeff Todd, Jerry Van Loan, Gerome Verdaro, Scott Wallaston, George Walls, Robert Walton, Tom Waterman, Doug Watkins, Brad Wethington, Michael Winthers, Frank Wolfe, Chris Yates and Darin Young.
Of course there are others, including some squaws like Stacy Bromberg, Marilyn Popp and Carolyn Mars. Even Colleen Eldredge, despite her Internet postings musing that the entire affair is a "joke," is rumored to be planning to make the trip to Connecticut. I fear she may be scalped.
Since the news of the WSOD leaked out, catching even the PDC by surprise, the March to the Mohegan has been relentless. Nothing could stop the American hopefuls as they sized up where best to travel to take their three qualifying shots. In Atlanta they battled Super Bowl-sized distractions. In New Jersey they battled the elements – the worst snowstorm to hit the northeast in years.
But the darters won. From Virginia Beach (where young Chicagoan Isen Veljic notched up the first WSOD birth) through Atlanta and New Jersey (which added two old timers – Roger Carter and Jim Widmayer, who have both since signed sponsorship agreements) to Las Vegas and Marlborough (which saw American sensations Johnny Kuczynski and Ray Carver book their spots) darters have crisscrossed the nation and one-by-one earned their place under the lights.
Joining Veljic, Carter, Widmayer, Kuczynski and Carver are Massachusetts' Tom "Top Cat" Curtin (who outlasted New York's Dave Lambert in the final qualifier in Somerville, after nearly making the grade in Windsor Locks and Marlborough); "Bazooka" Joe Efter from Connecticut (who bested Brad Wethington in a thrilling tiebreaker in Ronkonkoma); Florida's Joe "Sly" Slivan (who lost in the Chicago final to Dave DePriest but outlasted Chris Yates in Houston, despite trouble with his math); New York's Tim Grossman (who hung tough in a monumental shootout with "New Wave" Dave Marienthal in Windsor Locks); Soddy-Daisy, Tennessee's surprising Joe Chaney (who survived an amazing seventh-leg tiebreaker with Darin Young in Washington, D.C., which saw Young uncharacteristically miss the winning double in three consecutive trips to the line); three-time Michigan State Darts Champion Dave DePriest (who bested Slivan in the Chicago qualifier); and the resurgent old dog James Watkins from Schuylkill Haven, Pennsylvania (who took out mighty Tom Stewart in the City of Brotherly Love).
It's now been two weeks since the draw was made and as already noted the Stan James' odds for any American to win is currently 25-1. Not unexpectedly, thirteen time world champion Phil Taylor (despite losing in his last two televised finals) is the favorite to walk through the field.
Take a look at the odds (as of May 16) to win the tournament: Phil Taylor (4/9); Adrian Lewis (9/1); Colin Lloyd (10/1); Peter Manley (20/1); Dennis Priestley (20/1); Roland Scholten (22/1); Ronnie Baxter (25/1); ANY AMERICAN (25/1); Wayne Mardle (33/1); John Part (40/1); Andy Jenkins (50/1); Mark Dudbridge (50/1); Kevin Painter (50/1); Terry Jenkins (80/1); Denis Ovens (100/1); Mark Walsh (125/1); and Alan Warriner- Little (125/1).
I'm no statistician… but the way I figure it the odds-makers are betting that an American is as likely to win the WSOD as Ronnie Baxter (currently ranked third in the world), twice as likely as Kevin Painter (ranked seventh), and four times as likely as Denis Ovens (ranked number nine). How could any American not find it encouraging that the odd-makers have calculated that any one of our braves is as likely or more likely to win the tournament that eleven of the top sixteen arrow men in the world?
I'm no gambler either… but I'm sure as hell of the opinion that a chance to multiply my investment twenty-five fold by betting that any one of sixteen Americans, including four who have not even been determined yet, might win this thing is a wager worth making!
Now, look at the first round draw for the best-of-eleven leg match pairings which will whittle the field in half. The PDC professionals' current world raking is in parenthesis.
– Colin Lloyd (1) versus Isen Veljic
– Adrian Lewis (16) versus Jim Widmayer
– Andy Jenkins (8) versus Tom Curtin
– Denis Ovens (9) versus the winner of the 2nd Friday Night Madness qualifier
– Peter Manley (5) versus Ray Carver
– Mark Walsh (12) versus the winner of the 1st Friday Night Madness qualifier
– Roland Scholten (4) versus Roger Carter
– Dennis Priestley (13) versus Joe Efter
– Phil Taylor (2) versus the winner of the 3rd Friday Night Madness qualifier
– Terry Jenkins (15) versus Timothy Grossman
– Kevin Painter (7) versus Jim Watkins
– Mark Dudbridge (10) versus Joe Slivan
– Wayne Mardle (6) versus Dave DePriest
– John Part (11) versus John Kuczynski
– Ronnie Baxter (3) versus the winner of the 4th Friday Night Madness qualifier
– Alan Warriner-Little (14) versus Joe Chaney
I'm not so foolish as to start prognosticating on which of the Americans will knock off their first opponents. This is because pretty much all of them have agreed to buy me beer for life if they win, so there's nothing but disadvantage in pissing them off.
I will say that I find it surprising and a bit arrogant that Stan James published the odds before four of the participants were decided. (It's not as Stan's gonna buy me a pint.)
Suppose the Americans who make it through Friday Night Madness are Conrad Daniels, Larry Butler, Tony Payne and Pete Morrison? I would love this (although it would be frightening if Morrison spilled a beer on Jay Tomlinson).
Suppose the Friday Night Madness qualifiers are Darin Young, Brad Wethington, Scott Wallaston and Dave Marienthal? Wouldn't that be something!
How about Jeff Russell, Sean Downs, Bill Davis and Davis Snider?
What if Phil Taylor misses his flight from the Mother Country? I'll answer this one. The boys at Stan James would pee their frickin' pants.
I don't care how you cut it. And I mean absolutely no disrespect to any of the Americans who have qualified or any of the other Americans who nearly qualified and will descend upon the Mohegan for the final WSOD pow-wow. Exactly the opposite is the case.
I don't have to choose between Isen Veljic, Jimmy Widmayer, Tom Curtin, Ray Carver, Roger Carter, Joe Efter, Tim Grossman, James Watkins, Joe Slivan, Dave DePriest, John Kuczynski or Joe Cheney and four more Americans to be determined.
Nope. Stan James has handed me a boatload of pretty beads! Thank you mate.
By being able to lay down money on all of them for a twenty-five to one return means that just one of them has to win.
I like those odds!
I have a shot at becoming the second WSOD millionaire.
All I have to do is figure out a way to scrape together $40,000 before Saturday morning.
From the Field,
Dartoid
The following two tabs change content below.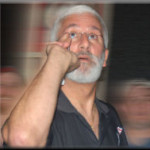 Author of the column that since 1995 has been featured by Bull's Eye News, the American Darts Organization's (ADO) Double Eagle and numerous other darts publications and websites around the globe.