Column #252 Oceans 15
May 19, 2006
Column 252
Oceans 15
Here I am among the Indians along the Thames River in the scenic foothills of southeastern Connecticut for the first ever million dollar World Series of Darts (WSOD). It's been a bit harrowing so far, hanging out as I have been with all these Indians and the Professional Darts Corporation's (PDC) Dick Allix. So please note: despite the last line of this column I will be back again tomorrow with the results of Friday Night Madness.
If you're British and you're reading this (and you pretty much have to because this is one tournament you're not gonna be able to flip on your damn telly to watch) there are a couple of things you must know.
First, you Brits ain't the only ones with a river named Thames. Yep, we've got one here in America too. And it's damn frickin' pretty.
Second, your Indians ain't real. Real Indians don't fire up incense and cook Chicken Tikka Masala for drunks after the bell rings to close the pub. Real Indians run casinos.
Down in Florida where I traveled from yesterday, the Indians that own casinos are called the Seminoles and Miccosukee.
Up here along our Thames they are called the Mohegan Tribe. There are officially 1,600 of them who can trace their ancestry back to something called the 1861 Tribal Roll and not a one of them would know a pompadon if it bit 'em on the arse.
The Indians here at the sprawling Mohegan Sun Resort and Casino aren't like the ones I watched on television as a boy. They don't have long black hair. They don't wear bright feathers. They don't carry tomahawks (although possibly they hide them in the trunks of their Mercedes).
Some of them are even blond. This morning I met a brave named Izzy Markowitz.
Whatever they are, they own the 240-acre Mohegan Sun Casino and Resort and they don't give a rat's ass if the Tower of London ain't on the other side of the river. Tourists don't come here to gawk at old buildings. They come here to shove their money into the slots so the poor Mohegan Tribe can continue to live as their ancestors did in peace and harmony with the earth and animals, and send their children to Harvard.
But enough of this. If you are interested in learning more about the Mohegan Tribe pick up a copy of James Fenimore Cooper's novel, The Last of the Mohicans. Or go to Blockbuster and rent the movie. Even if you don't care to learn more about the awful things the white man did to the Native Americans, the movie's worth watching because Madeleine Stowe is in it.
It's Friday afternoon, about six hours until the Madness begins. Soon, 256 Americans, including me, will take one last shot at earning one of the remaining four spots among those who will battle it out for the million dollars with the top sixteen darters in the world, beginning Saturday morning.
I've only just arrived at the Mohegan. It can't be missed, jutting into the sky, almost out of nowhere, as it does. From a distance it looks like some sort of alien spacecraft, all silver and jagged, stuck into the countryside on its nose.
After a night of darts (at the Brown Derby, 158 Norwich New London Turnpike in Uncasville) and a mix of a few too many beers and a giant burrito (with Jeff Steinberg, Bob Coggeshall, Chris Smith, Ben Ambrose and somebody I only know as "Tree Man") I hugged the porcelain until noon. It was bad. I had a nightmare that Jay Tomlinson was leering at me from the end of my bed.
Blurry-eyed, I'm sitting in the comfort of the Cabaret Room where the finishing touches are being put on the stage for the Main Event. Just to my right is the PDC's Allix. If you haven't read it yet, check out this month's Bull's Eye News. Allix has published a controversial column (which may explain why he is wearing a shirt that reads: Glenn Remick is a weenie!
Hmmm. Allix has just passed me a note…
To our right on stage, a small horde of uniformed police are surrounded by dozens of ESPN officials with cameras.
Some of them are drooling and so am I. This is because the police have now opened the cabinet and removed a MILLION DOLLARS, all in crisp bills.
Now the money is stacked high on top of the cabinet.
Cameras are flashing. The television cameras are rolling…
I open Allix's note. It reads: Ocean's 15.
Allix flips the light switch.
The hall gone dark.
This will be my last report from the World Series of Darts.
From the Field,
Dartoid
The following two tabs change content below.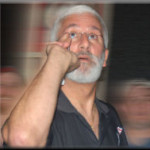 Author of the column that since 1995 has been featured by Bull's Eye News, the American Darts Organization's (ADO) Double Eagle and numerous other darts publications and websites around the globe.