Column #250 Johnny Kuczynski
May 1, 2006
Column 250
Johnny Kuczynski
It's going to be tough… the top sixteen in the world are great players. But there are a lot of great players here in the U.S. (too). I'm looking forward to it. I'll have a lot of support there from family and friends.
— John Kuczynski
__________________________________________________________________________
Nickname: Johnny "K"
Date of birth: October 16, 1973
Place of birth: Bloomsburg, Pennsylvania
Hometown: Zion Grove, Pennsylvania
Occupation: Self-employed sanitation engineer
Hobbies: Basketball, deer hunting with bow and rifle, trout and bass fishing and motorcycling
Sponsor: Halex
Weapon of choice: 23-gram Johnny "K" Signature Halex
__________________________________________________________________________
As the story goes, Professional Darts Corporation (PDC) Chairman Barry Hearn has commented that Zion Grove, Pennsylvania's John Kuczynski's top sixteen finish at last year's Ladbrokes World Profession Darts Championship cost him $25,000.
Whether the story's true or not is anybody's guess.
No doubt the actuaries were forced to re-crunch the numbers after Kuczynski's world class showing.
No doubt Kuczynski's success had an effect on the premium.
Whether the cost to cover the extra $900,000 payout if an American wins the World Series of Darts (WSOD) rose $25,000 is impossible to say.
What is possible to say is that Kuczynski got the attention of a lot of the British.
What's difficult to figure is why it took so long.
The man they call Johnny "K" has been throwing darts for ages. "I began playing darts at the age of nine with my father. I learned the game on an American dartboard, which is very different from the English dartboard (and game). I started playing league and tournaments when I turned twenty-one. I also play major soft-tip tournaments."
Over the past several years Kuczynski has blazed an impressive across America.
For four years running – 2002, 2003, 2004 and 2005 – he has been ranked number one according to American Darts Organization's (ADO) points standings. Through the first quarter of 2006 he's in second position, just 83 points off Darin Young's pace.
He's the ADO's 2006 National Cricket Champion.
He was a member of the U.S. International Bullshooter Team in 2004 and 2005.
In 2004, he was a member of the America's Cup U.S. Team and won the singles.
In 2005, he mad the top thirty-two (and it should have been the top sixteen) at the Las Vegas Desert Classic. He was a finalist at the Montreal, Quebec Open and a member of the U.S. World Cup Team.
And then there was last year's world championship…
Kuczynski started off his campaign by whitewashing the number sixteen seed Lionel Sams – in straight sets without dropping a single leg. He then fought his way into the final sixteen by way of an incredible shootout with Dutch sensation Jan van der Rassel. En route, the American averaged over 87 points per handful and tossed in an eleven-darter for good measure.
Then it got away from Kuczynski – but it shouldn't have.
Kuczynski faced Gary Welding – who had knocked out world ranked number one Colin Lloyd in the first round and then Erwin Extercatte.
As is his style, Kuczynski fired away quickly and wrapped up the first set with relative ease. By all means he should have won the second set as well, but Welding began to find his range and evened the match up at a set each.
Undaunted, Kuczynski poured on the steam – notching up the third set three to nil.
Had things gone just a bit differently – and he taken the second set that was his – this would have been the end of the match. Kuczynski would have booked his place in the final eight – probably costing Barry Hearn another $25,000.
But that's not the way it went. Welding moved into overdrive at the same time Kuczynski's doubles began to find the wrong side of the wire. Welding battled back from a two to one deficit, taking three sets straight, to end the match and Kuczynski's world championship dream. At least for 2005…
There's a reason why Johnny Kuczynski has topped all American darters in the ADO rankings for four years straight.
There's a reason why many of the British who have faced him at the line know he's a competitor to be feared.
There's a reason why Barry Hearn knows his name.
The reason is that Kuczynski doesn't just throw rapid-fire darts – he has fire in his belly. There isn't a darter on the American scene more determined than the man from Zion Grove, more committed to becoming the best in the world.
After last year's world championship Kuczynzki acknowledged that the British have more experience but chalked that up as a good thing personally. "I plan to be around for a long time," he said. Speaking for more than just himself, Kuczynski added, "We're good players and we'll become more solid… the better player you play against the better you become."
Kuczynski has played the best.
Now he must do so again, starting with two time world champion John Part in the first round at the Mohegan.
My bet is that John will win.
The following two tabs change content below.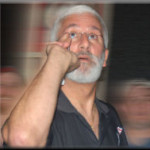 Author of the column that since 1995 has been featured by Bull's Eye News, the American Darts Organization's (ADO) Double Eagle and numerous other darts publications and websites around the globe.