Column #249 Tom Curtin
April 28, 2006
Column 249
Tom Curtin
If I win the million dollars I'll put the money away for my daughters' educations and weddings. I'd try to enjoy my moment in front of the television cameras and say something to my girls; they'd love that!
— Tom Curtin
__________________________________________________________________________
Nickname: Top Cat (I got the nickname partly because on my initials and partly because of the cartoon character, Top Cat)
Date of birth: October 29, 1968
Place of birth: Lawrence, Massachusetts
Hometown: Townsend, Massachusetts
Hobbies: I played basketball when I was younger
Television show: Survivor
Last book read: Some children's book!
Pastimes: Camping with the kids
Favorite night on the town: Thursday night – at home watching television (Survivor!)
Worst habit: Shooting to fast and swearing (outside of the darts hall)
Meal: A nice filet and a cold Coke
Sports team: New England Patriots and Boston Red Sox
Music: Stone Temple Pilots
Quote: It's better to be lucky than good
What most people don't know about me: I would do anything for a friend
Weapon of choice: 19-gram custom design
__________________________________________________________________________
I started playing darts in 1991 over at my friend Jay Driscoll's house. I started throwing tournaments in 1993. I started to play and I continue to play simply because I enjoy the game. I work as a self-employed contractor for Bernie & Phyl's Furniture Company.
But what I enjoy the most is my family. My wife Connie and I have four daughters: Kylie (eight years old), Emily (five years old), Samantha (three years old) and Gabreille (one year old). And we have a dog named Buddy, six Guinea pigs and three mice!
My wife is the strongest person I know, my hero. About a year ago I was diagnosed with a brain tumor the size of kiwi. Connie was so strong at that time. We had three kids at the time and she was eight months along with our fourth. The doctors were telling her that after the operation I would probably have some brain damage. I can't really appreciate how very hard that was on her, but she remained strong through it all.
It would have to be Art Robichald who I credit more than anyone else with my progress in the sport. He was one the best in my area. He would shoot with me and showed me the game. I'd have to say that it's Paul Lim who I really look up to in the sport because of how long he's been shooting at such a high caliber and all that he's accomplished.
Personal darts claims to fame? I don't have any what I would call "claims to fame." I think my biggest accomplishment in darts so far is winning the Pennsylvania Open Pro Shoot in 2004 and the Men's 501 Singles title in 2005. That and winning the final World Series of Darts (WSOD) qualifier in Somerville just a little of a year after having a brain tumor removed.
I also played in the 2004 World Masters and have shot in all four Las Vegas Desert Classics, although I didn't make the stage. I shoot doubles with Tom Sawyer and sometimes throw at some of the local tournaments with Ray Carver.
I'm really excited and thrilled to be playing on stage at the Mohegan Sun against the best players in the world in the first World Series of Darts. I think the event is great for the United Sates and hope it will pump up the sport with the American public – to a status similar to what it enjoys in England and Europe.
The following two tabs change content below.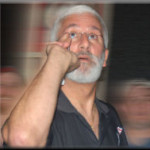 Author of the column that since 1995 has been featured by Bull's Eye News, the American Darts Organization's (ADO) Double Eagle and numerous other darts publications and websites around the globe.