Column #248 Ray Carver
April 27, 2006
Column 248
Ray Carver
When I was in that bar in 1995, the person showing me what to do said to just hit the triple twenty. I said, "Where's that?" The guy walked to the board and pointed to it. In my third turn, with my third handful of darts, I threw all of them into the triple twenty.
"Is that good?" I asked.
— Ray Carver
__________________________________________________________________________
Nickname: Razor
Date of Birth: June 13, 1973
Place of Birth: Baltimore, Maryland
Hometown: Nashua, New Hampshire
Occupation: Flooring Installer, professional darts player
Hobbies: Baseball, softball and basketball
Sponsor: Unicorn
Weapon of Choice: Ray Carver 21-gram Unicorn darts
________________________________________________________________________
It should come as no surprise that earlier this year, shortly after knocking the number three ranked player in the world, Ronnie Baxter, out of the Ladbrokes World Darts Championship, New Hampshire's Ray Carver signed a three-year sponsorship deal with Unicorn. It's no secret that Carver is the American darter that the British have been expecting to break into the big time.
They know his name. At least you can bet that Mick Manning and Dennis Priestley do. Carver dispatched them en route to the stage, from the floor, at last year's Las Vegas Desert Classic. You can bet that Denis Ovens and Adrian Gray do too. Carver moved through both of them to reach the top eight.
In an interview in Vegas four years with then nine times world champion Phil Taylor I asked who he thought was the American darter most likely to make a mark on the world stage? "You've met some of our young-bloods this weekend, guys like Ray Carver and Shane Meeks. Perhaps you've met Tim Cherven and Tim Grossman. Maybe Johnny Kuczynski and Jason Jarvis. What do you think: do any of these guys have the package, the goods to someday be the next Phil Taylor?"
The Power didn't hesitate for a moment. "The next Phil Taylor! Well, I don't know most of these names. I've played Ray though, in Saskatoon. He's very steady, very dangerous. He got bottle."
And believe me, Taylor most definitely wasn't talking about a bottle of Budweiser, although Carver's as handy with one of them as he is with his darts. What Taylor was taking about was Carver's confidence and courage at the line.
Recently former world champion Bob Anderson was posed a similar interview question. "Of the American darters that you have seen… who do you think has the best chance of being competitive in the PDC?" His answer: Ray Carver.
Carver started playing darts in 1995 when his baseball team went into a bar after a game. A "C" Division darts team was looking for a substitute. "I'd never thrown a dart before but filled in," remembers Carver. "A few days later someone from the league called and said I couldn't throw "C" Division darts any more. I had to throw "A" Division darts. I started playing tournaments two years later."
The rest is history. In less than ten years of tournament play here are the Carver highlights:
– Four times Winmau World Masters
– Six times U.S. National Team
– 2001 ADO Points Champion
– 2002 ADO National 501 Champion
– 2002 Quarter Finals in Saskatoon (losing to Phil Taylor, 3-1)
– 2002 Ladbrokes World Darts Championship
– 2003 National Cricket Finalist
– 2003 World Cup (Epinal, France) Team Event Champion (with Kuczynski, Bill Davis and George Walls)
– 2005 World Cup (Perth, Australia)
– 2005 Quarter Finals Las Vegas Desert Classic
– 2005 Ladbrokes World Darts Championship
And of course, on April 1 of this year in Marlborough, Massachusetts, Carver cruised through a stellar 250-man field (throwing four maximums and legs of 13, 14, 15 and 18 darts in the final) to book his place on stage at the Mohegan Sun Casino and Resort.
No, it should come as no surprise that Ray Carver will be representing America at the first World Series of Darts.
And it should come as no surprise if he is still standing when the final dart is thrown.
The following two tabs change content below.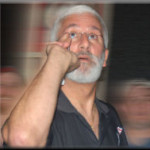 Author of the column that since 1995 has been featured by Bull's Eye News, the American Darts Organization's (ADO) Double Eagle and numerous other darts publications and websites around the globe.