Column #211 Scott Wollaston
January 29, 2006
Column 211
Scott Wollaston
When I get my ten minutes on the tube I'm gonna speak my mind!
I'll also thank Phil Taylor for doin' the best he could.
— Scott Wollaston
__________________________________________________________________________
Nickname: Rajun Cajun
Date of Birth: March 17, 1975
Place of Birth: New Orleans, Louisiana
Hometown: River Ridge, Louisiana
Hobbies: Baseball
Movie: Bikerboy
Television Show: Sportcenter
Author: Stephen King
Favorite Night on the Town: Wednesday!
Meal: Seafood and Diet Coke
Sports Team: Chicago Cubs
Music: Alan Jackson
Pet Peeve: Dartoid
Worst Habit: Smoking
What Most People Don't Know About Me: The good things!
Weapon of Choice: 19-gram Harrows
__________________________________________________________________________
People who know me know I'm a mild mannered guy, a man of few words.
So my comments will be brief. I don't have time for this anyway.
I've got a million dollar payday to prepare for.
I began throwing darts when I was fifteen years old. My brother Jimmy showed me the game. But it's Roger Barrera who I have to give credit for helping me develop my skills.
Why have I stuck with darts? I don't know. Why does the sun come up in the east?
I graduated in 1992 and work in construction. My first job was as a paper boy. I didn't like that. For a while I cut grass. I didn't like that either. My goal is to be world champion. That I'd love.
Twice I've been national 501 champion. You should put money on me in the World Series of Darts (WSOD). You think I'm kiddin'?
In the sport, I look up to Roger Carter but my hero in life is my daughter Summer. She's means everything to me and when I win the million dollars she's gonna have a great life.
There's only one person out there who gives me a struggle from time to time. That's Brad Wethington. He's my doubles partner though so I'm not really complainin'.
I practice a least an hour a day, religiously. My tournament schedule is packed. Everything I am doing is aimed at being ready for the WSOD. It's great for darts in America and the world.
Why do you want to know about my most embarrassing moment? You know me. There's too many to list. But I won't be embarrassed in this tournament.
I want to be remembered as I am, not as I was.
I want to be remembered as a man who told it like it was.
I want to be remembered as a man who loved his kids more than anything else in the world.
The following two tabs change content below.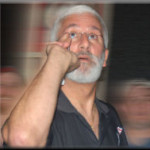 Author of the column that since 1995 has been featured by Bull's Eye News, the American Darts Organization's (ADO) Double Eagle and numerous other darts publications and websites around the globe.