Column #210 Stacy Bromberg
January 28, 2006
Column 210
Stacy Bromberg
If I had ten minutes on national television I'd d hold a mini-telethon to try to drum up donations for the Make-A-Wish Foundation. Giving to and doing for the kids is the best feeling of all!
— Stacy Bromberg
__________________________________________________________________________
Nickname: The Wish Grantor – for my fundraising efforts for Make-A-Wish, Southern Nevada, through my foundation "Score for Charity." With generous help from Joe "the Wiz" McElligott (the main benefactor of my charity endeavors), John Part, Paul Lim, Johnny Kuczynski, Phil Taylor, Russ Bray, Crissy and Peter Manley, Steve Coote, Ricky Villanueva and Pat and Rose Carrigan and the entire Southern Nevada Darts Association – and everyone in darts who has attended my fundraisers and supported the cause – I've raised just over $73,000 in eight years.
Date of Birth: Sometime in the 1950s… around the time the military was doing all those atomic explosion tests!
Place of Birth: Los Angeles, California
Hometown: Las Vegas, Nevada
Hobbies: Swimming, scuba diving, and watching American football
Movie: Forest Gump
Television Show: Law and Order
Author: Patricia Cornwell and John Grisham. I like all legal thrillers. As long as someone is dead in the first fifty pages, I'm usually interested in the book.
Meal: Surf and Turf – and water!
Sports Team: Oakland Raiders
Music: Eagles, Beatles, Stones, CCR – pretty much all classic rock 'n roll
Pet Peeve: People who have met me once, ten or twelve years prior, and expect me to remember them. I can't remember what happened yesterday. I'm concentrating on today and tomorrow. That's tough enough.
Worst Habit: Impatience!
What Most People Don't Know About Me: Bromberg is my maiden name. I married Ron Dove in April of 1993!
Weapon of Choice: Custom darts made for me by Winmau. They are 26-gram, center loaded, with a full-knurled barrel. One end is pointy and the other end holds a flight! My flights are also custom made by the "late" Accudart Company. They are a red, white and blue American flag design with my signature on them. How cool is that?
__________________________________________________________________________
How'd I get into darts? I got too smart to continue platform diving and too old to play volleyball and tennis. I can't golf so that leaves darts!
I was in a bar eighteen years ago (yeah, I was eleven at the time!) and a friend had a dart team that was short a player. I filled in (I didn't even know how to play so my teammates had to tell me which segment to hit on the board!) and I won! A gentleman who'd been watching came over to me, told me I could be a good dart player. We talked and talked and now, eighteen years later, that man, Ron, is my husband. And I am still throwing darts. He's who I credit most with all that I've achieved. He supports me. And he taught me to play!
I'm a private investigator, financier, and professional darts player – not that these occupations necessarily go hand-in-hand. I have a law degree. I live with my husband (a part time semi-professional golfer), a cat named Noodle (aka Knothead), about a dozen doves, a dozen wild finches, a family of five Desert Quail, and an occasional Harris' hawk. I have a backyard aviary!
Darts claims to fame? I don't really like to think in these terms. I've won a lot of tournaments, been ranked U.S number one for ten years running and twelve out of the last fifteen, and was honored by Sports Illustrated in 1999 as one of Nevada's fifty greatest 20th-century athletes. I'm proud of all my achievements. But all I really am is someone who gives a darn about others. That's how I want to be remembered.
In darts I look up to Paul Lim for all he's given back to the game. Outside of darts my hero is my husband, Ron. He married me! Oh, also there's Andre Agassi. I respect all he has given back to children through his notoriety. And he has great eyes!
Historically, Paul Lim and I have thrown doubles together. Recently, I have been pairing with Darin Young and Ricky Villanueva.
Sponsorship? I'm not currently under contract with any company but working with several on a tournament by tournament basis: Atlanta Darts (Georgia), Bulls Eye News and Marketing (Ohio), Dart Stop Backboards (California), and Dart Master (Arizona).
At this point, my career (and life) goals are easy to define: stay healthy, get wealthy, and retire young – and that brings me to the World Series of Darts (WSOD)…
As a dart player and a woman, my immediate goal is to qualify. Darts needs to enforce a strict dress code and restrict smoking and drinking during play to establish a clean, respectable image if it is to grow and be embraced by the public as the positive sport that it is. In this respect, among others, I think the upcoming WSOD will be HUGE!
People here in America are coming out of retirement to take a shot at this tournament. Leave it to the Professional Darts Corporation (PDC) to come up with this one! Promoting it in such a way as to allow sixteen of the thirty-two competitors to be Americans is absolutely brilliant!
You can "bet the farm" that I'll be there, hopefully competing, but if not, as a spectator – cheering on the Americans. Who knows, maybe I'll even be commentating for ESPN. (Yo, Tommy Cox – what do you say?)
Whatever happens, I think it'll be a historic darts event, possibly THE big break darts needs in America to jump start the sport on a regular basis in television.
By the way, keep an eye on Brad Wethington and Roger Carter. They are hungry and capable of really making a mark in this competition!
The following two tabs change content below.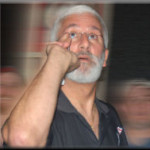 Author of the column that since 1995 has been featured by Bull's Eye News, the American Darts Organization's (ADO) Double Eagle and numerous other darts publications and websites around the globe.