Column #58 Las Vegas, Nevada
August 1, 1998
Column 58
Las Vegas, Nevada
I am inside what seems like the heart of a giant, spinning Christmas tree. I am surrounded by pulsating lights, flashing stars and bright, pounding multi-colored neon — a cavalcade of reds and blues and yellows bouncing off hundreds of ceiling high mirrors. Movement is constant and blurred. It is sound that dominates the moving room — a monotony of organ-grinding music, intermittent clinking of coins and muffled, excited conversation. It's 7:00 in the morning and I'm nursing my second Budweiser of the day. I'm waiting for a guy named Steve…
I'm in the casino bar just off the convention center of the Riviera Hotel, smack in the middle of the famous Las Vegas strip. I'm one of some 2,000 others from across the country and the world who have traveled here to resist the slots and the night life and test their skills against the best of the best in the darting world. Certainly I am one of many who has already failed the test. I've been awake for 24 hours. I've lost most of my money. Yesterday, I hooked up with a 15 year old named Christina…
I began my decline two nights ago warming up along side Stacy Bromberg, Jerry Umberger and Al Dorn at Duffy's III on Nellis Road near Sunrise Mountain, ten miles east of the city. Several beers vanished quickly. My stroke followed. I remember Al walking across the bar like a penguin, Jerry explaining how some barber with palsy nearly trimmed his eyebrows off, and a large green olive spinning in a brandy glass. There are seven boards and a dynamite little darts accessory shop off to the left. Or maybe it was seven pool tables and an auto parts store?
Seriously, Duffy's III is one of the premier joints in the Southern Nevada Darting Association's system. And, with Stacy and Al teamed together it's no surprise that the Duffy's III "Aces" have contributed more than most to the collection of plaques which plaster the walls.
The next morning I somehow managed to find the tournament practice room. Three hours and several more Budweisers disappeared as I threw with Henry Standridge, a pony-tailed pro hopeful from somewhere along the Texas-Louisiana line. Henry and his accommodating wife, Bev, are about to purchase a mobile home to make it possible for Henry to hit the circuit full time. With Henry I held my own. Later, Australian Dot McLeod reminded me why she's ranked seventh in the world and why I just write about the sport.
That evening I found the practice room still again to renew my acquaintance with the bartender there and to munch some chips and dip at the ADO's annual welcome party. For a while I hooked up with Chicago's Dayton Strawbridge. Dayton, it turns out, recently won the match of his life in, of all places, a Steak and Shake restaurant somewhere in Indiana. Some kid said the wrong thing to him so Dayton beat him into submission with a ketchup bottle. I kind of hope I draw this guy sometime this weekend. The way I figure it I'll be able to shoot and eat french fries at the same time and not have to send out for condiments.
At some point a well-endowed, skimpily clad brunette with a flashing yo-yo appeared by my side. She asked me if I wanted to buy the yo-yo for $15. I asked her why on earth, from among the hundreds of people milling about the casino, she would imagine that I would want to purchase a yo-yo. As she subtly leaned forward into me, she responded, predictably I suppose, with: "Everybody wants my yo-yos." Suffice it to say that my niece and nephew are now each the proud owner of a flashing yo-yo and one of my team mates back in Virginia Beach sports a new lighter that blinks to the rhythm of an old Wayne Newton song.
And then there's Christina, Christina Tilley actually, my 15 year-old friend from Plano, Texas. I'd seen her around. She was wearing a floppy, green Court Jester's hat. I guess that's what caught my eye. Of all people, the ADO's Sandi Cain made the introduction. Christina was hyped — she was one of the six Youth Area Champions in town to duke it out for the National Youth Championship. Christina's sights were set on becoming the first female to take home top honors. I made a special point to be on time for the start of the competition.
As Christina let her long, brown hair fall loose from under her hat and as she began to warm up a sore arm, the five other youth finalists also began to get a feel for the boards.
The youngest of the group and the only other female, 14 year-old Jennifer Luke of Sunnyside, Washington, presented a sort of emotionless calm as she struggled to keep her darts from relieving themselves of their flights before they reached the board.
Casper, Wyoming's unflappable and somewhat aloof Robbie Eshelman threw quietly on the far right board. He let a couple of 180's and a string of tons register due concern among his opponents.
From the Pumpkin Capitol of the World — Centerville, Ohio — John Part look-a-like, Jason Jarvis, warmed up on the center board. A slight swagger underscored his confidence in his stroke.
The comic of the group — the energetic, yellow-haired Aaron Watson of Framingham, Massachusetts — pounded the first board on the left. He joked as errant darts occasionally flicked into the one and five pies. He dashed off to purchase new flights. I noticed that he seemed distracted by Christina. And she by him.
Rounding out the finalists was a lanky shooter with a bowl haircut from Caseyville, Illinois. Ken Lacombe spent little time in front of the board. He paced the sidelines. His nervousness showed.
How this all turned out some three hours later really pales in comparison to the very fact that the ADO somehow manages to find the funds to hold the competition at all. Somebody has to win. Somebody has to lose. On this day Jason Jarvis took home the $1,500 prize — but it was the sport of darts, which takes its share of knocks from time to time, that was the real winner. Outside of the bars, away from the sloppy attire and the beer and the smoke, six kids of considerable talent did darts proud. If potential sponsors could experience just one event in our sport this has got to be it. I have no doubt a much healthier Memorial Scholarship Fund would follow.
There's a rhythm to a darts tournament, a rhythm that builds slowly, note by note, and which ultimately results in the crowning of champions. We are treated between these pages to the list of winners and photos of their crowning moments. What we miss, far too often, is the essence of the rythum itself, the ebb and flow, the highs and lows that lead all of us through three days of competition.
The Youth Championship came and went. Few took note.
Stacy Bromberg, again, made it to the stage to play, and defeat, Lori Verrier for the Women's National 501 Championship. But for an unfortunate handful of misses at game shot in the final leg of her semi-final match against Stacy, MaryJo Chesney would have taken Stacy's place in the finals. Few people noticed.
With his back to the wall during a tense early round of the Men's National 501 Championship, Mike Cronlotac stuck a big pressure dart in the double three to stay alive against Brian Dougherty. Again, a non-event.
As the Twomlows, Evisons, Manleys and Lowes drew onlookers in the Friday night Luck of the Draw, hundreds and hundreds of other darters threw in obscurity, many chalking their own games.
It's to my right in the casino bar, far away from the 80 boards, that the largest crowd of the weekend has gathered. Dave Marienthal's buddy, Steve, from New Jersey has finally arrived. To cheers and jeers he steps towards a transparent lucite stall, not unlike a glass shower in a fancy Malibu home. Piled two feet high in the bottom of the contraption are tens of thousands of dollars in currency. Steve's mission, in thirty seconds and as the bills are forced by air into a furious swirl, is to snatch as many as he possibly can. My advice to him last night was that he peel off his clothes, from head to "Lewinsky" to toe, and smear himself with honey…
And that's darts in Las Vegas — the North American Open. A big event comprised of hundreds and thousands of moments — of so many hopes and so many disappointments. Of so many personalities. An event like few others in the sport, framed inside the glitter of an organism that, like an evergreen at Christmas, stays awake 24 hours a day.
From the Field,
Dartoid
The following two tabs change content below.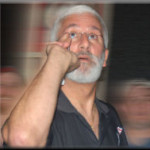 Author of the column that since 1995 has been featured by Bull's Eye News, the American Darts Organization's (ADO) Double Eagle and numerous other darts publications and websites around the globe.