Column #631 Five suggestions for the new ADO leadership…
Thursday, September 21, 2023
Column 631
Five suggestion for the new ADO leadership…
The new American Darts Organization president, the well-liked and highly regarded player Jim Widmayer, has the potential – the opportunity – to be the most effective ADO leader in ages and new vice president Jeff Olson, also a good guy and excellent player, brings a long needed fresh perspective (from the wilds of Alaska!) to the organization.
Although I know neither gentleman well, I first met Jim at the Virginia Beach Classic in 1996 and spent a few days in Nome at the Iditarod Open with Jeff in 2007.  Jim came to the rescue of Tina DiGregorio, who he thought I was accosting.  Jeff tried (and failed) to show me how not to freeze in negative 50-degree weather.
Here are five suggestions.  Consider them or toss them.
Communicate! Use social media the way the CDC does and reinstate the once popular Double Eagle as an electronic publication.  Keep the website current.
Promote, promote, promote! Fast track efforts to attract sponsorship and media coverage.  Live stream events as often as possible.
New blood! Open the doors of the organization to future leaders.  To the rank and file expand the opportunity to cast votes for officers and run for leadership positions (perhaps starting by giving each dues paying league a vote).
Transparency! Publish a quarterly financial statement.  Update the bylaws.
Remember the past and aim for tomorrow!  Increase opportunities for the seniors who paved the way and new players and youth who have caught the darts bug and wish to follow the path the old timers blazed.
That's it – nothing revolutionary.  Hopefully, you'll find the suggestions of some value.
Jim and Jeff – do darts proud.  A stong and respected grassroots organization is important to America's position in the world darts community.
From the field,
Dartoid
The following two tabs change content below.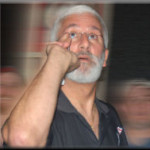 Author of the column that since 1995 has been featured by Bull's Eye News, the American Darts Organization's (ADO) Double Eagle and numerous other darts publications and websites around the globe.