Column #HR371 Geezer Gazette – JANUARY TREAT for GOLDEN AGE DARTERS (Volume I – Issue I)
Thursday, October 27, 2022
Column HR376
Geezer Gazette – JANUARY TREAT for GOLDEN AGE DARTERS (Volume I – Issue I)

Geezer: A geezer will usually be found outside a pub with a pint in his hand on match day.
Hello and WELCOME to the inaugural edition of the Geezer Gazette!
If you are reading this, you were lucky enough to be part of the glory days of early darts – a member of the greatest era the game has ever known, when the game was really getting started with tournaments and sponsors and players from all over the world would come together in (mostly) friendly competition and camaraderie, forging friendships that have lasted a lifetime.  It was an era when any player, no matter what skill level, would have an opportunity to play against (or with) the greatest players in the world.
The time was the 1970s through the 2000s: The Golden Age of Darters.
In the year 2022, it was becoming sadly obvious that many of our Golden Age friends were leaving this astral plane and our group was shrinking.  After many reminiscences, a small group of geezers began to think about trying to get the ones who were still left together for old times' (no pun intended) sake – to relive the memories, remember the friendships and honor those who were gone.
Thus, the idea for the Golden Age of Darters Reunion was hatched.
We have planned the reunion to coincide with the 2023 ADO-sanctioned Las Vegas Open on January 19-22, 2023, at the Tuscany Hotel in Las Vegas.  Rooms are available at the special rate of $129 per night.  Call 1-877-887-2261 and ask for the ADO rate.
That Golden Era will be well represented when the clan (a group of close-knit people) gathers at the Tuscany.  Darting greats Jerry Umberger and Sandy Reitan-Green have committed to attend with "maybes" received from Eva Grigsby, Paul Lim and a host of others.  Canada checks in with all-time greats "Big" Tony Holyoake and Bob Sinnaeve.  Yes, Larry "The America Eagle" Butler will attend.  Bill Specht, the official chronicler of the Golden Age, has produced a photo collage of Golden Age members that have entered the venue in the sky.  We remember them as member of the Fraternity.  Some are remembered more fondly than others.
Saturday night will be a great time for all Golden Age Darters to pick up the tungstens for the Golden Age Darters Senior Open.  Some say, "I don't play darts anymore."  This is for you.  Current players: this is "not for you."  No excuses.  There will be three events: Men's Open (60+), Ladies' Open (50+ – no proof of age required) with hopefully a mixed doubles or triples depending on entries.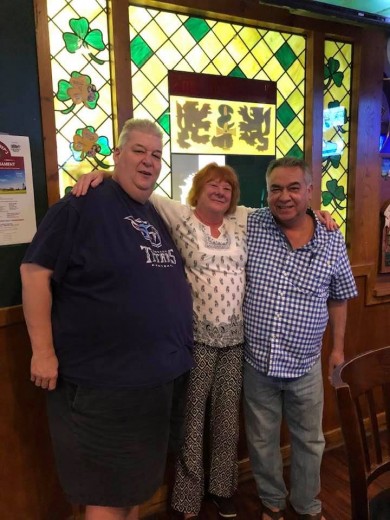 A big thanks goes out to Russ Lopez and David Miller for providing the funding for the Hospitality Suite.  The suite will be open beginning at 4:00 pm on Thursday, January 19 for a meet and greet, and sign in.  Beverages and coffee will be available.  Donations will be gratefully accepted – and are needed.  Thanks to Jerry Feather, FREE beer condoms will be supplied to all Golden Age registrants.  Lisa Farrell joins Miller, Lopez and Feather as an early donor.    
From Jerry Feather
Friends and Darters…  I'm looking forward the Golden Age of Darts Reunion at the Tuscany Casino in Las Vegas January 19-21, 2023!  Being an old geezer, this reunion planning has brought back a rush of great memories…
Eric with his ring finger up in the air!
Danny Pucillo disappearing when his name is called on a board – until 3rd call.
"My Favorite" Leighton Rees – with his perfect body for a darts player!
Seeing live, the 1st 9-darter on TV – man, John Lowe, what a guy!
The "Kid Forever" – David Miller who had some  problems, but is still my idol for what he has become.
Nicky – One of a kind. After darts were over, we were off to Twin Dragon where he would order "Rots of Rice."
The new kid on the block, Paul Lim, still shooting world class darts,
The world's greatest promoter of darts, Barry Twomlow, who got me into the darts business.
Shooting darts on the Queen Mary and realizing that the floors on boats aren't level.
The great dart bars in Colorado all along Interstate 25 & up to Boulder, happened for a reason – great dart playing owners. The Colorado Bar Owners Tournament is the only one of its kind.
My old friend wherever you are, Harold Arthurs, from the bank who did a radio show with me: "Let's Talk Darts."
To all the dart players who came through the doors of the DARTBoARd and P.A, attended Feather's "City Darts" for the 50-plus City Cups – so many great and loyal players (sadly, many have already passed)…
…LET'S MAKE SOME MORE MEMORIES in VEGAS!
The following two tabs change content below.

The one and only Howie Reed (the Old Dart Coach) goes back decades with the legends of our sport - he knows where the skeletons are buried. Just ask any of the ADO and WDF old-timers! His widely popular column, Toeing the Oche, is a must-read.

Latest posts by Howie Reed (see all)