Column #572 Shoe for Dart, again!
Thursday, May 9, 2019
Column 572
Shoe for Dart, again!
Ronnie "Rocket" Baxter, who once demolished me repeatedly one evening at CD's Lounge in Las Vegas, was recently asked in a Facebook post what type of shoe is best for darts.
His answer: trainers. In American lingo that's tennis shoes.
This may or may not be correct. Seeing how Baxter is a two-time BDO world championship runner up (1999 and 2000), World Masters runner up (1997), two-time PDC world championship quarter finalist 2002 and 2010), World Matchplay runner-up (1998) and a WHOLE lot more who am I to argue?
On the other hand, the following was once published by Dartoid's World. It's an important and in-depth discussion about shoes and darts (and more) and possibly the definitive answer to the question…
____________________
Hallo. I just regestered now and this is forst post (so kind please be) it may seem a goofy but it serieus and am wondering what kind of shoe you wear for dart? Where I live in Mesa most of time I practice in the flip-flop (or am barefot) I wear the flip-flop during league to and is comfortable and I like. But (!) I told real shoe are made to be worn in tournament now and I don't think that just fair. I know that dart have "bad" reputachion a problem about but I really thinks it really about smoke and drunking not clothes at least not the shoe! I wouldn't feel comfertable in Nike shoe or the fancy shoe. And also, it would be disadvanteous thing to me since the shoe would cause me throw dart from different height than practice. Doesn't make the sense and not fair to make me or dart player anywheres to wear shoe. I don't see why? I not spending my money go tournament and losing because I told to wear shoe. What do you do about shoe?
____________________
Hola Jose! Welcome to (the Website That Shall Not Be Named).
I think that's a great question! Personally, I also prefer open-toed sandals or flip-flops. I like the comfortable feeling and with the looseness I can actually adjust my stance slightly without moving my 'shoe'. Also, I know at least one guy here at (the Website That Shall Not Be Named) that has a carpeted area, and a no-shoes in the house-rule so people play in socks or barefoot – it's quite comfortable to have your feet in a nice snuggly shag carpet! So, I'm sure many folks practice this way…
Obviously, at a tourney, you should wear some kind of footwear, and I can understand if for safety, they make footwear required – ruling out being barefoot. But I see no reason why a flip-flop style or open toed sandal – like Teva's – should be banned. I have no idea about the exact ADO rules or such, but lots of others here do! They'll tell us!
______________________
Jose – welcome.
This is a good question and one that we have discussed before a long time ago. I may have even been the one that initiated it, but I remember who turned me onto the best dart shoe I have ever worn. Yes – we all like to wear sneakers, trainers, flip-flops and slippers for that matter, but when playing in tournaments and such, there may be a dress code imposed that shoes be worn.
______________________
The ones I recommend are called TredSafe. They are very comfortable – in fact, they are called restaurant worker shoes and are designed for someone who spends a lot of time on their feet. They come in 3 or 4 different styles (only in black, I think). And the best part is, they are about $25.00 – $30.00 and available at WalMart. Check them out.
______________________
If this isn't a trolling, I'd be amazed….
________________________
Hello Jose', welcome to (The Website That Shall Not Be Named).
This is a subject that I personally feel is one of the major steppingstones to getting our sport noticed as not just a bar game. The appearance is the first thing "non-players" see when they walk in a room or a dart hall. I feel that players should be dressed in a resort casual or even business casual manner. This is something that was brought to light to me about a month ago.
A gentleman in our area made a comment that, "whenever you come to play, you are always dressed like you're ready for business." This kind of got me thinking… what would you rather see if you were a supporter or sponsor or organizer of darts: a room full of guys wearing shorts, tank tops and sandals or a room of people wearing slacks, collared shirts and dress shoes?
The ADO has a dress code as well as the major European promoters. It adds an air of respectability to the sport. I for one am a great supporter of this measure. Personally, I wear a pair of Michael Toschi "Lorenzo" Oxfords when I play now. They are comfy and have a great angle on the outstep of the shoe. This is great for me where I actually position my foot sideways on the oche. That with a sturdy wooden heal and a smooth leather sole they are the best that I have found for all day shooting. In my humble opinion sandals belong at the beach, not the oche.
____________________
Que Pasa Jose. I used to wear work boots but changed to sneakers, since my fiancé/wife hates boots. I wear shoes for the simple fact that I have seen a dart bounce back and hit a guy in the foot who was wearing sandals. I also tell my step kids and their friends that if they are going to play, they have to wear shoes unless they are behind the oche.
I prefer soft leather loafers with comfort soles. Something I could wear all day long and be comfortable in and that looks decent. But then I try to wear collared shirts at tournaments too.
_____________________
I myself prefer boat shoes for league night… and for tournament play I've found Dr Scholl's black dress shoes to be the most comfortable shoe I ever wore for all day play.
_____________________
Agreed – Dr. Scholl's are also one I use (in addition to the TredSafes mentioned earlier).
_____________________
Dr. Scholls – comfortable and not expensive…
_____________________
For most tournaments I have black Docker shoes that look nice but are very comfortable. For local events, small tournaments or league I just wear deck shoes or tennis shoes.
At the US Open this year, I complied and wore my dress shoes, as I didn't have anything else that would have met the PDC dress code. After arriving at 7 a.m., watching all the chairs disappear around 10 a.m., then standing, playing and walking until after midnight, my poor puppies and legs were mush. AND, as it would happen, my right knee has never been the same… I call it Mohegan Knee. I think the shoes and the standing did a major number on me. So, yes, the shoes make a difference.
________________
I hope your wrong about the trolling, but you might be right on. I'm off to search for TredSafe shoes.
________________
No reply, no profile and what appears to be incredibly intentional bad English. I can sniff a troll two threads away.
________________
Forgive my ignorance but what is a troll? What purpose does it serve for the poster? This is the one forum I use on a regular basis (I think I've made less than ten posts on Stars of Darts in two years) so I'm completely ignorant to these things.
________________
I occasionally play in sandals/slippers in the comfort of my own home. I don't like it much because I like the whole shoe to move with my foot. That and I fell off a flip-flop last Christmas and had a sore ankle for months. I like my Airwalk trainers, which are black and very understated.
_________________
What purpose does trolling serve? I have no idea, but a troll is someone who posts in such a way to elicit responses just for the sake of argument or instigation. Had this person just stuck to the "what type of shoe" I wouldn't consider it to be trolling, but the comment about not seeing why he should have to wear shoes at all and paying money to lose blah blah… that's trolling.
If you go onto the Stars of Darts site and start a BDO/PDC bashing… your trolling. Start a thread about why someone should defect to the PDC… trolling. The person who started this thread could be legitimate, but he says he's in Mesa and the IP address is Malaysia. No profile, etc.
_________________
"Trolling" – wow, you guys are really into this.
_________________
You're so paranoid about someone sabotaging our sacred forums, that you'll call them out publicly? It seems to me that this hideous cretin (I like this better than 'troll') brought up a subject that many find very interesting (at least 10, in fact) and yet some of you keep coming back to read the responses and posting mean things about the new member instead of letting people talk about the subject.
Don't get me wrong, I would totally defend your right to do so. I believe in (also for lack of a better term) freedom of speech in a public forum, but hey man, we know how you feel. You're kind of flogging a dead horse. Let people talk about shoes (or lack thereof) if they like.
____________________
Do you always greet new users with such open arms. Man, you're all heart. Don't get me wrong, I'm sure you're a fine fella, but you should let this go. If you don't like the post, move on to another or come up with one to steal people away from the new guy, so no one will read his abomination of the English language. I truly believe that (the Website That Shall Not Be Named) will survive this "troll."
____________________
I assure you, I'm not trying to get an argument going here. I'm just posting my opinion like everyone else. To stay on target, I prefer tennis shoes (cross-training, actually), but I do occasionally wear heavy, black, dress-type Sketchers. In my garage, I'll wear whatever I happen to have on my feet.
Trolling is obviously a fishing term and I'm glad all the replies (except mine) have stuck to the topic of their shoe preference and not risen to the bait on the rest of the post. Like I said I could be wrong and if the guy is legitimate, I'd welcome him with open arms. I'd even apologize for the horrible things I said about him.
_____________________
Well, of all places, I found my shoes in a golf shop. I kid you not and it seems that golfers know a thing or two about walking comfort. Best shoes I have ever owned. I wear them whenever I play. Black shoes, non-sneaker, were required for the Las Vegas Open and so I went out and found the shoes in a local Las Vegas mall. I don't recall the name, but they are the most comfortable things I have ever had on my feet.
_____________________
Hallo again. Does there exist some kind of code for lady shoe too? How about the panties? Have they to be black? I are hoping. Thank you.
The following two tabs change content below.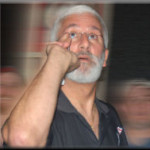 Author of the column that since 1995 has been featured by Bull's Eye News, the American Darts Organization's (ADO) Double Eagle and numerous other darts publications and websites around the globe.