Column #HR256 Some things are true because they're true!
Wednesday, May 8, 2019
Column HR256
Some things are true because they're true!
As he has want to do, the Old Dart Coach was musing at his humble Hacienda estate. He wrote on April 29, 2019, that "Some things are true because they're true."
For example, for sports music May is the best. It starts with "My Old Kentucky Home" on the first Saturday prior to the Kentucky Derby (the best 2 minutes in sports) and ends the last Sunday of the month with "Back Home in Indiana" prior to the Indy 500 (the most exciting spectacle in sport).
Then there's beer – good. Tequila – bad.
Pizza – good. Kale – bad.
Popeye's and Jollibee's chicken – simply wonderful.
Some may disagree.
But there was no argument when Mr. John Lowe received his MBE recently at Buckingham Palace. All darters should be proud.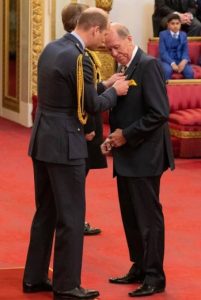 The recognition was for Mr. Lowe's long-time service to darts and charity – a well-deserved honor to a truly unassuming hero who more darters might want to emulate. The ODC is of the opinion that Prince William was probably "over the moon" to meet Mr. Lowe.  The ODC was when he and Mr. Lowe first met.
These days, Michael van Gerwen is the best dart player in the world.  The 30-year-old Dutch Shoe and Special Brownies guy is facing the very best with astounding results.  In the past three weeks, van Gerwen has annexed European titles number 30, 31 and 32 with combined paychecks of £75,000 which in US dollars is $98,194 and a meaningless 39 cents. In Canada that's $132,087.72.  At the German Grand Prix (the "x" is silent) van Gerwen spanked Simon Whitlock 8-3 averaging 106.45. van Gerwen holds the record for all-time TV average at 123.40 (2016 Premier League) and 114.05 (World Championship 2017, semi-final).
The following two weeks van Gerwen would collect titles 31 and 32 bidding farewell twice to Ian "Cubic Zirconia" White 8-3 and 8-7.  In the quarter finals of the German Open van Gerwen would squeeze out a 6-5 victory over youngster Nathan Aspinall. The name Aspinall is unfamiliar to most North American darting fans.  He makes his North American debut (the "but" is silent) at the US Darts Masters July 3-4 in Las Vegas. He'll be joining van Gerwen, Rob Cross, Daryl Gurney, Gary Anderson, Peter Wright, Gerwyn Price and Michael Smith in the all-star lineup.
Aspinall, the 27-year old Stockport native, is having some kind of 2019. He hit the big time at the 2019 World Professional Championship when he reached the semi-final losing 6-3 (sets) to Michael Smith. He would get his first major TV win when he checked 170 to beat Rob Cross in the UK Open. The two finishes provided £200,000 to his bank account.
As the 1st of May is a week past, for North American darters it's time to think about a July trip to Las Vegas for the US Dart Masters. Many book rooms away from the Mandalay Bay venue opting for more economical residence. Word of warning: while most are wise to "hidden resort fee's" and "parking fees" beware of another way that Vegas casinos dive into visitor's pockets.
The latest?  A "fee" for using your room's refrigerator for personal use!
The casino explained with straight faces, "It cost us extra money when a person uses the in-room refrigerator for personal use products."  Some things are false just because they are. When booking be sure to ask. Bring your own ice chest – though some bell staff will refuse to carry ice chests or even provide a cart. Arrogant bastards. Give 'em the high hard and long one finger salute. Not everything that happens in Las Vegas stays in Las Vegas.
It looks very much like the Tungsten God, she who has say in all thing's darts, has finally answered the ODC's prayers. He has prayed for years that the stupid game called Cricket/Mickey Mouse would go the way of feather flights. Checking four ADO major tournaments, chosen at random, the entry in men's '01 singles is 37.5% higher than for Cricket.  Darters have finally figured out that not hitting doubles is far out shadowed by a good player hitting the bigger trebles.
The ADO has named both Masters and World Cup Teams. Only "Chainsaw" Joe Chaney made both teams. He'll be joined for the World Cup, October 7-11 in Cluj-Napoca, Romania by Kevin Luke, Jerry Van Loan and Jim Widmayer.  For the World Masters, somewhere in England October 25-27, Joe Huffman, Larry Butler and Danny Delfino will join "Chainsaw."  The ladies World Cup Team is comprised of Robin Curry, Cali West, Stacey Pace and Marlise Kiel. On the Masters Team are Stitches Preciado and Bonnie Wei. Stitches has got to be the best dart name since "Pickles" back in the day.
Those that have subscribed to PDC-TV in North America may have noticed that the streaming, to use a darting term, sucks. Facebook was alive with complaints recently that were accurate. The ODC's gal pal Ms. Sally Kelly wrote, "I am not one to usually complain, but PDC TV is getting to be unwatchable. The last few tournaments have had their share of glitches but today is was unbelievable. First match kept going to a black screen. Second match gets to 5-4 and starts over. Gets to 5-5 and starts over again. Jumps to 5-2 and finishes. I never saw the last game. Then they show the end of the third match. Now back to the beginning of third match. And I pay for this?"
The PDC did change streaming partners. Following that change the service became questionable.  There is no doubt that the PDC will rectify the situation. Or not. It's sad as steel darts in American continues to lose ground to the machine game. Some have forgotten that darts is supposed to be fun. Machine operators are well aware.
The ODC got an envelope in the mail with "Cards enclosed. Not transferable." He opened it to find two AARP membership cards enclosed. He then immediately transferred them to the trash. They were indeed transferable.
Michael Middleton, 43, was arrested for marrying four women at the same time.  He pled insanity and was found guilty. The judge sentenced him to no jail time. Guess she figured he'd been penalized enough.
Some things are true because they're true.
Stay thirsty my friends.
The following two tabs change content below.

The one and only Howie Reed (the Old Dart Coach) goes back decades with the legends of our sport - he knows where the skeletons are buried. Just ask any of the ADO and WDF old-timers! His widely popular column, Toeing the Oche, is a must-read.

Latest posts by Howie Reed (see all)