Column #CM48 The Grand Slam of Darts – a lot more darts…
Saturday, November 24, 2018
Column CM48
The Grand Slam of Darts – a lot more darts…
On the second day of the tournament I again used the shuttle to the venue. The pick-up stop had changed due to Remembrance Day. The shuttle needs around twenty minutes to get from Wolverhampton to Aldersley which is a suburban area of Wolverhampton. Most of it was constructed after World War II. The Alder – which gave the suburbs its name – is still very widespread in the region and in the Leisure village as well. In former times only a few farms scattered the landscape. Then, the canals first and later the railway changed everything.
On Sunday, not only were the stands were empty – the last table row was empty as well. It might be this had to do with Remembrance Day or it may be the venue is just bigger than the Civic Hall. The atmosphere was great nevertheless even though the chants and cheers sounded hollow from time to time. The matches really deserved a sold-out venue as most of the players seemed to have settled into the event. Sunday was a day of high averages and many of the BDO players cleared their names.
In the first match of the afternoon session Mark McGeeney won against Ryan Searle. Although it was not a high-class match, McGeeney showed in parts what he really can do. In the second match it became apparent why Josh Payne had reached last year's Youth World Championship final. His opponent Jim Williams was a little bit unlucky again and didn't live up to his potential.
In the following match the victim of Scott Mitchell's great perfomance was German Martin Schindler. In similar form Mitchell had won the BDO World Championship 2015. Schindler didn't play bad either and this time had no problems with the fly which was still around. Probably it's a darts fan. Simon Whitlock against Andrew Gilding was one of the weaker matches of the afternoon and Whitlock had no problem at all to beat Gilding. Those were the matches of the first round losers; now the players who had won their first matches would come on stage.
Already the first match between Mensur Suljovic and Simon Whitlock was a cracker, both had an average of over 100, but Bunting just was the better player and won in the end 5-3. Even closer was the match between Rob Cross and Dimitri van den Bergh. It seems that the World Champion is slowly getting back in form. But one can't say it was a deserved win as Dimitri van den Bergh would have deserved it as well. It was the second win for Cross and by this he already qualified for the last 16 while van den Bergh had to win his last group match against Mark McGeeney to progress. Until now van den Bergh played better in this tournament then McGeeney. But last year McGeeney's last match had been his best.
The next match was a surprise. After his first win I had been sure Glen Durrant would win his second as well, but the newly married Gerwyn Price turned out to be a tough nut which Durrant was not able to crack. Despite his two wins Price is not yet qualified; he still needs to win three legs in his last group match against Simon Whitlock.
In the last match of the afternoon Max Hopp had to play against Peter Wright. It was bad luck for Max that Wright played much better then in his first match, too good for Hopp who gave it all. So Hopp now has to win his last match against Jim Williams to progress into the last 16.
After this rather interesting (though from the German perspective, not successful) afternoon session soon the evening-session started. And it turned out to be even better!
For the first match an obvious cheerful Michael Unterbuchner came on stage and it worked well for him against Steve Hine though Hine played better than in his first match against Ian White. But the German outclassed Hine and dominated the match which resulted in an easy win with a 97.09 average.
In the next match the winner was a BDO player as well. It was a much closer match and the averages of both players were ten points lower the Unterbuchner's but a win is a win. Gary Robson won against Joe Murnan. A similar standard followed in the match between Mark Webster and BDO player Wesley Harms. Harms somehow managed to win it. It was almost sure Webster – who is out of form for some time already – wouldn't survive the group phase.
The next match was not much better though one of the participants was Raymond van Barneveld – and, almost, this match was won by the BDO player. Probably it was van Barneveld's experience which helped him through while Adam Smith-Neale missed four match darts. A convincing win looks different.
This concluded the matches among the losers of groups A-D and we all looked forward to the winner's matches.
James Wade and Keegan Brown came on stage first and it was a display of fireworks. Both players were quite clinical on their doubles. But it just works at the moment for James Wade – no idea why. He won this match as well and is already qualified for the last 16 while Keegan Brown has to win his last match against Wesley Harms to progress.
The second match between Michael Smith and Krzysztof Ratajski was again a high class affair and very, very close. Somehow Smith got over the finish line first; he was just a little bit better on his doubles which probably made the difference.
Next took place one of the most amazing matches of the tournament and probably the biggest upset. Jonny Clayton – at the moment not really in the form of his live – showed what he can do and of all things in a match against Michael van Gerwen. van Gerwen was not amused at all. He couldn't get rid of him and once again the problem was that he needed a bit too many attempts to hit his doubles. It was a deserved win for Clayton who now heads the group. And only the last group matches will decide who will progress.
In the last match of the day Gary Anderson showed in top form and steamrolled Ian White who had been so impressive in his first match. But when Anderson works magic like this every opponent is powerless. After his second win Gary Anderson is already qualified for the knock-out phase. Who will progress with him will be decided in the match between Michael Unterbuchner and Ian White. Unterbuchner probably will go into the match with more confidence then Ian White. Steve Hine is already out of the tournament but will spread his muffins for a last time on Tuesday.
What a day of darts!
I returned rather happy on the shuttle to the city center and it looked as though my fellow passengers shared the feeling!
The following two tabs change content below.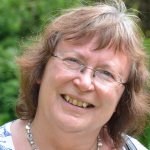 The founder of Global Darts, darts journalist Charis Mutschler hails from Marbach, near Stuttgart, Germany. A regular at most major PDC tournaments, a lover of literature, dance and music and cats, Charis' popular writings about darts and its players often transcend the usual. She brings something unique to the chroniclers of the sport we all love.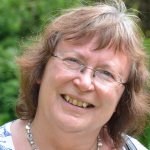 Latest posts by Charis Mutschler (see all)