DATELINE: 2068
Thursday, February 1, 2018
Column 553
DATELINE: 2068
After the unfortunate PDC ban on walk-on girls in 2018, Formula 1 quickly followed. Then went boxing Ring girls.
In 2019, pom pom girls and cheerleaders were banned.
Then in 2025, just as President Trump was inaugurated for his third term exotic dancers and porn stars were banned. Powerless to stop the trend, in 2030 President Trump – then in his fourth term – passed away in misery and frustration. As did Tiger Woods. And Mark Goodwin and Howie Reed.
By EXECUTIVE ORDER, in 2035 all members of the female species – wives, girlfriends – were eliminated during the GREAT WORLDWIDE EXTERMINATION.
In 2036, President of the World Kushner ORDERED all mention of the former female species removed from dictionaries, encyclopedias and the Internet.
Mysteriously, in 2050 men began to go blind.
Dart players could no longer see.
The PDC had no option but to close its doors in 2058. Averages had dropped into the the low 30s. Scorekeepers had been struck in the head. Television no longer existed. Gamblers didn't care. The organization could no longer fund its 1.5 billion pound first place payout at Ally Pally.
Barry Hearn's name was removed in dishonor from the Darts Hall of Fame.
In 2065, scientists predicted the end of the world within 10 years time.
Most recently, just yesterday at the All Blind Male World Summit in Davos, President of the World Kushner was caught on a hot mic asking former UK Prime Minister Keegan Brown…
"WHAT THE FUCK WAS HEARN THINKING?!"
Ends
From the Field,
Dartoid
The following two tabs change content below.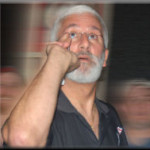 Author of the column that since 1995 has been featured by Bull's Eye News, the American Darts Organization's (ADO) Double Eagle and numerous other darts publications and websites around the globe.