Column #500 The CDC Fantasy League winners are…
Tuesday, September 14, 2015
Column 500
The CDC Fantasy League winners are…  
With the countdown on for the final weekend of the inaugural CDC tour – the Continental Cup in St. Louis – it's time to announce the winners of the first annual CDC Fantasy League.
In May, some 700 people from around the country and world entered the fantasy competition, each selecting six teams of four players for a total "team" of 24 players. It was a topsy-turvy ride as the leaders shifted week after week through eight tour events held in Miamisburg, Ypsilanti, Nashville and St. Louis.
Stunning and surprise performances coupled with a fair share of no-shows among tour card holders transformed for many what appeared to be an easy fantasy prognostication competition into a completely unpredictable three months of darts.
In the end, 16 entrants (including several tour card holders, who are ineligible to cash in – still, great job Darin, Timmy and Mitch) finished on top of the table. While it was close, there were no ties so it was not necessary to employ the tiebreak rule.
The final 16 were calculated by hand to doubly ensure accuracy of the numbers. The top five finishers will be contacted by CDC Chief Development Officer and Director of Event Operations, Anthony Eugenia. $500 and a choice of signature darts – Larry Butler, Chris White, Cali West, Chuck Pankow and Gordon Dixon – will be awarded to the winner. Signature darts will also go to the second through fifth place finishers.
Congratulations to the winner, Mike Holler!
Mike is followed by runner up, Eugene (of no last name), Vera Carter (3rd), Alex Marsh (4th) and Anna Moretti (5th) – all represented in bold below.
The Top 16 are as follows:
Mike Holler (635 points)
Darin Young (614 points
Timmy Nicoll (599 points)
Eugene (596 points)
Mitchell Payton (592 points)
Vera Carter (590 points)
Alex Marsh (586 points)
Anna Moretti (585 points)
Mike Lamson (582 points)
Matthew Collier (580 points)
Gary Vinicombe (579 points)
12 Richard Cuerrier (578 points)
George Hammes (574 points)
Curt Eischens (571 points)
Brandon Kessler (570 points)
Chris McKeehan (569 points)
As Sarwat Chadda once said, "The first time is always the hardest." Such was the case with this year's Fantasy League. Hearty thanks are due to Adam Hartz and Kelly "Rags" Ragland for all of their behind the scenes work on the programming and statistics side of this first go.
Bigger and better plans are in store for next year's Fantasy League. Details will follow in due course. Suffice it to say the payout will be much bigger and deeper, perhaps at a level to rival the $10,000 first place prize to be awarded to the winner of the Continental Cup in St. Louis this weekend. The presentation will include some unique bells and whistles. The standings will be timely.
On behalf of all darts enthusiasts and all players who long to see North America take it to the rest of the world and win on the big stage – the most profuse gratitude must be extended to Anthony Eugenia, Peter Citera and David Irete for founding the CDC and pushing it forward so successfully this inaugural year.
Best of luck to everybody in St. Louis this weekend – and kudos to D.J. Sayre (not just for making it to the finals in five of eight tour events but more so for having the grounding and class to recognize that there are priorities in life and hence, declining an invitation to compete this weekend for the $10,000 Continental Cup winner's check).
Finally, you may have noticed that this is Dartoid's World Column #500. Who would have imagined…
Coming next, on approximately October 1, is something special: Column #501.
There are four possibilities: 1) an interview (possibly) conducted long ago but never published with Jocky Wilson, 2) an interview (possibly) conducted in the past few days with Manny Pacquiao, 3) an updated column called A Labor of Love (answering some of the questions I am most often asked, like "Why do you write this crap?" and 4), well, let's just say, if all goes as expected, a column with breaking news that is certain to shake up the darts scene in America like nothing else in the past 30 years.
Stay tuned.
From the field,
Dartoid
The following two tabs change content below.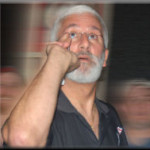 Author of the column that since 1995 has been featured by Bull's Eye News, the American Darts Organization's (ADO) Double Eagle and numerous other darts publications and websites around the globe.