Column #359 One year ago, this June, in darts…
Tuesday, June 2, 2009
Column 359
One year ago, this June, in darts…
If April showers bring May flowers what do May flowers bring? Of course the answer was Pilgrims, but not this June…
The Detroit Red Wings win the Stanley Cup 3-2 over the Pittsburgh Penguins. The Boston Celtics win their 17th NBA championship over the Los Angeles Lakers. In baseball, Ken Griffey, Jr. becomes the sixth player in history to hit 600 home runs.
But who cares?
The big news in sports, at least early this month, is recorded at the Blue Square UK Open by American Gary Mawson… who makes his way past Raymond van Barneveld… who squeaks past Phil Taylor… who earlier in the tournament becomes the first player to record more than one perfect game on television… to set up a tasty final against James Wade. Despite a strong start and early lead, Mawson sees victory slip away but, unlike Hillary Clinton, whose hopes for the Democratic nomination are quashed on June 3 by Barack Obama, Mawson is gracious in defeat.
In Bristol, Phil Taylor (over Alan Tabern) and Dennis Priestley (over Kevin Painter) share Player's Championship victories. For Taylor, the win is just another in his march, by month's end in Las Vegas, to the nine-mark in PDC tour victories on the year. For Priestly, the win is particularly special as it puts an exclamation mark on his return to the circuit after months away (successfully) battling prostate cancer.
With the Premier League completed for the year more and more attention focuses on the ancients – Dave Whitcombe, Bobby George, Cliff Lazerenko, Eric Bristow, Peter Evison, Bob Anderson, John Lowe and Keith Deller – although for many it's impossible to think of Deller as anything but the young man he was when he shocked the darting world in 1983. Whitcombe wins twice (over George and Bristow) and Anderson doubles (over Lowe and Lazerenko). Heading into Leeds on July 18 it is Whitcombe, Anderson, Deller and Evison holding down the top four positions in the league.
Stateside, Brian Blake goes on a tear…
Blake cleans up at the Central Virginia Dart Classic in Richmond, while Jennifer Lynch and Nancy Huntoon split for the ladies. Marke Venable, Glen Allamon, Shelia Gmeiner and Kelli Dougherty score wins at the Seminole Shootout in Tallahassee. Chris Block and Samantha Veillon win at the Bayou Gator Shootout. It's Brian Blake (again), Steve Brown, Carolyn Mars and Stacy Bromberg in the winners circle – topping the always- strong field at the Houston Open. Paul Olsen wins twice at the Piedmont Shootout in Winston-Salem while Trish Jackson and Rhonda Farmer share the honors among the ladies. Only Jim Widmayer can stop Brian Blake (yet again) from another double at the Cherry Bomb International in Ft. Lauderdale while always-serious Marcia Loch and always-sexy Melissa Wargo top the ladies. Joe Chaney cleans up at the Firecracker 4000 in Chattanooga while Julie Rembiszewski and Vicki Taylor win. At the Post Office Bar and Grille VII in Fulton, Keith Keener and Sherri Benton take the money. And it's Brad Wethington who wins twice while Diana Rutherford and Christy Zimmerman split at the Midwest Summer Classic in St. Charles.
In other news, unrelated to darts but possibly important to somebody, reported by Dave Barry and stolen by me…
Although unwilling to formally concede defeat, Hillary Clinton "suspends her campaign… declares that she has 'no hard feelings'…and will do 'whatever it takes' to help Obama get elected… 'even though he is scum.'"
"Chrysler announces a plan to lay off workers who have not been born yet."
"The scientific community is elated by NASA's announcement that the Phoenix lander has detected life on Mars. The elation turns to concern when, several hours later, the lander detects a Zamboni machine."
Finally, in news that gives hope to many darts players worldwide, "Tiger Woods, in an epic performance, wins the US Open playing on an injured and very painful knee, thereby proving, beyond all doubt, that golf is not a real sport."
From the Field,
Dartoid
The following two tabs change content below.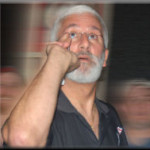 Author of the column that since 1995 has been featured by Bull's Eye News, the American Darts Organization's (ADO) Double Eagle and numerous other darts publications and websites around the globe.