Column #360 The Art of Darts
Monday, June 8, 2009
Column 360
The Art of Darts
It seems that John Lowe is angling to publish as many books as he's won tournaments. His fifth book – The Art of Darts (Hodder and Stoughton) – hit the stands on May 28 to mixed reviews.
Some have taken issue with the cover.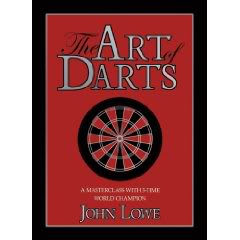 Others have pointed out a typographical error or two and a mistaken reference to Canada's John Part having won only two world championships, suggesting the book was rushed.
Some have observed that much of the information in the book can be found on the Internet.
Others claim the book is too basic. Still others feel much of the material is too advanced and only of value to aspiring darts professionals.
Of course, everyone is entitled to an opinion. Probably all of the book's detractors are experts who, in their 30-year professional darts careers, have won more than 1,000 tournaments including three world championships and picked up a £102,000 for recording a perfect game on television.
I liked the book. What can I say? I'm just a dumb-ass who writes puerile crap and has never won shit. Ask SEWA's Erik McVay or the handful of people who still post at his darts forum.
But I have been around the sport a fair while and I do tell it like it is.
I think Lowe's cover is classy and the size unique. It's different. No, there are not photographs but there are pencil sketches throughout the book that more than edequately illustrate the key points. Curiously or perhaps not surprisingly, the drawings all look like Lowe. You can tell because the little pencil sketch man is losing his hair.
While short, the book is perfectly succinct – not a word is wasted. It's a tutorial that, surely, will be of value to any new convert to the sport as well as many who hope to advance to the professional ranks. I know that, once upon a time, I asked myself every single question that Lowe addresses. But there wasn't a (good) book with the answers.
In the first 63 pages, everything a beginner or even a struggling seasoned player might contemplate is covered. Sure, there are other books that expound on how to select a dart, hold it, throw it, practice, correct problems, and win – but I know of none other that manages to explain all of this in terms that are so crystal clear.
And there are some bits that I've not come across elsewhere. For example, there's useful advice on how to deal with air conditioning – a problem that is particularly pronounced for darts enthusiasts who find themselves in front of a board in tropical climates. It's certainly advice I will employ – although, unlike Lowe, I'm not sure I will go so far as to actually take my pants off.
Now that was puerile!
In the second half of the book – in the Bonus Masterclass section – Lowe speaks to those among us who aspire to the professional level. And all of us have wondered… just what we might accomplish were we able to dedicate ourselves full time to the craft.
For most, the main obstacle is money. We have to work. We have to eat. At the end of the day, no amount of skill, ambition, commitment or self confidence is going to get us around the country and world to compete where necessary to break into the elite ranks.
Obtaining (and retaining) sponsorship is the answer and Lowe explains how to approach the process in terms that, while basic, are right on the mark. Obtaining sponsorship is about more than selling yourself; it's about demonstrating to the potential sponsor what the benefit is to them in investing in you. Lowe explains how it's done – and how over the years he's worked his system to win sponsorships from Citizen Watches of Japan to Central Resorts Hotels of Thailand to Unicorn, and many others.
Leagues that can't obtain local support – or even find tag board sponsors for tournaments – would do well to take instruction from Lowe on how to get the job done. It's about making a professional approach and showing the prospect value for their money.
In the Bonus Masterclass section there is a very interesting chapter on how to manage jet-lag which – take it from someone who travels the world constantly – is spot on. Forget Melatonin and any other voodoo concoction or system. Follow Lowe's advice here and I assure you – whatever the purpose of your travels, you will arrive and wake up the next day as fresh as the day you departed.
There is also a Bonus Masterclass chapter on how to "Tune You Body and Reap the Rewards" but I skipped that bit.
All in all, The Art of Darts has something for everybody.
You may not like the cover.
You may not like the graphics.
You may think the book is too basic or too advanced.
But you will find something of value. That is guaranteed.
And because the tutorial is presented in such a simple to understand manner you can be assured that whatever tidbits you find useful to your game will be easy to apply and certain to improve your standard of play.
So stop making excuses to not buy an inexpensive book written by an expert and chock-full of what you think you already know. Improve your game. Go here and git 'er done today: The Art of Darts at Amazon.com.
From the field,
Dartoid
The following two tabs change content below.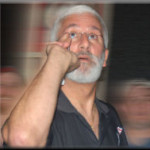 Author of the column that since 1995 has been featured by Bull's Eye News, the American Darts Organization's (ADO) Double Eagle and numerous other darts publications and websites around the globe.