Column #356 One year ago, this May, in darts…
Friday, May 1, 2009
Column 356
One year ago, this May, in darts…
Across the world colorful May flowers reach for the sun – but not for long in Myanmar, western China and the American Midwest where cyclones, earthquakes and tornados blow the flora, and pretty much everything else, away…
…as does thirteen-time world champion Phil Taylor in winning his fourth consecutive Premier League championship with an 11-1 semi-finals stomping of Adrian Lewis and a 16-8 (and 108 average) finals performance over James Wade. Taylor pockets the equivalent of $150,000 for his effort.
Darin "Big Daddy" Young then picks up a check for a tenth this figure, prevailing in an 8-7 squeaker over Brad Wethington (Mr. Tupelo Honey) in the final of the inaugural North American Darts Championship (open only to Americans).
The next day the rest of the world shows up but the Americans throw strong with five – Bill Davis, Roger Carter, Gary Mawson, Ray Carver and David Fatum – fighting their way into the last sixteen. Meanwhile current and three-time world champion John Part, five-time world champion Raymond van Barneveld and Herefordshire's world-ranked number five Terry Jenkins find themselves on the sidelines.
The American contingent is quickly whittled from five to two as Bill Davis falls 3-0 in an unfortunate early match-up with David Fatum 3-0 while Roger Carter (after taking the first set) comes out on the short end to Chris Mason, 3-1. Gary Mawson sees his hopes ended by Ronnie Baxter by the same score. Only David Fatum and Ray Carver remain…
In the quarter finals Ray Carver faces Phil Taylor and ends up face down while David Fatum defeats Chris Mason 3-1 to keep his hopes alive. Fatum however then loses an unfriendly semi-final to Colin Lloyd, 3-2. Phil Taylor whitewashes Colin Lloyd in the final to add another approximately $20,000 to his bank account.
Gary Anderson wins the Welsh Open over Mark Webster, 4-0.
Darin Young, Bill Davis and Larry Butler qualify via the BEN Professional Rankings for the televised first round stage of the Las Vegas Desert Classic.
The anticipated and somewhat controversial Legends of Darts League kicks off at Circus Tavern with Bob Anderson, Eric Bristow, Keith Deller, Peter Evison, Bobby George, Cliff Lazarenko, John Lowe and Dave Whitcombe competing. Deller tops Lazerenko 7-5. Whitcombe beats Lowe 7-3. And Bobby George and Eric Bristow repeat their 1980 world championship final with Bristow, displaying shades of his old self, fighting back from a 2-0 deficit to pull out the match 7-5. Anderson and Evison battle to a draw.
Meanwhile – and as a top Iranian official issues a warning about the destructive social consequences of importing Barbie dolls from the West – in the West, Steve Brown cleans up at the Ram Open in Missouri and wins again in cricket at Blueberry Hill and 501 in Cedar Rapids at the Hawkeye Open (while Tina Muscare takes both women's events). Brian Blake goes on a tear at the Wreck on the Deck in Cary, North Carolina and takes the 501 honors in Savannah. Dee Richardson scores double wins at the Cinco de Mayo shoot in Sierra Vista, Arizona and then takes cricket at the Wild West Shootout in Phoenix. And in Lubbock, Texas, at the Child Abuse Tournament, no one can stick with Jim Chatterton and Heather Wein who each win both cricket and 501.
Other winners in May include Michelle Nagle (at the Ram); Joe Slivan and Sherri Otis (Joint Venture in West Palm Beach); M.A. Silvas and Marvin Germain (Cinco de Mayo); Brad Wethington, Valerie Brown, and Wendy Hlinak (Blueberry Hill); Chris Helms, Dieter Schutsch, Janie Ramos, and Gwen Olds (Toob n' Town in New Braunfels, Texas); Davis Snider, Jason Dutton, Helen Taylor, and Stacy Bromberg (Texas "T" Shootout); Dan Moore and Monika Nickerson (Pike's Peak Open in Colorado Springs); Joe Chaney, Vera Emons, and Sandy Hudson (Savannah); Nick Rivera, Bob Castillo, and Brenda Roush (Phoenix); Scott Wollaston (Cedar Rapids); and Barbara Moten and Nancy Huntoon (Wreck on the Deck).
Of note, falling just short in Savannah (losing in two finals) are Melissa Wargo from my hometown of Tampa and Keri Stevenson (cricket finalist) at Blueberry Hill. But who cares? Beauty tops doubles and triples any day in Dartoid's World.
Meanwhile, back in the real world…
A girl scout sells a record 17,000 boxes of cookies which a spokesperson for the New York-based national organization calls "amazing." However, residents of the girl's community where her father, Fabio Gunazzenti, is alleged to be a mafia don, find the accomplishment "suspicious."
The Atomic Energy Commission issues a report that Iran is developing nuclear weapons "which will be active, maybe, by the year 2040." France surrenders.
Fannie Mae and Freddie Mac invest $17 billion in an Herbalife franchise.
And – back to darts – the American Darts Organization (ADO) announces an important rule change deeming that henceforth all tiebreakers are to be played as "one leg round-robins." In response, David Fatum, dressed like a baby bird, posts a video with tips on how to throw a dart while balancing on one foot.
From the Field,
Dartoid
The following two tabs change content below.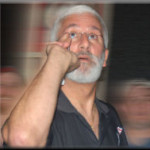 Author of the column that since 1995 has been featured by Bull's Eye News, the American Darts Organization's (ADO) Double Eagle and numerous other darts publications and websites around the globe.