Column #355 One year ago, this April, in darts…
Wednesday, April 1, 2009
Column 355
One year ago, this April, in darts…
Amidst the usual unrelenting showers, April produces a series of firsts in the history of our sport, some reported and some not… and still others which, because strange things happen around April 1, may not have happened at all.
Bulls Eye News renames itself to just BEN after its editor Jay Tomlinson's son and my golden retriever, introduces a brand "new look" featuring nearly naked women, and brings back Tony Payne's popular series, Thermonuclear Cricket, first penned in 1849. The new look proves effective as the magazine's circulation skyrocket's to eight billion which more than counterbalances the loss of the one person on the planet, besides Jerry Falwell, who is offended by sexy women. "Dartflight" from Kalamazoo, Michigan cancels his long-time BEN subscription but pledges to re-subscribe "once the magazine returns to respectability and agrees to feature the Professional Darts Corporation's (PDC) Tommy Cox in the centerfold wearing a Speedo."
At week ten of the Premier League Peter Manly comes from behind to defeat Raymond van Barneveld 8-6, Wayne Mardle wins his fourth straight match by downing John Part 8-5, and Adrian Lewis takes just four legs – losing twice, to Phil Taylor and James Wade. All this elevates Wade to the top of the standings but afterwards on a board erected in the parking lot Wade is stomped in a money match by Dave "Boy" Green.
During week eleven at Liverpool Echo Arena in front of a crowd of 8,000 James Wade, Adrian Lewis, and Peter Manley notch wins but, really, it's all Phil Taylor – who destroys Raymond van Barneveld 8-2. On the weekend Taylor takes out Andy Hamilton and Ronnie Baxter before beating Andy Smith in the finals of the Antwerp Darts Trophy – for his sixth consecutive PDC professional tour victory. Afterwards however, on a board erected in the parking lot Taylor is stomped in a money match by Dave "Boy" Green.
At week twelve at Wembley Arena and despite an impressive performance by world champion, John Part, who averages 103, Phil Taylor (who averages over 111) ensures his place in the Premier League playoffs. Meanwhile, James Wade secures his playoff spot with an 8-6 win over Peter Manley. Raymond van Barneveld beats Adrian Lewis 8-4 while Wayne Mardle and Terry Jenkins split.
At the Scottish Players Championship and after ending Phil Taylor's string of tournament wins early in the day (and then straight-set wins over Kevin McDine and Mick McGowan in the quarter-finals and semi-finals respectively), Mervyn King scores his first PDC major with a 3-0 whitewash of Mark Dudbridge. During the event Colin Osborne hits a perfect game against Lionel Sams. Afterwards on a board erected in the parking lot King and Osborne are stomped in back-to-back money matches by Dave "Boy" Green.
The 26th annual international "telephonic" match (initiated in 1982 when Northampton, Massachusetts first took on its sister city, Northampton, England) is held on April 24 between Glenn Remick's American Darts Association (ADA) and England. Bill Cross, Jr. leads the Americans to an 8-3 win. On the same day, at the thirteenth and penultimate Premier League preliminary round of the season, Raymond van Barneveld secures the third playoff position with an 8-6 win over James Wade. Still in contention heading into the final preliminary round next month are Adrian Lewis, Wayne Mardle and Peter Manley. Afterwards, on a board erected in the parking lot Barneveld is stomped in a money match by Dave "Boy" Green.
Across the pond, from New Hampshire to Florida, from Oregon to Oklahoma, from Ohio to Michigan and Texas, Americans pour into tournament halls to compete for nearly $75,000 in prize money. First place winners include Fred Kruger, Jim Widmayer, Marilyn Popp (twice) at the White Mountain Shootout in Portsmouth; James Taylor and Lisa Carmen at the April Fools Tournament in Ft. Lauderdale; Chris White, Rob Heckman, Laraine Hinsen (twice) at the Oregon Open; Dan Hord, John Ankeney, and Sherri Benton at the Sooner Open; Tim O'Gorman (twice), Marcia Loche, and Jen Stein at the Varuna Cup in Brooklyn; Anthony Jones and Patty Vickroy at the Crosskeys Open in Chillicothe; Darin Young, Roger Carter, and C.J. Slater (twice) at the Charlotte Open; Brian Dougherty, Sheldon Lionel, and Kelly Meares (twice) at the Buddy Taylor Memorial in Vero Beach; Tom Curtin, Scott Pressey, Pam Briggs, and Camilla Bunnell at the Granite State Shootout in Manchester; Mike Ramey, Anthony Miera, Helen Taylor, and Christina Medina at the Conco Valley Open in San Angelo; Randy Rantala, Scott Ferrian, and Tricia Pluff (twice) at the Minnesota Dartmania Extravaganza; Roy Chad and Tami Kelly at the Martha's Vineyard Open; and Jerry Marcella and Chantal VanMeter at the Leda Spring Fling in Wickliff, Ohio. Also of note, Cape Cod's never loquacious Jim Spinoza, SHOCKS THE WORLD with a top-32 finish at the White Mountain Shoot.
In one other newsworthy darts-related development, rumors swirl that someone "other than an actual participating member of the SEWA darts forum rates the forum as the best in the world." After an extensive investigation by high-tech computer detectives the rumor is debunked when it is traced to someone named Erik McVay.
In political news, Hillary Clinton and Barak Obama go toe-to-toe in the Pennsylvania Democratic primary. Clinton wins and offers Obama the vice presidency to which he replies, "Yo momma!" Elsewhere, the tabloid news accuses presumptive GOP nominee, John McCain, of inappropriate behavior with a female lobbyist thirty-one years his junior, in reaction to which Bill Clinton endorses McCain.
In economic news, it is reported by a nationally syndicated columnist that General Motors "…in a legally questionable move aimed at boosting its sagging cars sales, comes out with a new model called the 'Chevrolet Toyota.'"
Finally, Danica Patrick wins the Indy Japan 300 becoming the first woman ever to win an IndyCar race. Sensing opportunity, BEN's Jay Tomlinson announces that Patrick will appear as the centerfold in the May issue.
As April showers ebb and May flowers begin to bloom, Tommy Cox breaths a sigh of relief and packs away his Speedo while in Kalamazoo, Michigan "Dartflight" begins another nasty letter. In Oxford, Dave "Boy" Green is "disappointed" after throwing "only sixteen perfect games" in a row with his willy.
From the Field,
Dartoid
The following two tabs change content below.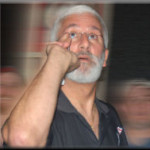 Author of the column that since 1995 has been featured by Bull's Eye News, the American Darts Organization's (ADO) Double Eagle and numerous other darts publications and websites around the globe.