Column #346 Omsin the Elephant
Monday, January 12, 2009
Column 346
Omsin the Elephant
I was lucky. Twice
I made it out of Bangkok – just four hours before thousands of armed anti-government protesters stormed through police lines and into the departure area at Suvarnabhumi Airport, shutting it down for a week. Then, due to a fortuitous last minute change in schedule I postponed plans to stop in Mumbai, where I was booked at the Taj Mahal hotel. Instead I popped a little blue pill and slept most of the twenty-odd hour flight home to Tampa.
It was not until I turned on the evening news that I learned of either event that might have extended my stay in Asia, forever. Such is life in Dartoid's World…
Actually, I was lucky three more times… but you must read more to learn why.
Not unexpectedly, owing to typical Thai bureaucracy, my main order of business – to take on the one-and-only Omsin the darts-throwing elephant at Nong Nooch Tropical Garden in Pattaya – was delayed. Fortunately the guys at Darts Thailand – Johnny Witkowski, Keiran Brown and Jayke O'Reilly – were ever so accommodating in helping to occupy my time while we awaited the official GAME ON from Nong Nooch…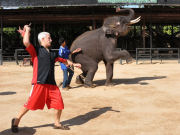 What I absolutely did not expect was to stand in front of an electronic darts machine for two weeks straight, let alone enjoy it. But I did. And I did!
What I also did not expect was to meet, let alone get along fabulously with, the man and the vision behind Medalist Darts, Lee Peppard. I say this only because it is so, not because Peppard peppered me with booze, graciously bought me dinner twice at Doug Harrison's famous Bourbon Street restaurant and begged me to write nice things about soft-tip darts.
It astonishes me, really it does – as I've not exactly been a proponent of the electronic game – but the soft-tip guru didn't have to encourage a single word that follows; all he had to do what show me the ropes. Not even once did he have to tie me up with the ropes and force me to stand at the soft-tip line.
If you know Peppard you'll appreciate that he's not your average kind of darts guy. He's a fellow with an uncanny knack for turning green into gold while providing recreational opportunities for millions – and also, occasionally, the chance for a handful of those millions to pocket some gold of their own.
Before he even graduated college, Peppard parlayed one miniature golf course into a half dozen and his first small fortune – before selling the lot of them and opening Eight Ball Billiards Tavern in Missoula, Montana. It was here, in 1972, that he made his next mark and much larger fortune as the mastermind behind the professional table soccer (foosball) tour, ultimately awarding more than $3,000,000 in prize money through 1980. Still today, Peppard personally owns some 85% of all the foosball tables in the world!
In 1982, Peppard founded the Medalist Marketing Corporation and the rest is pretty much history. The company leads the world in the development, manufacturer and distribution of the finest electronic dartboards and its Medalist Dart League with affiliated operators in several countries is recognized as the most prestigious soft-tip league on the planet. Peppard's son, Chris, heads up company operations as executive vice president and none other than Paul Lim – the first player ever to hit a perfect 9-darter in a world championship and six-time Medalist world champion, functions as vice president – lending the kind of credibility that only a professional of his reputation can to the marketing and growing acceptance of the often misunderstood soft-tip game.
So Peppard showed me around the board. He explained the Medalist rating and ranking system that allows players of unequal ability to compete on an equal level. He explained how one hundred percent of all player tournament entry fees, plus some, are paid out – and how Medalist manages to pay out more than any other organized soft-tip operation. And, he shared – and I certainly witnessed – the philosophy that underpins all that Medalist does: fun, friendly competition and camaraderie – pure honest-to-goodness recreation – is what should always drive our game.
It is for this very reason that I started playing darts and it is for this very same reason that I am still involved today. It was a pleasant and perhaps overdue reminder, particularly coming from one of the powers behind the soft-tip game. I won't say he converted me from steel-tip – that's my love – but without question he introduced me to the sport and spirit of the soft-tip game in a way no one else has been able. Yes, I am sold. So this was the third time I was lucky.
I took the opportunity one afternoon to throw and achieve a Medalist rating. It wasn't easy. Indeed it was a bit intimidating – as the machine doesn't lie, like me (and a whole lot of others out there who bullshit about how good they are – but just aren't on the day). My skills or lack thereof were exposed as completely as a bare naked bar girl.
I am now officially rated a fifteen.
Well, that last sentence is not one you should believe – but you can trust me when I say the place to find a good soft-tip game in Bangkok is Bourbon Street in Washington Square (weekly tournaments are held on Wednesdays starting at 8:00 p.m.). It's also the place to find a superb Cajun meal – crawfish, gumbo, jambalaya. You name it. You will not be disappointed with the darts, the fare or the Thai Airlines stewardesses who regularly have dinner here.
As I continued to anxiously await for word to arrive – for official confirmation of the date and time of my match with the elephant – I made a point to attend the Darts Thailand end-of-season banquet at D'Pelican Inn on Sukhumvit Soi 22. This was where Scotty Burnett and Rob Heckman were scheduled to lodge for a few days before moving over to the Royal River Hotel for the Medalist 2008 Asia-International Tournament from December 5-7. Unfortunately, due to the take-over of the airport the tournament had to be cancelled this year – so the California duo were forced to cancel their travel plans and spared the discovery of the many rude little notes I left for them in bars they were certain to be introduced to during their stay.
Speaking of rude, this is what yours truly has been over the years to another stalwart of the darts scene in Thailand – long-time head honcho of the Thailand Darts Association, Vichai Govindani. The Darts Thailand banquet gave Govindani and me the chance to talk, arrange to have diner a few days later at the Singha Beerhouse (on Asok Road) and sort through some of our differences. So, as agreed, for the generous sum of $10,000, I hereby profusely apologize for previously referring to Govindani as a "big, dumb poopyhead."
Much like Peppard, before he graduated college Govindani "wrote, produced and starred in a small and relatively unknown flick called The King and I and made millions." The very next year he followed this success with another little movie called The Bridge on the River Kwai and made millions more. He then switched careers, founded an international auto parts business called Riken Export and started throwing darts. Over the next two decades Govindani travelled the world playing the game he loved, "winning numerous world titles" and once, on television, threw a dart "through the neck of a Heineken bottle" from a distance of "forty yards." He also formed a small darts supply company which has sold "more darts than frickin' McDonald's has sold cheeseburgers."
Okay, that's all crap – except for the Riken Export bit and Govindani's love of our sport. The charming, war story-telling and jewelry-laden Govindani may have more than his fair share of detractors but he also has his supporters (and two body guards) and there is no debating he's been at the heart of darts in Thailand for as long as there has been darts in Thailand. Out of his own pocket and until recently he has financed pretty much everything. He has paid his country's dues to the World Darts Federation (WDF), sponsored dozens of players, subsidized tournament payouts, and more. He's shown the likes of John Lowe and Phil Taylor around the country and counts many of our sports' legends as personal friends. He's done his bit. So spending time with Govindani was the fourth time I got lucky – at least I will consider it so when his check arrives.
But times are changing and they are changing particularly fast in Thailand. With the popularity of Johnny Witkowski's and Keiran Brown's Darts Thailand organization and emergence and soon-to-be explosion (certain in no small part thanks to the diligence of local manager, Dung Le-Tien) on the Thai darts scene of Lee Peppard's Medalist organization – and the wide and growing acceptance of both organizations by Thai nationals – it behooves Govindani to take notice, which it seems he may have, and work with all the new guys in town to make the future of darts in Thailand as great as it once was.
It was on the morning of the day before I was scheduled to depart that the call finally came confirming my match with the elephant in Pattaya. Growing disappointment turned immediately to great anticipation. This was why I was here. I was ready!
We arrived in Pattaya late in the evening before the match and checked into a hotel called the Rising Sun which bore a striking resemblance to what one might imagine the brothel of the same name was like in the old Animals tune. The good news was that three rooms – for Witkowski, Brown and me – cost just $39 total. The better news was that a bottle of beer cost less than a dollar. In unbearable heat and humidity we wandered the streets for a couple of hours, stopping once at the only air conditioned joint we could find, called the Kitten Club. My local SPCA – which charges $30 to adopt a dog or a cat – could take a lesson from this place. A "kitten" here runs half that amount and the ex-pats were scooping them up like candy. I am not sure they come with their shots.
The 500-acre Nong Nooch Tropical Garden is like no other botanical garden in the world. There are topiaries everywhere in every shape and form, amazing orchids, cactus gardens and tropical plants the size of small buildings. There are traditional Thai dancers and kick boxing exhibitions. There is even a small "city" created entirely out of clay pots. It was in front of the entrance to this area that we got lost, watered a few bushes because we couldn't find a toilet, and were eventually found and led to my match by the people who operate the elephant show.
In the event there are any animal rights darts people reading this let me take just a moment to assure you the elephants at Nong Nooch have a damn good life, at least considering the alternatives.
There are as few elephants remaining in the wild in Thailand as there are un-poached teak forests. Years ago elephants functioned as tanks during times of war. They next served as laborers in the logging industry but commercial logging has for years been outlawed in Thailand so these titanic workers are largely unemployed. Some, along with their destitute mahout owners, scrape by wandering the streets and are often seen in the wee hours begging in areas like Nana Plaza and Patpong. Others – supposedly the "lucky" ones – can be found at monasteries chained by their legs to trees.
But truly the few fortunate elephants these days in Thailand are those, like my new found friend Omsin, who are well cared for and earn a respectable living by entertaining tourists with their skills in basketball, bowling, soccer and, yes, darts at the Nong Nooch dirt field arena.
In a word, throwing darts against a couple-ton animal is intimidating. I've thrown against Phil Taylor a time or two and at least I knew he wasn't going to squash me, at least not literally, even accidentally.
At Nong Nooch the dartboards are as non-traditional as the competition. Made of balloons arranged in concentric circles, the "boards" are fitted to large metal structures and stationed at one end of the field. The darts are like gigantic old widdies. For stability they are affixed with pink tassels, much like the streamers you might find on a child's first bicycle.
Omsin is a professional, slightly larger than New Jersey's Howie Dirks before he got married and slimmed down or even Andy Fordham in his heyday. He's deadly accurate. And his gamesmanship is as highly toned as even Peter Manley's.
To put me off, Omsin first sent out some gigantic dude. The packaderm sort of lumbered across the arena paying me no attention. Omsin next sent out a GIRL. Named Bambi, she sauntered to the line, pounded a few excellent warm up shots right in front of me, puncturing balloons left and right, then squealed in delight. She was good, damn good.
Finally, and confidently, Omsin ambled onto the field, lined up at the oche next to Bambi and in short order made it quite clear that he was the top dog in the Nong Nooch league. I was in trouble.
The boards were quickly refitted with balloons, lines were redrawn in the dirt, we shook "hands" and it was GAME ON.
I started a bit slow popping a balloon near the triple twenty position, followed by a miss and then tops. Osmin's first dart bounced out but he recovered quickly with a dart just shy of the bulls-eye and then a dead center strike.
Back and forth we went, dart for dart, strike after strike. I was holding my own.
But THEN, from nowhere, Bambi reappeared and tried to STEP ON ME! Talk about gamesmanship.
I never recovered…
The best I could manage was to pop a few balloons around the edges of the board – while Omsin pounded the bull. Bull after bull he tossed – five of them in just two trunk fulls.
To avoid any further humiliation the match was promptly called by the officials.
Omsin and I shook hands again, posed for a few photos and it was all over. After months of preparation, days of anticipation waiting for the official call, and fifteen minutes of fury in the heat and dust of the Nong Nooch arena I was a beaten man, easily taken apart by an elephant at the line.
Was it the greatest match in the history of darts? Well, no. But it was a match no world champion has ever risked their reputation to accept. Not Phil Taylor, Erik Bristow, Raymond van Barneveld, John Lowe, John Part, Jocky Wilson… or even multiple Medalist world champion Paul Lim.
No, not one of them has ever thrown darts against an elephant. So I was lucky one last time. Even though I lost I got the chance.
My appreciation goes out to Johnny Witkowski, Keiran Brown (and his wife, Jah), Jayke O'Reilly and the great folks at Nong Nooch for all they did to make this possible.
Thank you!
From the Field,
Dartoid
The following two tabs change content below.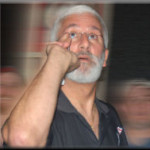 Author of the column that since 1995 has been featured by Bull's Eye News, the American Darts Organization's (ADO) Double Eagle and numerous other darts publications and websites around the globe.