Column #329 The Third Annual Alien Open
Monday, September 1, 2008
Column 329
The Third Annual Alien Open
Probably you have heard about the Incident at Roswell…
As the story goes, sometime in July 1947 a New Mexico rancher named William "Mac" Brazel found the debris of a crashed flying saucer in a field about twenty miles out of Roswell proper. In the days and weeks that followed the military swooped in, recovered the wreckage, hid it forever and all time, and secretly escorted the aliens, some still alive, to a safe house somewhere, and has for the past fifty years kept them on life support and denied reality, insisting that all of what I have just written is nothing but bunk – that what Brazel really found and the military cleaned up was just an ordinary weather balloon.
Not so my friends. I have just returned from Roswell where I conducted an in-depth investigation of the entire affair. I even visited the International UFO Museum and Research Center – where among other things I was confidentially informed by some guy named "Bub" that years ago one of the aliens escaped to find refuge and raise a family in Arizona. If you watch the Republican National Convention this week you will see him. His name is John McCain.
Roswell has come a long way since 1947 and the little town is now synonymous with flying discs and little green men. The local McDonald's is shaped like a flying saucer. A giant Arby's marquee welcomes aliens in for a roast beef and cheddar. The tops of the lampposts lining the main downtown drag are shaped like the heads of space beings. Remnants of the lore that put the town on the international map are everywhere.
So it was only a matter of time before the local darts community – the Pecos Valley Dart Association – decided to get on the saucer-wagon and host a tournament with an alien theme…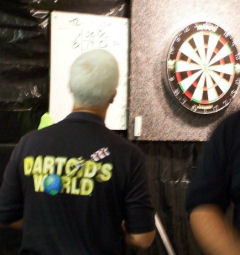 I was disappointed to be unable to attend the first two Alien Opens in 2006 and 2007. But this year, notwithstanding what McCain and his extraterrestrial cohorts have done to the economy – my house isn't worth what I paid for it, my wife can't afford Purina for my golden retriever and it now costs me twice as much to fill the gas can for my lawnmower than it did in high school to top off my entire car – I bit the proverbial financial bullet and hopped a plane to the middle of, well, nowhere. I believe the closest city of any real size is Toledo.
Truth be known, I have long wanted to visit the UFO Capital of the World (which is also where Demi Moore was born). So I was pleased to finally fit the trip into my schedule. I arrived hoping to meet a real-life creature from another world, or maybe even Demi Moore, but met a really cool kid named Justin Manire instead.
More on Justin in a moment…
Considering the remote location I was surprised to immediately bump into three people I knew: Pam Patton, one of the top-ranked lady darters in the country, with whom I hung out at the Desert Classic in Vegas a few years back – while her roommate, Denver's Stacy Edwards, cavorted with my roommate, Virginia Beach's Shane Meeks; San Antonio's Chris Helms (and his wife Anita), who for many years has been one of the most feared male darters in the nation; and Lil Vaughn, who I had only met once – in Korea, of all places, where we drew each other in a luck of the draw in Song-tan in 2006. It's a small world.
Tournament Director Mike Ramey grabbed me straight away and sweet-talked me into throwing a leg of cricket against a local radio celebrity and Meatloaf look-a-like named Joe "like the rat" Fink from Classic Rock 110.5 KSFX. Fink and his morning show co-host, Tony Clayton, were on site to cover the tournament and throw an exhibition match against Ramey (who won the ADO regional shoot earlier in the day) and Curtis Rydholm. Or perhaps it wasn't Rydholm…
Who knows – I forget shit these days. But Rydholm, formally of Nashville – and acquaintance of my friend and Dartoid's World cartoonist, Rodman Rodman (yep that's correct – you're not reading double) was there and he let me know it was Rodman who designed the logo for the tournament.
In any event Fink beat me so he's an asshole.
In the Friday night 501 draw I continued the form that was so "effective" against Fink and worried my partner, David Beard. We advanced through the first two rounds thanks not a bit to my darts – my highest score, due to strange alien forces in the hall and the distracting tight shirt one of our female opponents was wearing in the first round, was a forty-five. But I then found the range (as Beard found the beer) and redeemed myself with a string of tons and ton-pluses. We were knocked out in the quarter-finals in a match we should have won, no disrespect intended to the bastards who beat us.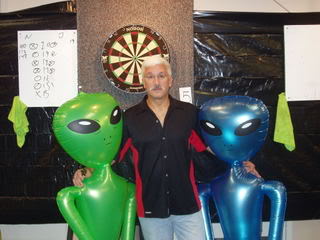 On Saturday I partnered with Chris Helms in cricket and, again no thanks to me, although I do recall a couple of seven-marks that miraculously slipped in there somewhere, we moved to the semi-finals without dropping a leg. Helms won the cork, stepped up, closed the twenty and scored sixty. Our opponents failed to close the nineteen. Unfortunately my triple seven, triple three and single nineteen left an opening that Emmitt Smith could have dashed through and that's exactly what our opponents did. In a flash they threw up 133 points, easily won the leg, and then the next – and Helms and I were en route to the bar.
It was around about this time that I met Justin Manire…
I was at a table talking with his mother, Delilah Hartmaier from Alamogordo, when Justin and I somehow got into a conversation about sharks and spiders. Don't ask me how this transpired – how at a darts tournament such a conversation can possibly occur. But it did. Truth is, one of my clients in real life campaigns to end shark-fining so I am conversant in shark-related topics. Plus I saw Jaws.
So Justin and I get to talking and he starts to scribble and shoves a piece of paper across the table. On it was a drawing of a shark – an amazing little sketch.
I didn't know quite what to make of it. Here in the middle of the New Mexico desert – where there are rattlesnakes but no deep sea creatures – was a kid with an uncanny ability to draw creatures he had never seen in the wild. I told him he might want to contact my client and a couple of other organizations to learn more. I told him about artist Richard Wyland, famous for his murals of whales and dolphins seen on buildings around the country and world…
I lost a few more matches, the tournament ended and I returned home to Florida.
A few days later I received an e-mail from Justin's mother. To say I was surprised at its content would be an understatement.
It turns out Justin has Asperger's Syndrome but is doing incredibly well. He has earned his high school diploma and is taking college courses in art and 3D animation. Yet, attending the dart tournament and talking with strangers like me was a kind of breakthrough for him. Something clicked during our conversation and Justin is now approaching businesses in Alamogordo asking if he can paint murals for them of sharks.
I did a quick bit of research and learned that one of the unique, almost mysterious, traits that often accompany Asperger's is an exceptional skill or talent in some specific area. In Justin's case his specialty is art, specifically drawing and painting sharks.
I have since put Justin and his mother in contact with my client and there is a likelihood he will be offered some sort of stipend to draw images of sharks for their website and publications and, perhaps, even be invited to their new headquarters in Friday Harbor, Washington to paint a mural.
So while I didn't actually meet an alien (assuming one doesn't count Joe Fink) or Demi Moore, my trip to Roswell and the Third Annual Alien Open was special. Despite terrible darts I made a few bucks, reconnected with old friends and made a new one.
I may not make it back to the UFO Capital of the World for next year's tournament (although it's very well run and one I highly recommend to anyone) but I do have another New Mexico shoot penciled onto my travel agenda: the First Annual Whitesands Missile Launch Steel-tip Tournament to be held in Alamogordo on February 6-9, 2009.
I look forward to seeing Justin and his family again then (if McCain isn't elected and I'm not wiped out financially). Plus, I've done my research and know that Alamogordo is home to Angelina Jolie Impersonator, Max Schmidt.
From the Field,
Dartoid
The following two tabs change content below.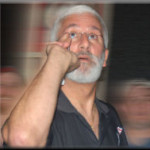 Author of the column that since 1995 has been featured by Bull's Eye News, the American Darts Organization's (ADO) Double Eagle and numerous other darts publications and websites around the globe.