Column #241 Today they call him Bazooka Joe. Tomorrow it could be Million Dollar Baby.
April 2, 2006
Column 241
Today they call him Bazooka Joe. Tomorrow it could be Million Dollar Baby.
After finishing in the top sixteen in Windsor Locks on March 18 and top eight yesterday in Marlborough, Connecticut's Joe Efter battled nerves and many of the top darters in American, past and present, to eventually see off Brad Wethington in a four to three finals victory to emerge the victor in the eleventh World Series of Darts (WSOD) qualifier today in Ronkonkoma, New York.
As for Efter, this was the third and final shot (except for Friday Night Madness) at a WSOD stage birth for Wethington. Both darters, along with many others including Darin Young, Davis Snider, Steve Hertzfeld, Chris Helms, Jerry Van Loan, Monty Broadway, Mike Davidson, Dave Marienthal, Mike Brewer and Dan Moore, struggled with doubles in this their final shot at qualifying within the three qualifier WSOD rules limit.
Of the 116 registrants, also present and still trying to resurrect the old stroke were Conrad Daniels, Larry Butler and Bill Nicoll, Jr. but none of the three managed to survive to the top sixteen.
Following Efter and Wethington in the top four were Davis Snider and Darin Young. Timothy O'Gorman, Antonio Roman, George Timpone and Richard Espinoza rounded out the top eight. The top sixteen included Corey Charles Jewett, Bill Cross, Jr., Mike Brewer, Dave Marienthal, Rob Petelin, Dave Lambert, Russ Jasinski and Jim Newman.
Along the way before an average final, made exciting only by both darter's struggle for doubles in a nerve-wracking battle for the eleventh WSOD stage position, were several moments worth recalling.
Efter himself was involved in a thrilling second round match that nearly saw an end to his day. The number three seed, Jerry Van Loan, was up three to nil before Efter battled back to move on in the qualifier.
In another incredible second round match worthy of being a final itself, Darin Young faced off against New Jersey's Buddy Lessig in a blistering battle. Lessig opened the match with a maximum and Young matched it with one of his own in his first trip to the line, and then commented to Lessig, "Let's keep this close." Lessig took the first leg, leaving Young looking at forty after just twelve darts. Young then fired back with 140, 134, 98 and 128 for a brilliant twelve darter to even the match. Young then took the next three games in succession in sixteen, seventeen and fifteen darts – but Lessig was right there every leg.
In quarter final play, the number two seed, Davis Snider, faced elimination to Antonio (Tony) Roman, who had him down three to nil. But putting the nail in the coffin proved to be the stumbling block for Roman. Roman missed three match darts in leg five, six match darts in leg six and three more in the last leg, allowing Snider to steal the victory with the greatest four leg straight come back in any qualifier to date.
Also in quarter finals, Tim O'Gorman had Brad Wethington down three legs to one, only to see Wethington level the match and then hold his throw in the tiebreaker to earn his spot in the semi-finals.
In the semi-finals Efter faced Snider and Young took on Wethington.
Efter set the pace against Snider with a fifteen darter in the first leg, leaving Snider on 162. Snider returned fire though in leg two to even the match. The match followed the darts again in the next two legs (with Snider closing a crowd pleasing 145 in leg four). Not to be outdone, Efter responded with a scorching twelve darter in leg five but struggled in the next leg, letting Snider tie the match and take it into the tiebreaker. In the final leg, Efter started with 140 but then began to struggle again. The thing is, Snider struggled worse. Indeed, the man from Arlington, Texas let saw NINE shots at the double miss the mark and essentially handed Efter his trip to the finals on a platter.
Darin Young got the nod and had the first shot at the out in leg one missing tops from eighty-three. Wethington made him pay, drawing first blood with a seventeen darter. Young returned the favor in leg two with a seventeen darter of his own when Wethington missed a shot at the bull to go up two to nil. With the match level at one all, Young lost his focus on his end game missing five darts from forty, giving the lead to Wethington. Wethington saw his opportunity to forge ahead with the start and took the fourth leg in fourteen darts. He then put the pressure on Young who opened the fifth leg with 100, 43, 123 and 140 to leave ninety-five after twelve darts. Wethington's answer was 140, 140, 125, and 60 to leave thirty-six after twelve darts. Young knew he had to finish the ninety-five to keep the match alive, but left twenty-five, just missing the center bull for the win. Wethington missed his match shots leaving eight and giving new life to Young. It was not to be Young's day however, as his aim was errant on the double twelve, missing two outside. Wethington cleaned up the remaining eight and secured his spot in the final.
Wethington jumped ahead in the final two to nil but Efter stayed close. Wethington then narrowly missed a ninety-six close that would have given him a twelve darter and a three leg lead. Indeed, Wethington continued to struggle with the double and eventually Efter worked the score down to take the leg and pull within one. Then Wethington seemed to completely lose focus, missing double in three trips to the line in the fourth leg before finally finding the mark to go ahead three to one. Somehow, Wethington was just a leg away from claiming his spot at the Mohegan.
But then, Efter fired back, taking the fifth leg and breaking Wethington's throw in the sixth leg, closing one hundred and leaving Wethington one dart short, looking at tops. With the match suddenly level at three legs each, Efter could feel the momentum swing his way. He reached the double first in the tiebreaker and after three excruciating turns, found double five to emerge the victor on the day and take his place among America's darting elite on the stage at the Mohegan.
Wethington pretty much summed things up after the match. "I shouldn't have missed my doubles. He played good and he took advantage of my mistakes. I relaxed and let him back in. When I missed the double eight for the match, I let it play in my mind. I know better than that, but I let it happen. So, I guess I'm going to Friday Night Madness in Connecticut. I think I can manage to hit a twelve darter to get into the knockout. Then, we'll see about getting to the stage."
Efter saw it this way: "It was definitely exciting, nerve racking to be sure. This is the first win for me over Brad. He had his chances to win the match at three to one, but when he missed his double, I just took what was given to me. I have a lot of respect for Brad and for all the other competitors who have come out and competed in each of these qualifiers. It takes an awful lot to maintain your focus and will to win for such a long day."
"I've been looking forward to taking on the PDC top guns since I first heard of the World Series of Darts. I'm thrilled to have the chance to come up against the world's best. Just to be part of something this big is something I've dreamed about since the first I heard of it. I'm glad to be part of it. If I can stay focused, I think I have a good chance to do well. If I don't get caught up in all the hoopla of the event, I'll be okay."
So there you have it dart people! The eleventh WSOD qualifier is now history and we have a twenty day break before the March to the Mohegan wends it way back to Tom Sammarco country for the final qualifier in Boston on April 22. As the last chance before Friday Night Madness, it is certain to be a barn burner.
Very special thanks are due today to Mike Harris from Bull's Eye News who supplied much of the play-by-play noted above. Aware that I am just hours from catching a plane for a few weeks in Thailand and Cambodia, Mike was kind enough to let me lift many of his words and observations for this report. So as always, THANKS Mike!
And thanks to all you other moles out there too!
For further information about today's Ronkonkoma WSOD qualifier go to the Bull's Eye News (http://www.bullseyenews.com) and Professional Darts Corporation (http://www.planetdarts.tv/page/Welcome) websites.
And stay tuned to Dartoid's World for profiles of the most recent qualifier winners and for continuing coverage of all that's happening in and around the ground breaking ONE MILION DOLLAR World Series of Darts extravaganza.
From the Field,
Dartoid
The following two tabs change content below.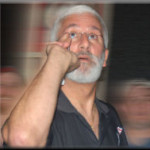 Author of the column that since 1995 has been featured by Bull's Eye News, the American Darts Organization's (ADO) Double Eagle and numerous other darts publications and websites around the globe.