Column #176 The Carnival Miracle, Darts and the Little Bird
January 1, 2005
Column 176
The Carnival Miracle, Darts and the Little Bird
Here is some advice for male darters everywhere, notably those of you who are approaching an important anniversary with your significant other and are thinking of taking a cruise: pack either your darts or your woman, NOT both.
To think you can juggle your darts and even the most understanding member of the female persuasion on the high seas is, to put it bluntly, a sign that you should be committed. So, I repeat: do NOT, under any circumstances, try to manage the double on this one.
My wife, Marylou, and I recently took a cruise for our 24th anniversary. We booked our spot months in advance for Carnival Miracle's maiden voyage out of Tampa. It was called the Cruise to Nowhere. Basically we chugged into the Gulf of Mexico, did a few large loops and circles, and headed back to Tampa forty-eight hours later. So, we technically did go nowhere. But that doesn't mean a lot didn't happen. It's just that most of what occurred wasn't particularly conducive to marital bliss.
First, we nearly missed the cruise. This was my fault.
Having carefully researched the trip, I was aware that, while there were seventeen bars on board the ship, not a single one of them was set up for darts. So I packed my own, along with a dartboard, threw it all in the car and headed for the port. I did not tell this to my wife. I also did not realize that, just like in airports these days, cruise ships require you to pass through magnetometers manned by fullback-sized humanoids.
As is often the case, the "I'm doing an article for Sports Illustrated" line was effective. The guard let me pass, satisfied I suppose, now that he'd exposed me to my wife, the likelihood was higher that my "dangerous missiles" would be used to keep me in line than to force the Captain to take the ship to somewhere other than nowhere. Approximately five hours after arriving at the gate, Marylou and I sailed into the sunset. We were no longer on speaking terms.
I don't know why cabins on cruise liners are called staterooms. Ours was only slightly larger than a jail cell. It was nice, just not equipped for hammering a dartboard to a wall. It's not that there weren't walls. It's just that on the other side of the walls was the two-thirds of the world that's commonly called OCEAN. There was a nice balcony. Hoisted by long ropes just beyond the balcony was a lifeboat. I found this less comforting than disconcerting. It did occur to me that I might climb into it to sleep if I wasn't allowed in our bed.
The next bad decision I made was to skip the first night's show. Marylou dressed up and went alone while I joined a bunch of guys I met for an all-night pub crawl. When I returned in the wee hours Marylou was asleep. So, I stacked a couple of chairs in the corner, balanced my dartboard on top of them, and got in a little practice. At about 6:00 a.m. I hit the far side of the bed.
I awakened, seasick. Disgusted, Marylou dressed and headed to the main dining hall to find a table while I showered and tried to shake my queasiness. I failed, threw up and went back to bed. About an hour later I felt better, just not well enough to eat. So I threw some more darts.
It was about noon, as I was pulling another handful from the board, that the cabin steward knocked on the door. The news wasn't good. Marylou had fallen down a flight of stairs on her way back from lunch. She was in the infirmary. So I followed the guy into the bowels of the ship.
As it turns out, my wife didn't just fall. She tripped, flew, and somersaulted. She messed up her leg, shoulder, hand and head — and had blood all over her clothes to prove it. Don't ask me how she landed on all of these places at once. But she did. Worst of all, she did it while I was throwing darts because I was too sick to go to lunch on account that I'd hit seventeen bars the night before instead of accompanying her to a show. Marylou may have been the one bruised and bloodied but I was the one who was screwed.
So, I started thinking, and talking, fast. Except when calculating an out shot, I'm pretty quick on my feet. In the infirmary I took complete charge. I wouldn't let my wife sign a statement. I made the doctors x-ray everything. The way I figured it, if I played our cards right, we might get a free cruise out of the deal — maybe even a week-long sail that made stops at actual ports that had actual bars that had actual dartboards.
NOOOO! By this point I had wizened up completely. Believe me! We'd nearly missed the cruise because of my damn darts. My fault. My wife was barely talking to me because of my damn darts. My fault. And now she was being wrapped up in gauze and provided a wheelchair because of my darts. My fault.
So I packed the buggers up.
I think the last few hours of our final day and night of the cruise went well. I wheeled Marylou through the ship's shopping mall and helped her pick out jewelry. I put on a coat and tie, went to a formal dinner and a show, wheeled her back to the room and then onto the balcony to breath in the sea air and listen to the water swooshing past the sides of the ship far below. With my darts and board safely tucked away, things finally were going well. And there was a big bed awaitn'…
We noticed that a small seabird had stowed away on the lifeboat.
"I'm sorry about the darts," I said. "It was stupid to bring them. Are you okay?"
Merely the size of a sparrow, the bird chirped happily as it hopped back and forth just beyond the railing.
"Forget it. It's our anniversary. I'm okay. It'll be a good memory." Marylou smiled in the moonlight.
The little bird fluttered its wings to steady itself as the ship rode a wave. It looked at us. It was happy too.
"Want me to get the camera and take a picture of him?"
"That'd be cute. Sure."
I cracked the balcony door carefully so not to frighten our friend and tip-toed into our stateroom. I found my bag at the foot of the bed and bent down in the dark to rummage for the camera. My hand came upon my darts case. I returned to the balcony.
Now, perhaps it's just my sense of humor. Perhaps I have a death wish. I just don't know.
"Okay, Marylou, don't move… don't make a sound. I think I can get the shot."
Quietly, I slipped one of my darts from its case. I cocked my throwing arm. I set. The little bird chirped again. I glanced at my wife in her bandages…
"Go ahead, you idiot. Take your best shot. If you can't close tops how do you expect to hit him?"
She WANTS me to throw my darts in the ocean! NO WAY!
"Just kidding, Marylou. I couldn't help it. Sorry again about messing up our anniversary."
I snapped the photo just before the little bird hopped off its perch and flitted away. Now he lives in a scrapbook as a reminder of our 24th anniversary cruise.
We woke up early, disembarked and found our car. Not surprisingly, it wouldn't start. According to my wife, this was my fault too.
From the Field,
Dartoid
The following two tabs change content below.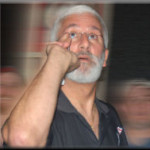 Author of the column that since 1995 has been featured by Bull's Eye News, the American Darts Organization's (ADO) Double Eagle and numerous other darts publications and websites around the globe.