Column #122 Potato, PoTAHto; Tomato, ToMAHto
July 1, 2002
Column 122
Potato, PoTAHto; Tomato, ToMAHto
Yesterday I threw caution to the wind and boarded a terrorist bomb (translation: an airplane) and headed for a terrorist target (translation: Las Vegas) to participate in the Professional Darts Corporation's (PDC's) first ever Desert Classic darts tournament. Perhaps it was stupid to tempt fate in such a way. Perhaps others were a bit wiser (or a bit dumber) by selecting to drive instead, like Steve Brown — all the way from St. Louis.
All I can say is that after the first full day of competition, and as much as I'll miss being home for tomorrow's July 4 holiday, the event so far has been nothing short of spectacular. These PDC guys are consummate professionals. And the ability of the British darting contingent is simply out of sight. To those in America who have convinced themselves — and are trying to convince others — that there is something wrong with taking a lesson from professionals I make no apologies for coming here to learn. It is you who are missing an unparalleled experience. And it's only just begun…
I gave very careful thought to the setting of personal goals for my time here. At the end of the day I settled on just one: to spend a night in Phil Taylor's motorhome.
Nah. I only jest. That would be my dream.
My goal, I felt, might actually be achievable: that was to win a game, just one game, against somebody, anybody, with a British accent. My goal was to win a game against one of the best.
As I sit in my room now reflecting upon the day (particularly California's sexy Debbie Gordon), dabbing cold towels on my sunburn and waiting to learn the results of last night's American Idol competition (which I admit to watching in spite of that wanker, Simon Cowell) I am proud to be able to say that I accomplished my goal, kind of. And we're only half way through the qualifying rounds!
Counting warm up, I faced three blokes with foreign accents.
I warmed up with lawyer Kevin Liebkemann from New Orleans. He definitely speaks with a foreign accent. It's just not British. He also uses the word "crawdad" a lot. I don't know what this has to do with darts.
I got stomped four games to nil (to be eliminated from the first round) by north Boston's superb shot, Tom Curtin. Like most Bostonians, Tom also speaks with a accent. But again, it's not British.
If I'd have managed to get by Curtin (and, blimey, I would have if Tommy Cox hadn't stuck a magnet behind the triple one) I'd have toed up next against Cliff Lazarenko. If I have gotten by Lazarenko I'd have had to face Jamie Harvey or Lionel Sams or Keith Deller. If I have gotten by all of them I'd qualify as a great darts professional and ended up on stage later this week to toe up against Phil Taylor, only to be slaughtered for cracking another motorhome joke.
In the second round, thanks to darts that I pulled out of that place Brits call their "bum," I technically achieved my goal. My opponent was Brendan Dolan. I pounded the triple twenty hard enough to take TWO games before Tommy Cox reactivated the magnets. The problem — which is why I say I only "technically" attained my goal — is that Dolan turned out to be from Ireland, not England. But he sounded British. Or Australian. Screw it. It's close enough for me.
As the day wound down and the smoke settled (well, actually there is no smoke because Tommy Cox won't let people kill themselves) and as the Sky Television crews put the finishing touches on the stage, the names of four men were added to the list of those already seeded for grandstand play. Joining the PDC's mighty Top Eight are Wayne Mardel, Dennis Smith, Kevin Painter and Andy Jenkins. So far, Carolyn Mars and Stacy Bromberg will step in front of the lights for the ladies. Tomorrow's final qualifying rounds will determine the balance of the lineup to compete for the $100,000 in prize money.
Having met my tournament goal in one day the pressure is off for tomorrow's qualifiers. So I have set two new objective for the day.
First, I will interview Phil Taylor. If I can understand him I'll let you know what he has to say.
Second I will do my very best not to provoke the American Darts Organization's (ADO's) president, Roger Bick, or Katie Harris into sending further e-mails, all over earth and even to some distant planets, trying to figure out who it was who told me certain ADO leaders thought the Brits were "a bunch of potato heads." This is because — and I say this in all humility — I might have been wrong.
It could have been "poTAHto heads." Or it might have been "toMAHto heads."
From the Field,
Dartoid
The following two tabs change content below.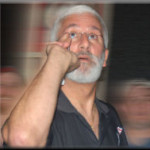 Author of the column that since 1995 has been featured by Bull's Eye News, the American Darts Organization's (ADO) Double Eagle and numerous other darts publications and websites around the globe.