Column #121 Where's Tommy's Shorts?
July 1, 2002
Column 121
Where's Tommy's Shorts?
The mood is very festive here, as hundreds of fun-loving darters have gathered for the first ever Professional Darts Corporation's (PDC) Las Vegas Desert Classic, along with an equal number of fun-loving, bomb sniffing dogs.
Yes, security is tight in Sin City. This is because the FBI is investigating a man's report that he might have inadvertently eavesdropped on two unidentified subjects discussing a possible July 4 terrorist attack on the gambling capital. Michael Hamden, born in Lebanon, claims to have heard the conversation, which was in Arabic, while driving down the Last Vegas Strip two weeks ago.
"He was saying, 'We are here in the city of corruption, the city of gambling and prostitution, the city of unbelievers,'" Hamden told Las Vegas television station KLAS, 'and they are talking about freedom. We are going to hit them on the day of freedom.'"
The intense security has already caused an unfortunate incident involving Tournament Director Tommy Cox's underwear. Tommy, who painstakingly put on his briefs before catching a taxi to London's Heathrow Airport, arrived in Las Vegas to find that they had mysteriously disappeared, right off of his body, somewhere en route. Apparently when Tommy reported this to airport security in Las Vegas they concluded that Tommy – and this is a direct quote – "was frickin' nuts."
But such minor "snafus" will in no way put a damper on the first ever Desert Classic, which is extremely important to the darting world, except for some of the leaders of the American Darts Association (ADO) who are noticeably absent from the event because, according to one source – and this is also a direct quote – "because, damnit, those Brits are a bunch of potato heads."
Like hundreds of others, I crawled out of bed in the wee hours this morning and headed to the airport to begin my journey to the tournament. Five hours later I descended the steps of the plane into the oppressive 104 degree Las Vegas morning. Out of the sky dropped a lifeless baby robin, it's little wings still smoldering from flapping hopelessly in the desert sun, or because it was playing with matches.
I arrived at my hotel, the San Remo, which is directly across the street from the MGM Grand Hotel and the Grand Arena, site of the event, about an half an hour later. The temperature had reached 110 degrees and people of advanced age, including one guy who looked like Jerry Umberger and another who resembled Marshall Popp, were starting to collapse on the sidewalks.
Tomorrow morning I'll step to the line in the first of four qualifying rounds of 501 against the best darts shooters on the planet. In a way I feel a bit like the old sports writer, George Plimpton. Years ago Plimpton climbed into the ring to fight Archie Moore. Plimpton got his ass kicked. Undoubtedly that's exactly what's going to happen to me tomorrow, if my clothes don't spontaneously combust and fry me like a burger first.
I wandered across the street to check out the darts hall and found it locked. This was probably because the Brits, always conscious of protocol, felt it best to keep the doors shut until somebody could locate a new pair of shorts for Tommy. I think this was a very wise decision and that it bodes well for how correctly this tournament is going to be run.
The biggie event today was Stacy Bromberg's "Charity Challenge Warm Up Blind Draw" at CDs Lounge (3025 East Desert Inn) on the fringe of town. Joe "the Wiz" McElligott and ten-time World Champion, Phil Taylor, took on Bromberg and Paul Lim in a best-of-eleven 301 charity shoot to raise money for the Make-A-Wish Foundation. McElligott and Taylor took the match thanks in large part, believe it or not, to the clutch shooting of McElligott (who paid me to say this). Lim and Talyor then took on all challengers in 501 at $5 a pop to top up the Make-A-Wish kitty.
Among those also stepping up to do their part for the cause were Hal Coleman, Pat and Rose Carrigan, "Hat Trick" Patrick Lee, "Tupelo Honey" Kari Stevenson and her mother Terri, and Denver's "Six Dart" Bart Compton, along with some 75 others.
I plunked down my money to show Taylor a thing or two and was left with a fat 389 points remaining when "the Power" headed out the door with a couple of showgirls under his arms. He was kind enough to inscribe a poster for me though. It says: "Don't tell Tommy I'm wearing his knickers."
So the Desert Classic is off to a great start. Gigantic big-screen displays are stationed around the MGM Grand Hotel announcing the event in spectacular high-tech living color. Taylor and others are captured in action thrilling enthusiastic crowds. The slots are clinking. The neon is flashing. The beer is flowing. Showgirls are everywhere. The atmosphere is simply out of this world, unlike any I have experienced ever before on the eve of a darts tournament.
Needless to say, over the next several day I will be delving deeply into the important issues here in this city of "corruption, gambling, prostitution and unbelievers." As Freedom Day approaches I will be reporting my findings to you. Time permitting, and provided a terrorist or a showgirl or the heat doesn't get me first — and assuming some bloke doesn't rip off my jockeys — I may also report on the actual tournament itself.
From the Field,
Dartoid
The following two tabs change content below.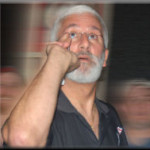 Author of the column that since 1995 has been featured by Bull's Eye News, the American Darts Organization's (ADO) Double Eagle and numerous other darts publications and websites around the globe.